The Blossom Jeju Pink Camellia Soombi Essence Serum (Review)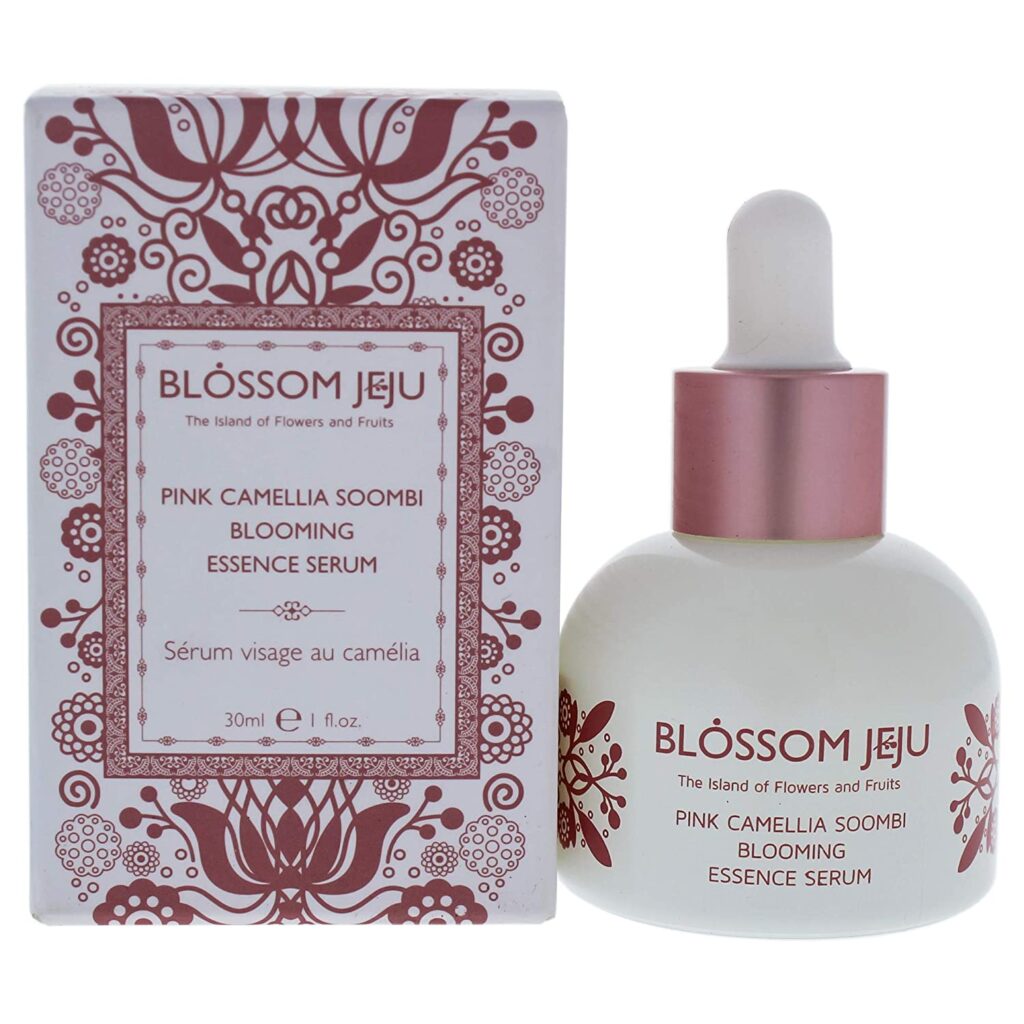 I find Korean skincare quite overwhelming (as you would know from my post from last week on Korean Skincare for Beginners here) as there are just so many products out there but also, I just don't know what is actually IN them. Ingredients lists are sometimes quite hard to find as they are often listed in Korean or if buying on websites, just not listed at all. There are certain ingredients that I do try to stay away from and I know for a fact that in some of the formulations, ingredients such as drying alcohols and mineral oil can easily be found. Korean skincare brands that tend to be more 'natural' or 'organic' are either not natural or organic at all (Innisfree I am looking at you) and those newer, upcoming brands with a natural aesthetic or a 'free from' feel to it, an ingredients list or more information on the brand is quite hard to find. However, one brand that I have found that seems to have a very natural feel to it is a brand called Blossom Jeju.
Blossom Jeju is not necessarily a Korean brand sold in Korea, instead, I think (from what I have googled and seed) that it is a brand created in Korea, using Korean skincare technology and extracts and is marketed more towards a Western audience. That aside, the brand centres itself around the camellia japonica or Japanese Camellia (a red blossoming flower) which can be found in the Gotjawal Forest on the beautiful Jeju Island in South Korea. The camellia flower has many benefits to the skin such as being quite hydrating, anti-inflammatory and anti-ageing and has been used in Eastern Asian skincare for some time now. The entire Blossom Jeju line is inspired by this red flower and every product in the line contains extracts from the Japanese Camellia, including the Pink Camellia Soombi Essence Serum which contains an impressive 55% of the camellia japonica extract in its formulation. I have been using this serum on and off now for the past 6 months, with a special focus on it over the last few weeks and whilst I had my doubts on it in the beginning, I have now found myself really enjoying using this.
What Is It?
The Blossom Jeju Pink Camellia Soombi Essence Serum is a clear serum of medium consistency that contains japanese camellia extracts and other botanical extracts.
What Does It Do:
The Pink Camellia Serum uses camellia extracts, camellia oil, chocolate vine and green tea extract (to name a few) to create an oil like serum that aims to nourish, soothe, repair, protect the skin as well as preventing signs of ageing on the skin. I believe that the serum's main focus is to hydrate the skin and providing that moisture boost.
Ingredients:
Camellia Japonica Flower Extract (55.22%), Glycerin, Propanediol (EcoCert®, Natural Origin), Water, Pentylene Glycol (Eco-Cert®, Natural Origin), Niacinamide, Xanthan Gum, Akebia Quinata Extract, Panthenol, Polyglyceryl-10 Laurate, Caprylyl Glycol, Polyglyceryl-10 Myristate, Citric Acid, Glycyrrhiza Glabra (Licorice) Root Extract, Betaine, Adenosine, Sorbitan Caprylate, Opuntia Ficus-Indica fruit Extract, Centella Asiatica Extract, Camellia Sinensis Leaf Extract, Camellia Japonica Seed Oil, Polygonum Cuspidatum Root Extract, Scutellaria Baicalensis Root Extract, Trehalose, Hyaluronic Acid, Aloe Barbadensis Leaf Extract, Rosmarinus Officinalis (Rosemary) Leaf Extract, Bioflavonoids, Brassica Oleracea Italica (Broccoli) Extract, Levulinic Acid, Chamomilla Recutita (Matricaria) Leaf Extract, Citrus Unshiu Peel Extract, Vitis Vinifera (Grape) Skin Extract, Hizikia Fusiforme Extract, Vaccinium Angustifolium (Blueberry) Fruit Extract, Pyrus Malus (Apple) Fruit Extract, Silybum Marianum Extract, Yeast Beta-Glucan,
Fragrance
Looking at the ingredients list, most ingredients listed are natural or botanical extracts/oils with a few exceptions. However, those who are sensitive to fragrance should be aware that fragrance is listed in bold and is the final ingredient on the list.
My Thoughts:

I'll be honest, I didn't really like this serum to begin with – I wasn't sure about the thick consistency and the oil like feel of the serum.  Six months ago, when I first started to use this, I wasn't used to the feel of oils on my face and this serum felt a bit too sticky for my own liking, later on I thought that this product broke me out which is why I found myself using it occasionally to see how my skin would react (it wasn't breaking me out though).  Despite these thoughts, I persisted to use it every now and then as I did notice that my skin would be softer and more hydrated after using it. It wasn't until recently, when fellow blogger Mika from hello himawari asked me what my thoughts were that I decided to give this serum a real go. I found myself using it almost on a daily basis, sometimes twice a day as I found that my skin really loved it and it was so soothing and nourishing for my eczema prone skin which was just not having a bar of the Shanghai heat and humidity. 
What I really liked about the Blossom Jeju Pink Camellia serum was that it was immediately soothing and calming, especially around my jaw which was getting quite irritated from the heat humidity of Shanghai. As soon as I would pat this serum around that area, my skin not only felt a sense of relief as the redness and that feeling of needing to scratch would diminish after a few minutes. Japanese Camellia Seed Oil is one of the main ingredients of the Pink Camellia Serum, and the flower's extract is makes up more than 55% of the actual serum itself which is quite impressive. Studies have shown that this particular type of camellia seed oil has anti-inflammatory benefits by inhibiting the factors that produced and exacerbate the inflammatory response. This would explain perhaps why my skin felt soothed and calm after application of the serum. Using it was such a welcome sense of relief.  I have used this quite a bit in a more humid and hot climate and this works so well to hydrate dehydrated skin but also really well to calm it down whether it be redness or angry irritation from the heat. 
The other factor that I really loved about the Pink Camellia Serum was the fact that my skin felt hydrated and looked healthy and glowing after using this. The combination of the japanese camellia extract, camellia seed oil, other botanical extracts and niancinamide help to nourish, protect and repair the skin. Some studies have shown that Japanese Camellia seed oil aids in boosting collagen production of the skin which means that it helps in the reparation process of the skin if it were to become damaged. The boost in collagen production also slows down the signs of skin ageing which is always a bonus for those concerned in preventing wrinkles and fine lines. Niancinamide is an ingredient buzzword lately as it helps to improve the barrier function of the skin and overall boost the elasticity of the skin, which means that it helps to protect the skin and also provides the skin with that soft and smooth appearance. Other botanical extracts such as green tea provide the skin a fantastic antioxidant boost but also help in nourishing the skin. It is obvious that the choice of some of the ingredients in the formulation would have a lot to do with why my skin felt so nourished, hydrated and healthy after using the serum. The main focus of this serum is to after all, hydrate the skin and I believe that it performs well in that sense. I found that after some time after application, my skin would just soak up this serum and that my skin felt softer, smoother and a lot less dry on the cheeks and the dry patches around the jaw line were reduced. After using this continuously for about 2 weeks, my skin looked hydrated, less irritated (despite the heat and humidity) and most importantly my eczema flare ups were not as severe around my chin and jaw, even though the temperatures were rising. I think that those with dry or dehydrated skin would really enjoy using this as it hydrates and plumps the skin extremely well as it is a powerhouse of oils and extracts that will nourish, hydrate and protect the dry skin layers. 
One of the things that made me hesitate about this serum the most at the beginning however, was it's consistency. The Blossom Jeju Pink Camellia serum has a really interesting texture. When first dispensed from the dropper, it looks like a thicker more viscous serum. When you go to pat or massage the serum on the skin it has a quite an interesting serum/oil feel. What I mean by this is that it feels like a serum initially but once it starts to spread on the complexion it has a slightly heavy oil like feel and doesn't sink in as quickly as some of my other serums. It leaves a tacky feel on the skin but after about 10-15 minutes the serum does start to sink in quite nicely. This texture and feel took me some time to get used to and I had to play around with how much I should use to get the right 'feel' on the skin. The suggested use is a full dropper of this serum which I personally found a bit too much. Half a dropper for my face was more than enough and I would warm it between my hands and pat this on to my complexion so my skin would soak up all its goodness. The Pink Camellia Essence is a serum where you will need to wait for some time for it absorb in the skin, so it might not be the best serum to use when you are in a rush as you run the risk of your additional layers of skincare not soaking in properly.
This serum does have a scent to it but it is a beautiful, light smell of jasmine which I think smells divine! However, those who are quite sensitive to any sorts of smells should best stay away from this product as the smell is quite noticeable and will linger for a few minutes after application. Those who enjoy anything that smells like flowers or jasmine will think that this serum smells like heaven as I really enjoy this scent. As mentioned earlier, the serum is dispensed using a dropper and the packaging of this is a beautiful opaque white glass bottle. Seriously, this serums looks and smells divine!
I have found that I do quite like this serum in terms of the results that I get, however the consistency of the serum and the time it takes to absorb into my skin without that wet tacky feeling does put me off sometimes from using this. I feel that I do need to wait for some time for it to fully absorb into the skin. Once it has absorbed however, it does make my skin look and feel fantastic. It really does leave my skin feeling and looking healthy, glowing, calm and most importantly plump and hydrated. It's a fantastic hydrating serum for anyone who is looking for not only an extra moisture boost but for extra nourishment and nutrients for their skin as well.
Repurchase YAY or NAY
Whilst I do enjoy using the Blossom Jeju Pink Camellia Soombi Essence Serum, I don't think I will be repurchasing again as I have other products in my skincare stash that do similar things (hydrate, protect and repair) but have a consistency that I generally prefer to work with more. The Pink Camellia Essence definitely does perform and does it so well, its just for me, I have other products in my rotation that sink in much better into the skin, require less wait time and therefore work much better with other products when in a rush or hurry. The tacky feeling after application does take some time to go away and for the product to feel like it has fully 'sunk' into the skin which is a shame as the serum does produce some wonderful results in feeling and improving my skin. Overall, the Blossom Jeju Pink Camellia Soombi Essence Serum is a wonderful, exquisite smelling, hydrating serum that really does provide the skin with added moisture and hydration. However, its consistency and feel on the skin is the only thing that puts me off from repurchasing it even though it does perform extremely well.
Have you used other products from this brand before? What have you used and what are your thoughts? Are there other Korean Skincare brands that you would recommend me trying? Leave comments in the comments section below!