Lancôme Advanced Génifique Hydrogel Melting Mask Review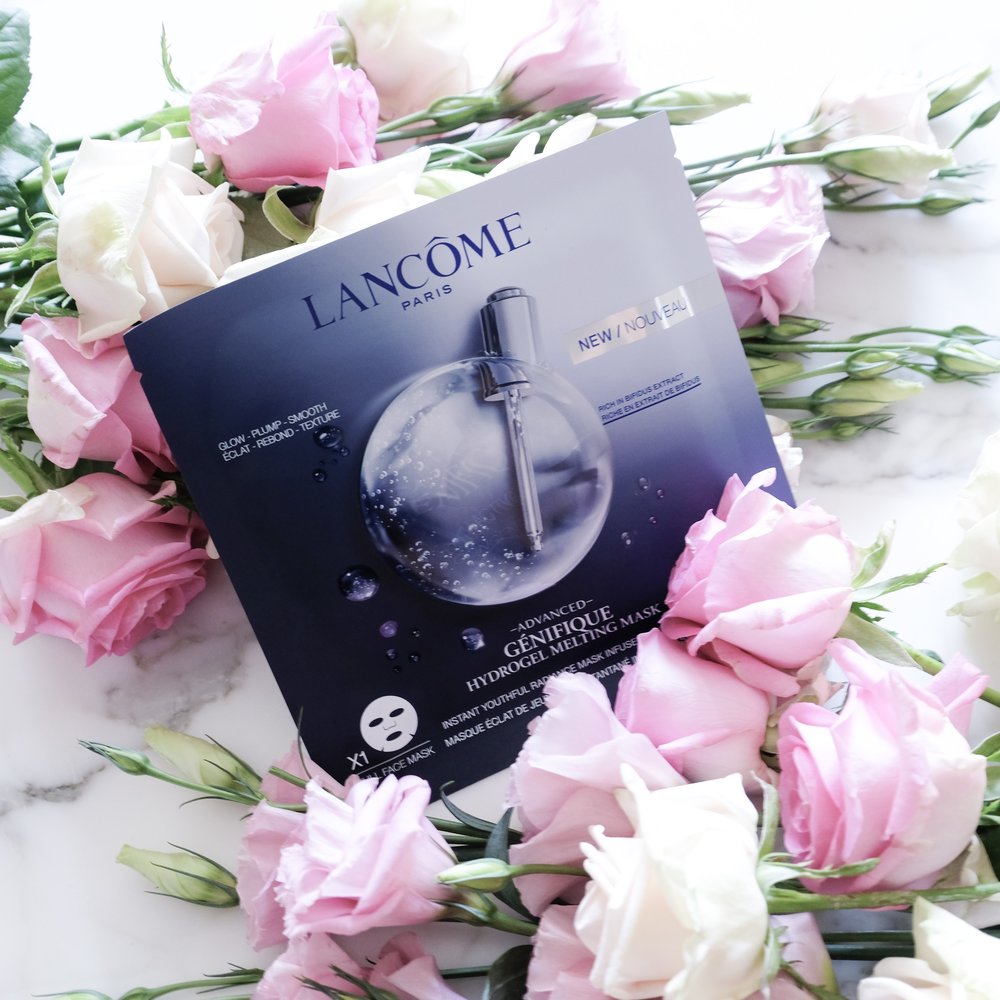 Sorry everyone for taking forever to update the blog! Its been a hectic past few weeks with things happening at work, moving apartments, Easter Long Weekend and just general 'adulting'. I find that when I did have the time to blog, all I really wanted to do was just curl up and sleep or watch reruns of Dawson's Creek (yes, I discovered Dawson's Creek!). In a nutshell, blogging was the last thing on my mind, however, after nearly a whole month of absence – I have missed it!
One thing that I have learned whilst juggling a few different projects is just how much I enjoy a good masking session and how it really does help me to unwind and relax. I love the fact that masking can come in a variety of forms that cover various people and lifestyles. The choices are endless with everything from slow and easy powdered masks to masks that can be applied on the go. I enjoy all different types of masks but a favourite go-to of mine is the sheet mask. I truly believe that nothing beats a good sheet mask in terms of giving the skin that beautiful dewy glow and they work so well both during the day to enhance the complexion for makeup or in the evening as a means to relax and watch a movie.
Recently, I had the opportunity to try out Lancôme's Advanced Génifique Hydrogel Melting Mask which is based on the infamous Lancôme Advanced Génifique Serum – a cult favourite from the brand. Each mask contains an impressive 30ml of serum and uses a hydrogel base for a perfect fit and optimum penetration it the skin. The Lancôme Advanced Génifique Hydrogel Melting Mask was definitely quite the luxurious mask, but in a day and age where sheet masks are so readily available and affordable, was it worth the splurge?
**Please note – this mask was kindly gifted to me in return for an image on social media, with no expectation of a review. I had so many requests and questions on this that I decided to share my thoughts on this mask via a more in-depth review. All opinions are my own honest opinions.
What Is It?
The Lancôme Advanced Génifique Hydrogel Melting Mask is a sheet mask made from hydrogel and fits on the face like a second skin.
What Does It Do?
Formulated with probiotic extracts, the Lancôme Advanced Génifique Hydrogel Melting Mask contains the equivalent of what is found in the 30ml bottle of the Lancôme Advanced Génifique Serum which will work to give the skin an instant glow and leave the skin looking plump, smooth and refined. This sheet mask will also work to give the complexion an overall youthful well rested appearance (because I know I need it!).
Ingredients:
Water, Glycerin, Bifida Ferment Lysate, Butylene Glycol, Caprylic/Capric Triglyceride, 1,2-Hexanediol, Sucrose, Lactobacillus Ferment, Tocopherol, Sodium Benzoate, Madecassoside, Hydrolyzed Wheat Protein, Sodium Dehydroacetate, Sodium Succinate, Phenoxyethanol, Phenyl Trimethicone, Adenosine, Faex Extract / Yeast Extract, Peg-60 Hydrogenated Castor Oil, Arginine Ethylhexylglycerin, Polyacrylate-13, Allantoin, Polyisobutene, Polysorbate 20, Salicyloyl Phytosphingosine, Limonene, Pentylene Glycol, Linalool, Ceratonia Siliqua Gum / Carob Gum, Carrageenan, Sorbitan Isostearate, Disodium Edta, Potassium Chloride, Citronellol, Potassium Hydroxide, Methionine, Potassium Sorbate, Glycine, Fragrance.
My Thoughts: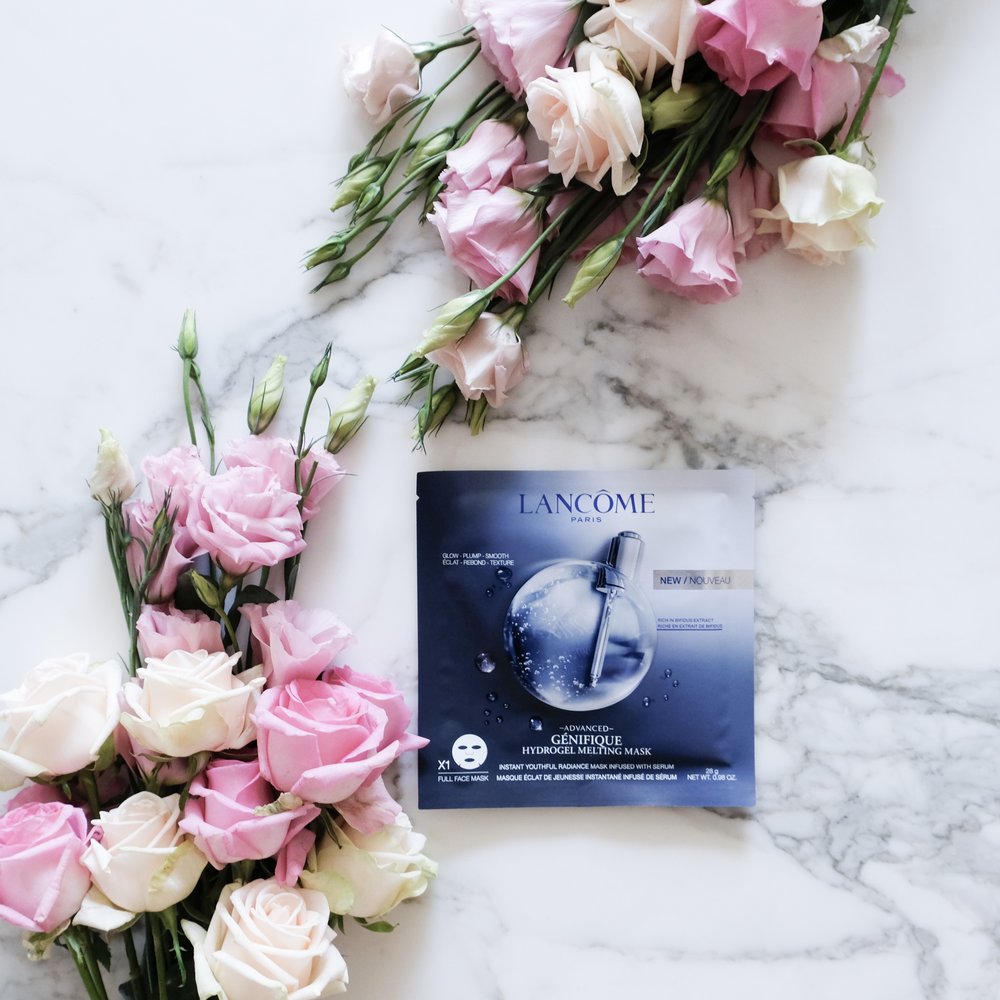 There is no doubt that the Lancôme Advanced Génifique Hydrogel Melting Mask leaves the skin feeling hydrated, plump, dewy and radiant. It truly is a beautiful mask where the mask itself not only feels amazing on the skin but fits like a second skin. Like with most sheet masks, the results from the Hydrogel Melting Mask is instant, making it a fantastic pick me up when the skin needs to look it's very best ASAP. Unlike a lot of the sheet masks available on the market, Lancôme's Advanced Génifique Hydrogel Melting Mask is priced well above its typical Korean skincare counterparts at USD$15 or AUD$29 for one single sheet, putting it right up there as a luxurious purchase. Is it worth it? There is no simple answer to this one, it is a bit of yes and a bit of no.
As many of you may know, sheet masks come in all different varieties and can be made with all sort of different materials. The Lancôme Advanced Génifique Hydrogel Melting Mask is made from a lightweight hydrogel mesh which is supposed to melt into a fluid once it reaches room temperature on to the skin. Once it reaches this temperature, the mask releases its unique blend of ingredients (think fermented extracts such as Bifidus extract) which ultimately will contribute to the skin's healthy and radiant glow. Based on Lancome's best selling Advanced Génifique serum, the mask contains the same quantity of Bifidus extract as one full 30ml bottle of serum. I personally loved the hydrogel on the skin, it was comfortable on the face and it acted almost like second skin. The mask itself was so cooling, soothing and relaxing as soon as it was applied making it a real treat to use on a hot and humid evening due to its hydrogel material. When removed, the Lancôme Advanced Génifique Hydrogel Melting Mask does leave some 'serum residue' behind which I massage into the skin and leave for another 10-15 minutes before applying my moisturiser. The final result? A radiant and luminous complexion.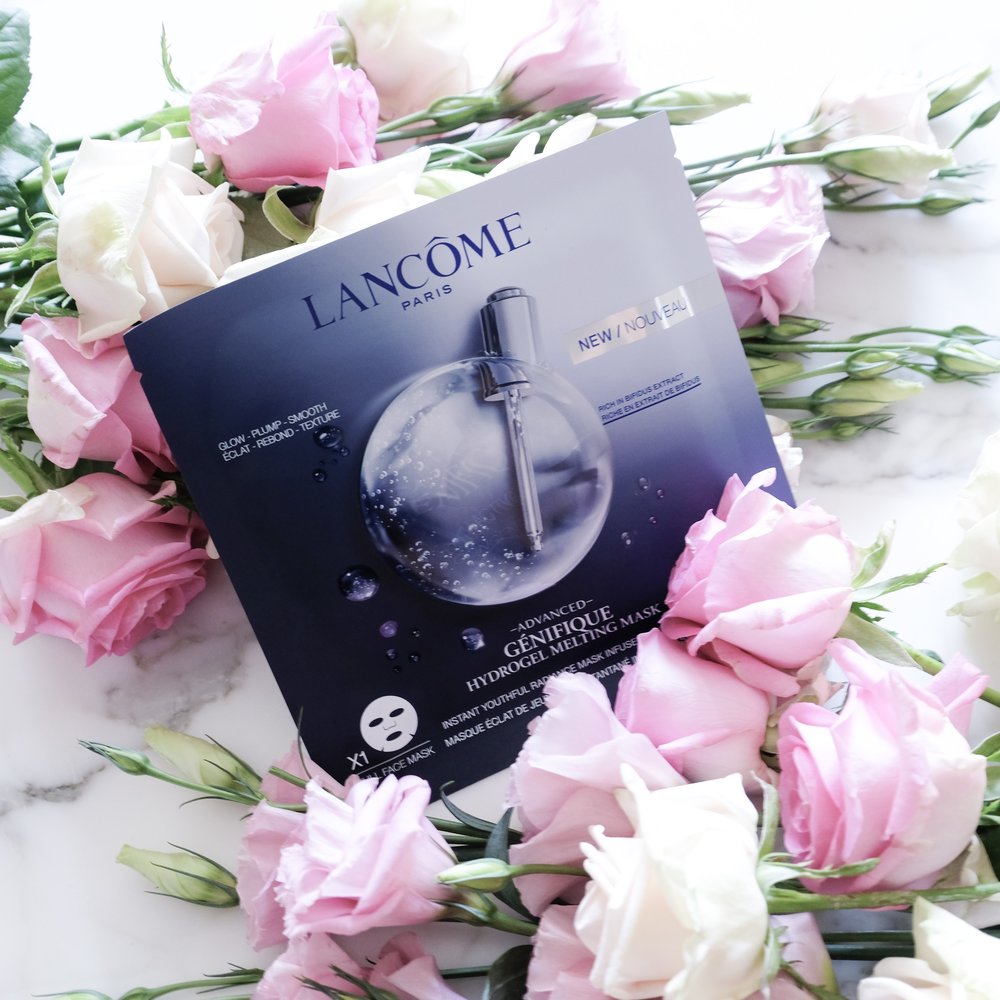 For me, the Lancôme Advanced Génifique Hydrogel Melting Mask does absolutely perform. It gives the skin that lit from within glow and a complexion that is as plump as a peach. The instant hydration, calming and cooling effect that this mask gives the skin is truly amazing and it would create the perfect canvas for makeup before a big event as it helps to plump up the complexion and even out skin tone. When removed from the face, this mask gave me a beautiful radiant glow. Within the 20 minutes of applying this mask and removing it, my tired looking complexion looked brighter, happier and healthier making the Hydrogel Mask an instant one-step lift to the skin. I found the results of this mask did last for a few days. I found that my make up did seem to sit better over the course of the few days as my skin was so soft smooth and felt so even in both texture and appearance. Whilst I only had one of these masks to use, the first impressions that this mask gave me was an impressive one.
However, my only gripe with the Lancôme Advanced Génifique Hydrogel Melting Mask is possibly its price. Those who have used sheet masks often will also note that many other sheet masks can also give a similar plumping effect to the skin and are also made of the same hydrogel/bio-cellulose material. For me, a sheet mask made of hydrogel is nothing revolutionary and can be found in the world of K-Beauty at a fraction of the cost. Brands such as Leaders Insolution, JayJun and Innisfree have similar masks available in their lines. These masks also do give the skin a beautiful luminous glow and will also work to give a dry, dull and dehydrated skin that instant kiss of life – just at a lower price point. This is probably the biggest downside to Lancôme's Advanced Génifique Hydrogel Melting Mask for me. Whilst yes, this does contain 30ml of Lancôme's infamous Advanced Génifique Serum in each mask pack, I do personally find it a little hard to part with AUD$29/USD$15 for one single sheet mask, it makes it quite hard to use on a regular basis. This, for me, would go under luxurious purchases only and would be something that I would save for the most special of occasions. I would recommend this mask for all brides to be and special events as it does give the complexion an amazing boost.
Overall, I did enjoy the Lancôme Advanced Génifique Hydrogel Melting Mask very much. I loved the instant radiance and hydration boost it gave to my skin and loved the fact that this effect lasted for a few days. For me, this mask is beautiful in the materials used and the results that it gives. The only downside that would prevent me from purchasing this as often as I would like is the price point. There is no doubt that this is a luxurious purchase and is a mask that I would not use on a regular basis, especially with so many other competitors out there on the international market. However what Lancôme offers with their Advanced Génifique Hydrogel Melting Mask is guaranteed results and effectiveness. With a K-Beauty market that is often so overwhelming to the average consumer, the Lancôme Advanced Génifique Hydrogel Melting Mask is indeed convenience and the guarantee of that perfect lit from within glow.
Repurchase YAY or NAY?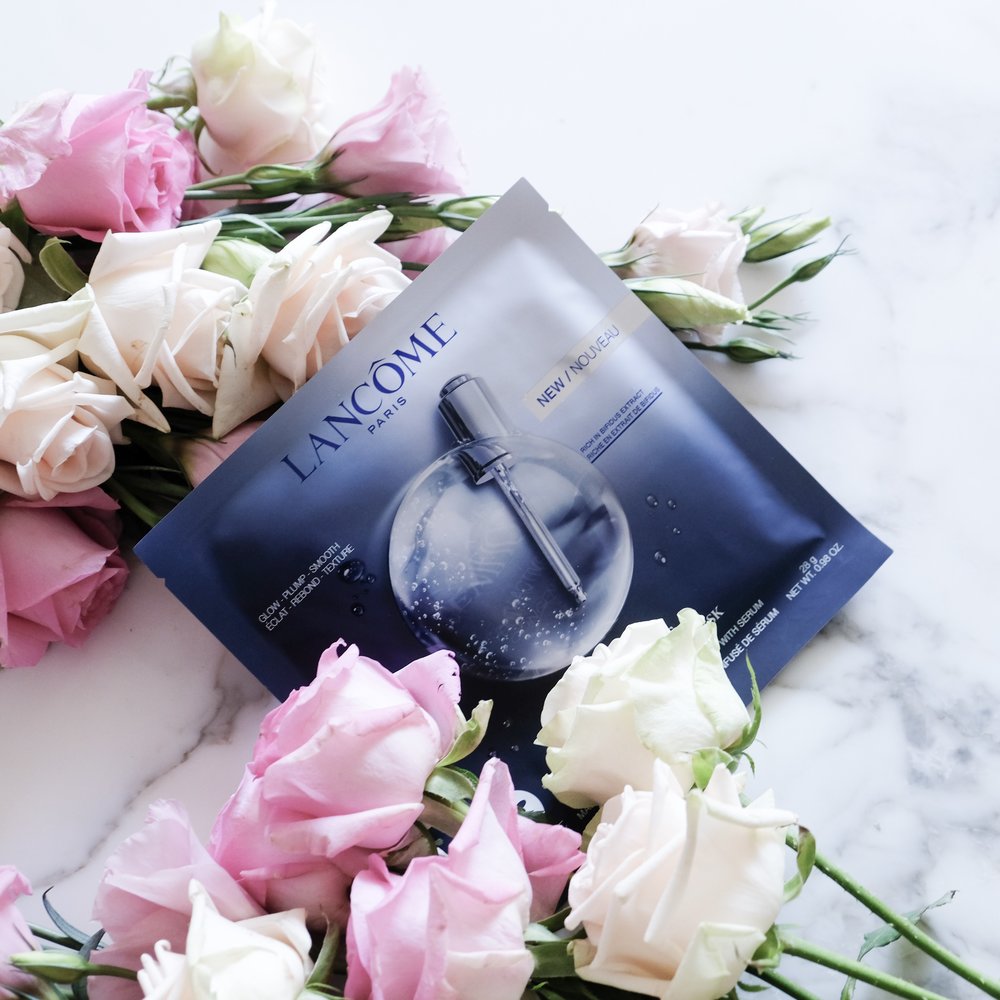 Despite its price, I would purchase the Lancôme Advanced Génifique Hydrogel Melting Mask again as I do have a few weddings coming up over the course of the year. It is a product I would absolutely purchase as a gift to a bride in the lead up to her special day. Its luxurious pricing makes it a special occasion mask, and whilst for me, the pricing isn't worth it for regular use, it is a mask that is well worth it for big and special events.
Have you used much skincare form Lancôme before? What have you used and what were your thoughts? I would love to hear in the comments section below.