5 Brands Similar to DECIEM's The Ordinary
We all know too well about the drama and social media WTF that is DECEIM's The Ordinary. Many have loved the products but are so very deterred over the antics of the founder, leading to many thinking – what are the alternatives? In this day and age and considering how competitive the beauty market is currently, many will be pleased to know that there are some fantastic alternatives out there. Whilst these substitutes might not be at the groundbreaking prices The Ordinary is priced at, they are definitely options for those who are looking for more budget friendly alternatives to replace the products they may have used previously. These brands are in no way exorbitantly priced and for what they do, I believe that they may do the task at hand quite well. 
Do not get me wrong, what The Ordinary did was in fact quite extraordinary. For me, I found that it encouraged those who might not necessarily be interested in skincare to become interested in what they were applying on their skin. I think it encouraged many more individuals to be more clued in to active ingredients and what these ingredients did for their skin (even if the names of the products were a little confusing). As you may have known from my own personal experiences with The Ordinary products, I thought they were rather meh. I didn't love them and I found that I enjoyed other products in both texture, feel and efficacy so much more.
In this blog post, I hope to offer some alternatives brands to look into for those who may wish to jump ship from The Ordinary or want to step up from what they are currently using in the range. Please note, these are just suggestions and whilst these brands may not offer the extensive line up that The Ordinary has, they do provide some great alternatives.
Ausceuticals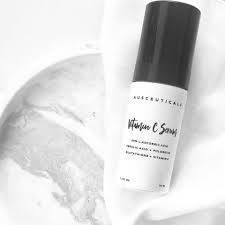 Aussie brand Ausceuticals is a husband and wife team consisting of an aesthetic physician and a natural skincare formulator. The brand aims to be different by being as transparent as possible and having each and every product loaded with active ingredients. Formulation is also key for Ausceuticals, aiming to create and formulate skincare products with a minimal amount of fillers. Each and every ingredient serves a purpose in each of the brand's formulations and there is no trace of silicones or denatured alcohol in their product range.
A refreshing outlook on the industry, the founders believe in keeping the costs to the consumer at a minimum. There is no gimmicky marketing, miracle ingredients from the Amazon and no middleman. Each and every product promises to give the consumer "the highest beneficial concentrations of active ingredients and the best available raw ingredients, at an affordable price point". This can be seen throughout their formulas, offering serums which contain 10% Vitamin C, 20% Vitamin C, Retinol, Niacinamide and Hyaluronic Acid. The brand also offers pure plant oils such as Prickly Pear and Marula oils for those who truly want something natural. 
Having used some of the products myself (I really enjoyed their Niacinamide Serum, which contains 10% concentration), Ausceuticals is that perfect, effective and affordable in between. It's not the cheapest product on the market nor is it ridiculously priced. For the high quality of the formulation, concentration of active ingredients, great feel and texture of the product and of course it's effectiveness, Ausceuticals is definitely a brand to consider when looking for active serums. 
CosRx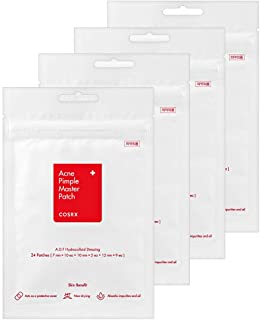 When it comes to affordable K-Beauty, CosRx is definitely one of the first brands that come to mind. The brand is not only affordable, but there is a significant amount of science that does back up a lot of their products. The company prides itself in creating effective products that uses minimum ingredients to treat certain skin concerns. What I love about CosRx is that its a little bit of east meets west in terms of their approach to skincare. For me, the brand itself is relatively easy to navigate in terms of finding products for certain skin concerns and using tried and true key ingredients that many of us will be familiar with such as acids, honey and hyaluronic acid to target these concerns. However, CosRx is also not afraid to incorporate truly 'Korean' ingredients into their range either using snail mucin or yeast ferment in their formulations. 
What makes CosRx such a fantastic alternative is that their products are simple, easy to understand and it is just so easy to build a routine with their current offering, without being too complicated. A fantastic, yet effective routine based on a cleanser, toner, treatment and moisturiser can be obtained with ease using solely the CosRx line. In terms of key active ingredients, CosRx is also a little ahead of the curve, with recent launches taking advantage of Polyhydroxy acids (PHAs) which are said to be less irritating than that of traditional BHAs and AHAs.
For someone who is really starting to understand key ingredients and wanting to build their skincare routine, CosRx is a fantastic starting point and is now quite easy to find. The range can be found at Amazon (home of the infamous 20.5% Vitamin C Serum). 
Paulas Choice

If you are an acid junkie, then look no further than Paulas Choice. This brand features a plethora of different variations of acid peels and at a fraction of the cost of the traditional ones you may see in a department store or boutique. Ranging from Glycolic, Lactic and Salicylic acids, Bravura London has an acid for almost anyone.
Whilst for some, the percentages aren't quite high enough,  Paulas Choice will keep most of those who have only been introduced to the wonder of the acids – satisfied. Concentration of acids range from 2% to 10% in the Paulas Choice portfolio and with pricing starting at GBP£9.59, there is no doubt that Paulas Choice is highly affordable option for many. However, acids aren't the only thing that Paulas Choice offer – cleaners, creams and serums are also available on the Amazon and again, at just the fraction of the cost of a typical product in a department store. 
To be honest, I haven't tried the other skincare offerings but I can attest to how much my skin enjoyed the Salicylic Acid 2% peel (before I spilt it all over my bathroom vanity…oops!). I felt that the this really worked well to get deep into the skin to help decongest and help 'fight' off spots that came my way.
Paulas Choice is UK based and can be purchased directly from their website. 
Timeless Skincare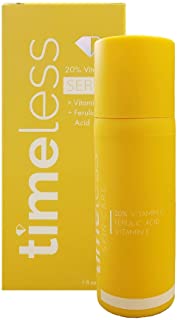 Don't be deterred by the simplicity of Timeless Skincare's packaging – according to social media – this brand is the bees knees when it comes to its 20% Vitamin C E Ferulic Acid Serum. It's even been compared to the iconic Skinceuticals version! However, this is not the only product in the brand's offering as Timeless Skincare prides itself in specialising in skin care products that have a focus in the areas of anti-aging, treating scars and aiding those with acne prone skin. With focused serums such as Matrixyl 3000 Serum, Vitamin B5, Matrixyl S6 and Coenzyme Q10, there is no doubt there is a cosmeceutical/science focus with the Timeless Skincare lineup. 
I haven't tried this brand myself, but reading some of the reviews, this brand overall has some fantastic feedback and clearly offers some fantastic alternatives. The prices of the products are still accessible to everyone (maybe not as low as The Ordinary) but it still offers some great well priced choices and alternatives for those seeking it.
Timeless Skincare formulation products can be purchased directly from their website. 
Beauty Pie
Beauty Pie was slated as a beauty industry disruptor by the press and various media outlets since its inception since early 2017. Beauty Pie offers and promises its customer's luxury grade products for a fraction of the cost – think USD$2.50 lipstick. The catch? Members will need to pay a monthly membership fee starting at USD$10 a month for access to these prices, a relatively small price to pay for such amazing prices from everything to mascara, lipstick and of course, my personal favourite – skincare.
Beauty Pie claims to purchase products directly from luxury-beauty factories and sell them at their manufacturing cost and is based on the idea of cost transparency. Each product on the website will have a breakdown of how much was spent on product and packaging, warehousing, safety and testing etc.
When it comes to skincare, the Beauty Pie offering seems quite impressive, offering a range of beautiful sounding products and textures. Perhaps one of the most interesting is their Super Retinol range which contains a 1-3% encapsulated retinol complex, which aims to work on the skin in a much gentler manner. This technology reminds me very much of luxury label,Verso skincare and how it works – but just a fraction of the cost. The Super Retinol Serum is priced at only USD$11.09! Apart from a focus on retinol, the Beauty Pie skincare offering draws inspiration from trending Asian beauty as well as plant technology with their Japanfusion and Plantastic lines. 
Again, I haven't personally tried any of the Beauty Pie skincare range, but I have used their lipstick. If their $2.50 lipstick impressed me as much as it did, then I am excited to see how their skincare range performs – especially ay such an accessible price point. Beauty Pie is available both in the USA and UK via their respective websites. 
Have you tried any of these skincare brands before? What were your thoughts on the range? Do you have any other suggestions? I would love to hear more – so please leave your comments and suggestions below!