Perricone MD No Foundation Foundation Serum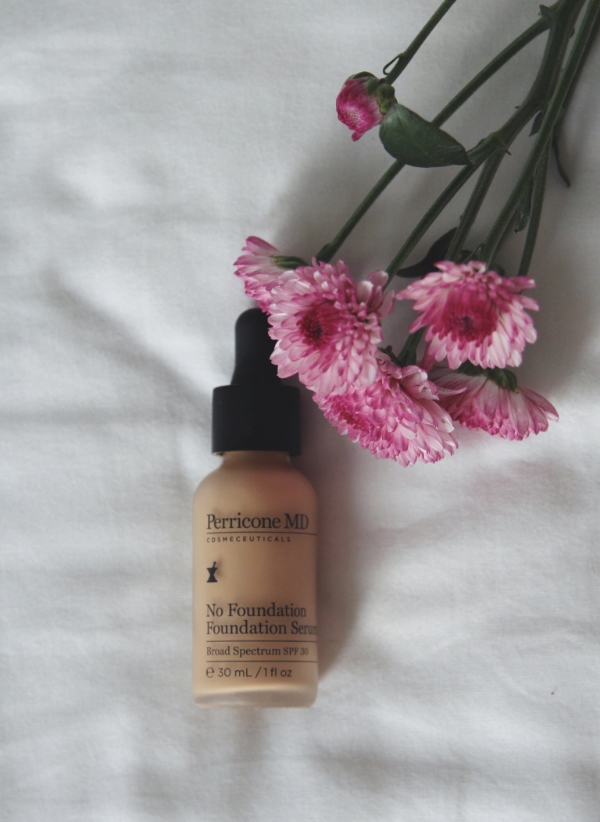 Since moving away from home, I have found that my general approach to skincare has improved but my approach to applying make-up has significantly gone down hill. I simply cannot be bothered and also don't have a real need to as I am no longer working. My skin generally is pretty good and on a normal day I don't wear much make-up anyway. These days, I am finding that I am wearing less foundation or just want a little bit of coverage before I head out or sometimes I will even just wear sunscreen and some eyeliner and I am out the door (this would never have happened back home).
One of my little discoveries I made before I left Australia was Perricone MD's No Foundation Foundation Serum which has become an absolute staple in my everyday 'face'. I find that I have been reaching for this more and my Chantecaille Future Skin or Ellis Faas Foundation (which I used to apply sheerly for everyday) has been saved for when I go evenings out only. I am so glad that my friend recommended this as I found that it provides me with the perfect amount of coverage for the daytime when I go to a cafe or to the shops or anywhere really.
What Is It?
The Perricone MD No Foundation Foundation Serum is basically a very, very lightweight foundation in serum form. It is a fusion of make-up and skincare that is designed to give you some coverage but also giving added skincare benefits.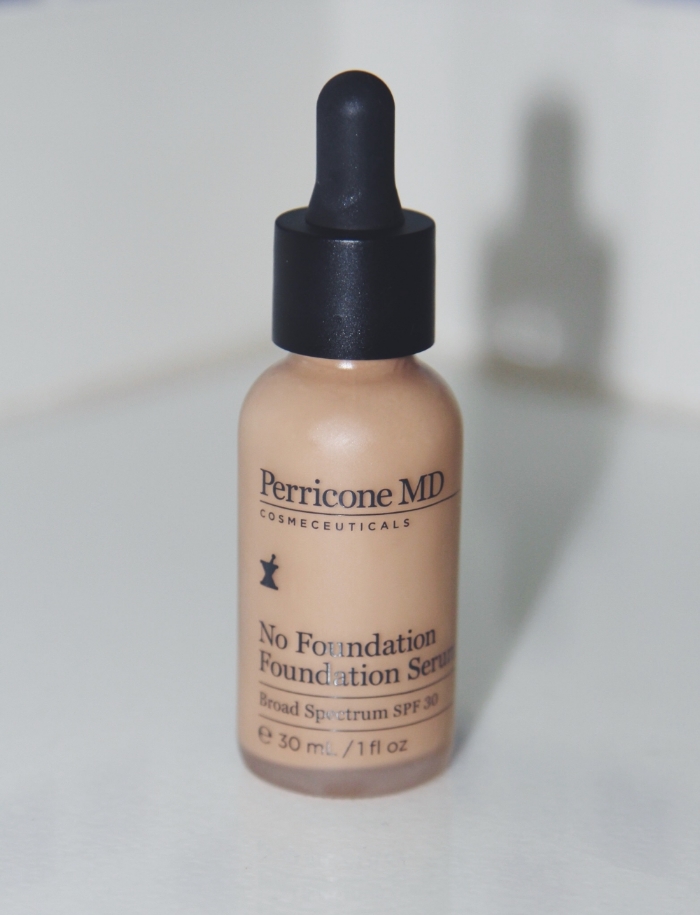 What Does It Do?
This serum foundation aims to provide the skin with a very light sheer coverage. I wouldn't say it is a foundation but more like a tinted moisturiser (by way of coverage) but better for your skin as it is a fusion of complex skincare. According to the Perricone MD website, the No Foundation Foundation Serum restores skin's inner radiance and color of youth while instantly softening imperfections and minimizing the appearance of wrinkles and pores without settling into fine lines. Offered in one universal, buildable shade with a semi-matte finish. This serum also has the added benefit of being SPF30. 
Ingredients:
The ingredients listing from the Perricone MD website is the following:
Cyclopentasiloxane, Dimethicone, Water, Titanium Dioxide CI 77891), PEG-10 Dimethicone, PEG-9 Polydimethylsiloxyethyl Dimethicone, Methyl Trimethicone, Iron Oxides (CI 77491, CI 77492, CI 77499), Acrylates/ Dimethicone Copolymer, Dimethicone/PEG-10/15 Crosspolymer, Sodium Chloride, Silica, PEG/PPG-18/18 Dimethicone, Ethyl Ferulate, Phenoxyethanol, Caprylyl Glycol, Sodium Lactate, Dimethicone/Vinyl Dimethicone Crosspolymer, Phoenix Dactylifera (Date) Fruit Extract, Potassium Sorbate, Disodium EDTA, Thioctic Acid, Triethoxycaprylylsilane, Hexylene Glycol, Ascorbyl Palmitate, Dimethyl MEA, Tocopheryl Acetate, Palmitoyl Oligopeptide, Palmitoyl Tripeptide-5.
Looking at the ingredients on CosDNA, there are a few ingredients that do have ratings of 3 and 4 and there are quite a few different silicones used in this product (10/34). Some of these are the sunscreen/SPF agents in the skincare. Whilst for me, it doesn't really raise many alarm bells, it probably isn't the best if you are opting for less synthetic chemicals or silicones in your routine. 
My Thoughts:
As mentioned earlier in the post, I have found that I have been reaching for this foundation a lot nowadays. The coverage it provides me is light and it gives me that 'my skin but better' look as my skin looks glowy, dewy and not at all greasy by the end of the day. The No Foundation Serum feels weightless on the skin and sinks in ever so nicely. For me, it is the perfect solution to some of the humid days I have been experiencing in China as I don't feel like I am 'sweating' my makeup off.
If you are looking for a foundation that will provide some coverage for you (ie freckles etc) then this is not the foundation for you. The coverage that this provides is quite sheer, I find that it balances out the skin tone extremely well and covers some redness but any freckles, spots or dark circles, it will not cover but more so lessen the effect. For me, my skin has been relatively good as of late, so it provides me with the perfect amount coverage (I don't need too much) and basically just evens out my skin tone, giving me a luminous, glowing lit from within finish without having to cake on any make-up (wonderful in humid and hot climates). If you have some small imperfections on the skin, whilst this foundation won't cover it up, it will provide a more soft focus blur which ultimately will help conceal these imperfections. The finish of this isn't matte and it isn't super dewy so the description of semi matte would be quite correct. The aim of this foundation serum is to basically to mimic the look of natural skin (therefore the No Make Up Line is rightfully worded) and it really does a great job of it. I simply will finish this off with some bronzer and powder and I am all set for the day.
The foundation is probably best applied with your fingers (or a sponge) as it is a very liquid consistency when it is dispersed from the dropper. I find that 1-2 drops is enough to cover the face and provide you with a natural and effortless coverage to balance out the skin tone. This lightweight foundation has a beautiful feeling on the skin and will literally glide seamlessly over the face and melt in wonderfully into the skin to give you a more radiant complexion. When you do wear it, it feels so lightweight it is as if that you are not wearing anything on. This No Foundation Foundation Serum only comes in one shade which is suitable to light to medium skin tones. Due to the consistency of the formula it will adjust quite nicely to these skin tones. I am yellow based with medium skin tone (which tans easily over summer) and this colour works really nicely for me. If you have very pale or very dark skin, I am so sorry but I do not think the one colour will work for you.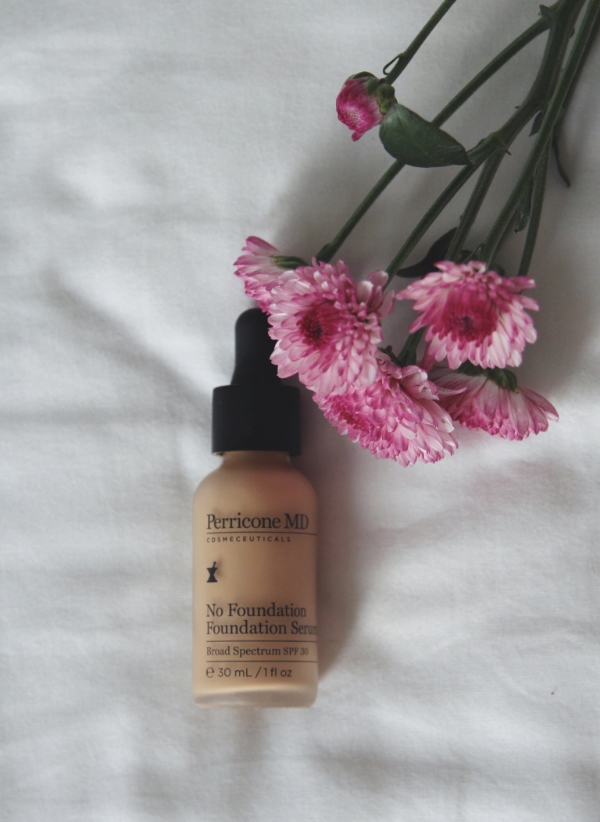 From the skincare aspect, the No Foundation Foundation Serum provides you with a boost of hydration and doesn't accentuate any dry patches on the skin but will most likely help these dry patches later on. If you find that your skin is dry and dehydrated than this serum foundation could be a great fit for you. It plumps the skin and gives it more radiance and I find that in comparison when I used to wear normal foundation, my skin does feel a lot better after wearing this all day. This lightweight foundation also has the added bonus of being SPF30 so it will also protect you from the sun. In terms of the claims of minimising pores and wrinkles, I cannot comment as these two concerns are not ones that concern me as of yet (sorry!). I am Asian, so large pores are not a huge concern for me and I am in my late twenties so I have currently no visible signs of wrinkles. From reading other reviews online, some ladies who are concerned with anti-ageing have commented that it does diminish the appearance of fine lines and is great for mature skin as well due to the hydrating effect this serum has on the skin. I personally do find that it does minimise the look of imperfections such as blemishes on the skin or any dark circles around the eye area (due to the brightening nature of this). There are also no signs of fragrance in this lightweight foundation. I would say that this product is suitable for most skin types – from dry skin, normal skin, combination skin and even sensitive skin. If your skin is very very oily, I would suggest to probably try a sample first just to see how the serum reacts with your skin.
I wear this foundation with Hourglass Veil Mineral Primer or the new Hourglass Ambient Light Primer in Dim Light (for a more dewy finish) underneath and either the RMS Un-Powder or Troy Surratt Diaphane Looser Powder in Eclatant. With these combinations I find that the staying power of this lightweight serum foundation is pretty good. It can last a full day (around 8 hours) without getting patchy and I do not look like a grease ball by the end of the day. I have't tried this without primer, but I would assume due to the silky, silicone feel of the serum, it will not last as long without a primer or some powder to 'set' it on my combination skin.
Repurchase YAY or NAY:
I would definitely repurchase the Perrcione MD No Foundation Foundation Serum again without any hesitation. The fact it so seamlessly glides on to the skin, melts in and doesn't feel like you are wear anything on whilst providing you with an even, radiant, your skin but better coverage is a winning combination for me. I love the fact it is so lightweight that in humid weather it feels great on the skin (not like you have caked on makeup) but also keeps your skin hydrated at the same time. With the added benefit of SPF30 coverage it is a perfect solution for radiant, flawless and glowing summer skin.