Sorry for the delay in getting my September Favourites out! It has been a BUSY month – travelling to Korea (albiet it for a holiday), meeting some wedding deadlines, getting sick, juggling family and friend commitments…I feel like October is a month where I can *hopefully* get everything back on track and stay ahead of the game! Although September was busy, it was also an exciting month for me. As mentioned, I was able to travel to Seoul and just immerse myself in the joy that is Korean Beauty (I will be posting about my hauls soon…don't worry, its coming!) and since being back at home in Australia, I have really enjoyed being around my family and friends again. It makes you realise how lucky you really are to be around and be supported by such an amazing network of people – no matter where you are in the world.
I have also been extremely lucky to have had the opportunity to try some amazing new products this month from a few different green beauty brands as well as some products that fuse both botanical extracts with science, which I am sure many of you know is something that I love. Most of these products are ones that I have been testing out since before I left for my travels to Seoul, with only one item on this list being a South Korea purchase. I haven't really tried my Korean skincare as much yet but I will get round to it. I myself cannot wait to crack open some of those products! I hope you enjoy my latest September skincare favourites!
Please note that any items with a (*) are items that have been kindly gifted to me but they have been featured in this post because I genuinely love using these products and they have been a wonderful addition to my skincare stash. It is important to note that all these opinions stated are my own honest opinions.
Sodashi Skincare Calming Concentrate*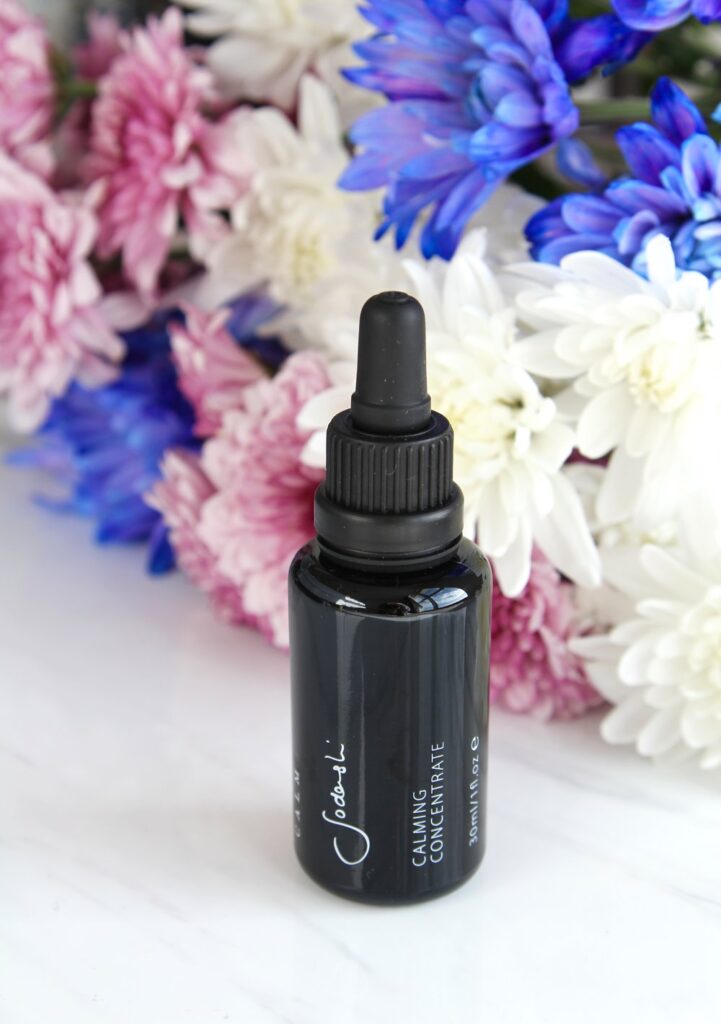 I spoke about Sodashi Skincare not too long ago in my Perth Favourites blog post and prior to that blog post, the lovely ladies at Sodashi were ever so kind to send me two of their products – the Calming Concentrate which acts as a gentle exfoliator and the Brightening Marine Mineral Mask which is a mask that acts to revitalise dull skin. It was suggested that I use both of the products together – using the Calming Concentrate first and then use the Mineral Mask afterwards. I must say, I absolutely LOVE using the combination of these two products as it leaves my face brighter, absolutely glowing and my skin plump and fresh. However, if I had to choose between the two, the Calming Concentrate has been one of my pleasant surprises and I really have enjoyed using this in my routines. 
What I love about the Calming Concentrate by Sodashi Skincare is not only the ritual of using this for exfoliation but also the fact that it is such a gentle way of exfoliating the skin. The Calming Concentrate is basically a concentrated blend of different plant extracts such as geranium, German chamomile, lemon and lavender mixed with almond oil which not only acts to exfoliate to the skin in the most gentle way but also helps to soothe and calm irritated or sensitive skin types. The way that this concentrated exfoliator works is quite unique and I have never tried anything like this before and I found it such a relaxing and delightful experience. To use this, I basically fill my bathroom basin with about 1.5L of water and add about 10 drops of this beautiful elixir, from there I soak a face cloth with this mixture, squeeze the excess water out and compress this on the the skin. I am supposed to repeat this twice but I find myself enjoying the experience so much that I repeat this compression about three times. It leaves my face so incredibly soft, smooth and hydrated and in no way has this irritated my skin like some exfoliators I have used in the past.
This does have a very botanical smell (it actually smells a bit like musky muted down version of lavender), which I surprisingly don't mind. I have never, ever used such a gentle exfoliator like this before and my skin just absolutely loves this. There is no doubt that this does require some extra time but I think that is just part of the joy of using this and its a wonderful ritual that is so well worth it. For me, this is perfect for days where my skin is feeling extremely sensitive or red as this will not only help to decongest the skin but also help to soothe and calm it right down. When I use this with the Mineral Mask, my skin looks absolutely radiant and glowing.
This does list alcohol higher up on its ingredients list but I haven't had any reaction to this, I would assume that it would have been quite diluted in the water mixture. The ingredients list is the following:
Prunus dulcis (almond oil polyglycerol), lavandula angustifolia (lavender*), pelargonium graveolens (geranium*), cymbopogon martini (palmarosa*), alcohol (ethanol, pure cane spirit), soy lecithin, tocopherol (vitamin E), citrus limon (lemon*), anthemis nobilis (chamomile roman*), chamomilla matricaria (chamomile german*). *organic
Allies of Skin 1A All Day Mask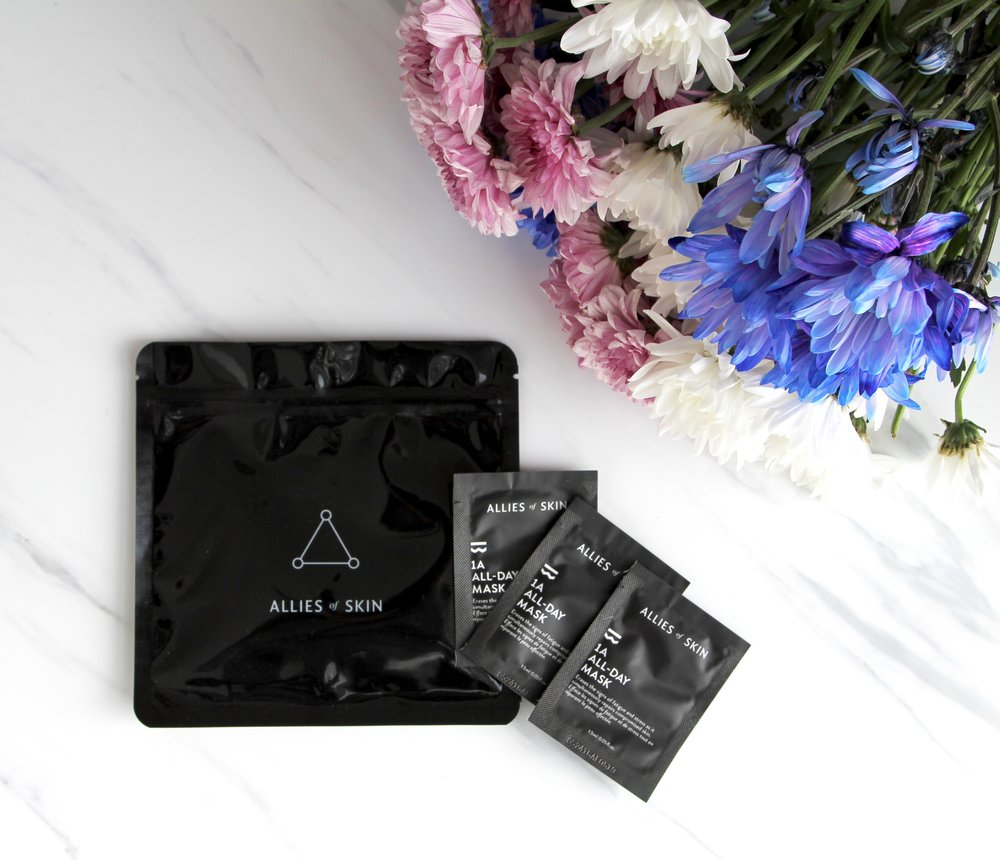 I think I have found a new travel and lazy day favourite in the Allies of Skin 1A All Day Mask. I will be honest and was not ready to 100% commit to this, so I asked my friend who was in Singapore at the time to pick up the 'tester' packs of the 1A All Day Mask. I probably should have just trusted my gut and purchased a full size version of this as I have found that this has been my skin saviour in my recent travels to Seoul. Plane travel generally does not work well with my skin.
The 1A All Day Mask is basically a leave on treatment mask which has the consistency and feel of a lightweight moistursier. The All Day Mask is jam packed full of years of scientific research in the way of complex peptides, antioxidants from botanical extracts and collagen boosting ingredients to help keep your skin protected, hydrated and looking less zombie like after a red eye flight from Perth to Seoul (thats about 16 hours of travel plus a transit via Singapore). Yes, this somehow managed to make my skin look less fatigued, brighter and more awake as I somehow did not scare any of the Korean locals after I had dropped my bags off at the hotel and went out in the search for infamous Korean street food. Not only did this keep my skin looking fresh, revitalised and less zombie like, my skin was hydrated, not at all irritated and overall not a dry patch in sight. My skin normally plays up when I travel but this time on both to Seoul and back home, my skin remained calm and manageable. I didn't get my usual irritation, flare ups or breakouts that I do get when I fly or haven't had enough sleep on the plane.
The benefits of this mask also don't stop with travel. The 1A All Day Mask has also been one of my lazy day favourites. I have used this on a few occasions mixed with my more simple skincare routines and I have found that this sinks in really well and leaves my skin looking much happier as it does keep it firm and bright. This claims to be able to 'fake a good night's rest' and I do believe this does ring true as I feel like when I do use this on days where I have minimal sleep, my skin somehow does look much more well rested when using this.
The Allies of Skin 1A All Day Mask has been an absolute saviour for my skin and it is now one of my travel must haves. I love the fact that is supposed to be a treatment mask, yet it applies and feels like a lightweight moisturiser. It's smart, functional, its easy to use and its a dream to travel with. I have a few of these sachets left and I will be putting this on my Christmas wishlist this year. It's great for travel, a lazy day or someone who wants a less complex routine as it is just jam packed with so many skin skin loving ingredients that help to nourish, hydrate, protect and prevent the skin from further damage.
The ingredients listing for the Allies of Skin 1A All Day Mask is the following (yes it is quite long):
Aqua (Water), Glycerin, Butylene Glycol, Caprylic/Capric Triglyceride, Caffeine, Acrylamide/Sodium Acryloyldimethyltaurate Copolymer, Cetearyl Olivate, Squalane, Galactoarabinan, Palmitoyl Tripeptide-38, Palmitoyl Tetrapeptide-7, Palmitoyl Oligopeptide, Ceramide 2, Moringa Pterygosperma Seed Extract, Cassia Angustifolia Seed Polysaccharide, Crocus Chrysanthus Bulb Extract, Theobroma Cacao (Cocoa) Extract, Polygonum Cuspidatum (Giant Knotweed Extract) Extract, Opuntia Vulgaris (Cactus) Extract, Sodium Hyaluronate (L), Hyaluronic Acid, Vigna Aconitifolia Seed Extract, Gardenia Jasminoides Callus Culture, Citrus Aurantium Dulcis (Orange) Callus Culture Extract, Niacinamide, 3-O-Ethyl Ascorbic Acid, Sphingolipids, Phospholipids, Astaxanthin, Vaccinium Angustifolium (Blueberry) Fruit Extract, Phenylethyl Resorcinol, Madecassoside, Phenyl t-Butylnitrone (Spin Trap), Ergothioneine (L), Euterpe Oleracea (Acai) Fruit Oil, Allantoin, Aloe Barbadensis Leaf Juice Powder, Honey (Mel), Bisabolol (L-alpha), Tocopheryl Acetate (D-alpha), Panthenol (D), Sodium PCA, N-Hydroxysuccinimide, Chrysin, Glutamylamidoethyl Imidazole, Lecithin, Lysophosphatidic Acid, Lysolecithin, Lonicera Caprifolium (Honeysuckle) Flower Extract, Lonicera Japonica (Honeysuckle) Flower Extract, Aphanizomenon Flos-Aquae Powder, Sorbitan Olivate, Hamamelis Virginiana (Witch Hazel) Water, Glycine Soja (Soybean) Oil, Isohexadecane, C12-15 Alkyl Benzoate, Potassium Hydrolyzed Polygamma-Glutamate, Ethylhexylglycerin, Tribehenin, Acacia Senegal Gum, PEG-10 Rapeseed Sterol, PPG-2 Hydroxethyl Cocamide, Steareth-20, Polysorbate 80, Polysorbate 20, Carbomer, Hydroxypropyl Cyclodextrin, Xanthan Gum, O-cymen-5-OL, Sodium Citrate, Citric Acid, Tetrasodium EDTA, Acetyl Tributyl Citrate, Potassium Sorbate, Phenoxyethanol.
Tata Harper Clarifying Moisturiser*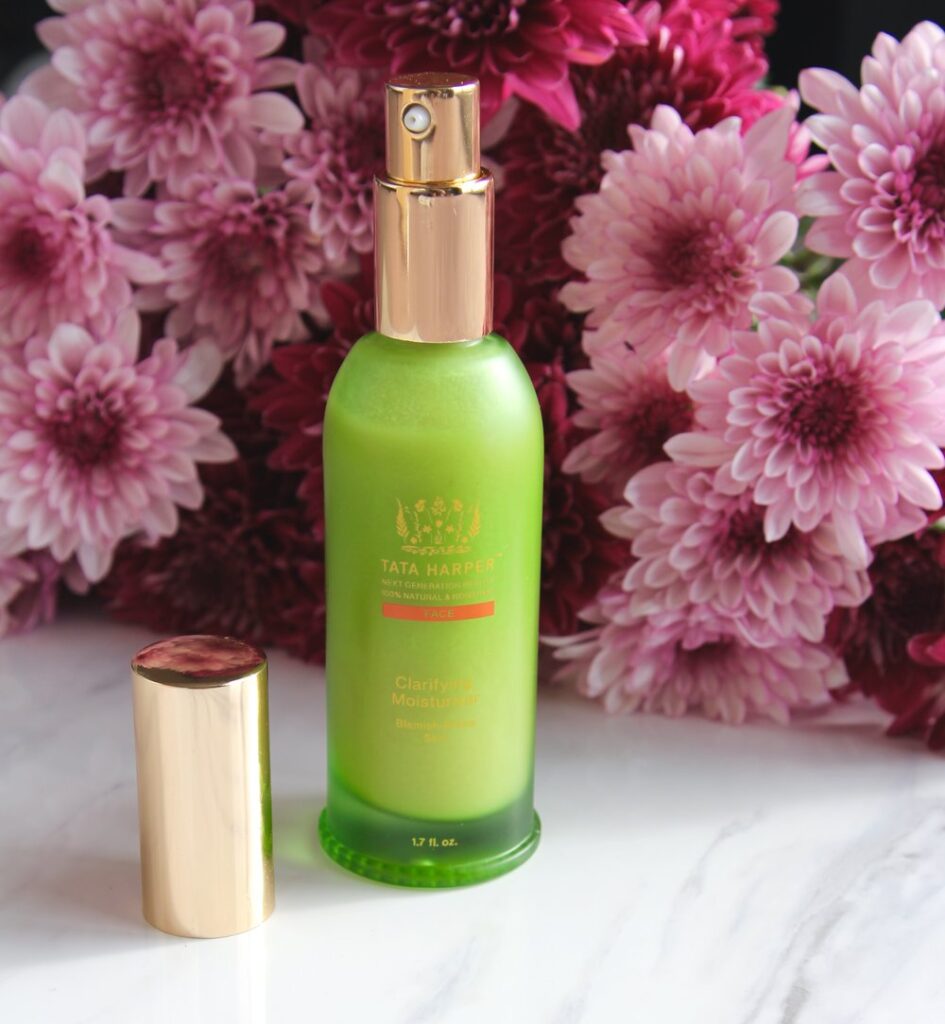 I wrote a whole review on the lovely Tata Harper Clarifying Moisturiser not too long ago here, so I won't go into too much detail about this other than the fact that I have really loved using this since I got it. It's lightweight, its not greasy, it works so well with facial oils and underneath makeup and most importantly it keeps the skin hydrated in all the right places and helps to balance any excess oily areas. I tested this in a warmer climate (Seoul, Korea) and after a day of lots of walking, step climbing and exploring, this still kept my skin relatively in check in terms of oil production. 
There is no denying that this is an expensive moisturiser (USD $105), but it is one of my new favourites in my collection as it suits my skin type so well and I just love the feeling and finish that this gives my skin. Despite the price, I will most likely buy this again as I cannot fault how well it keeps my combination oily skin balanced.
The Tata Harper Clarifying Moisturiser can be purchased from the Amazon
May Lindstrom Skin The Youth Dew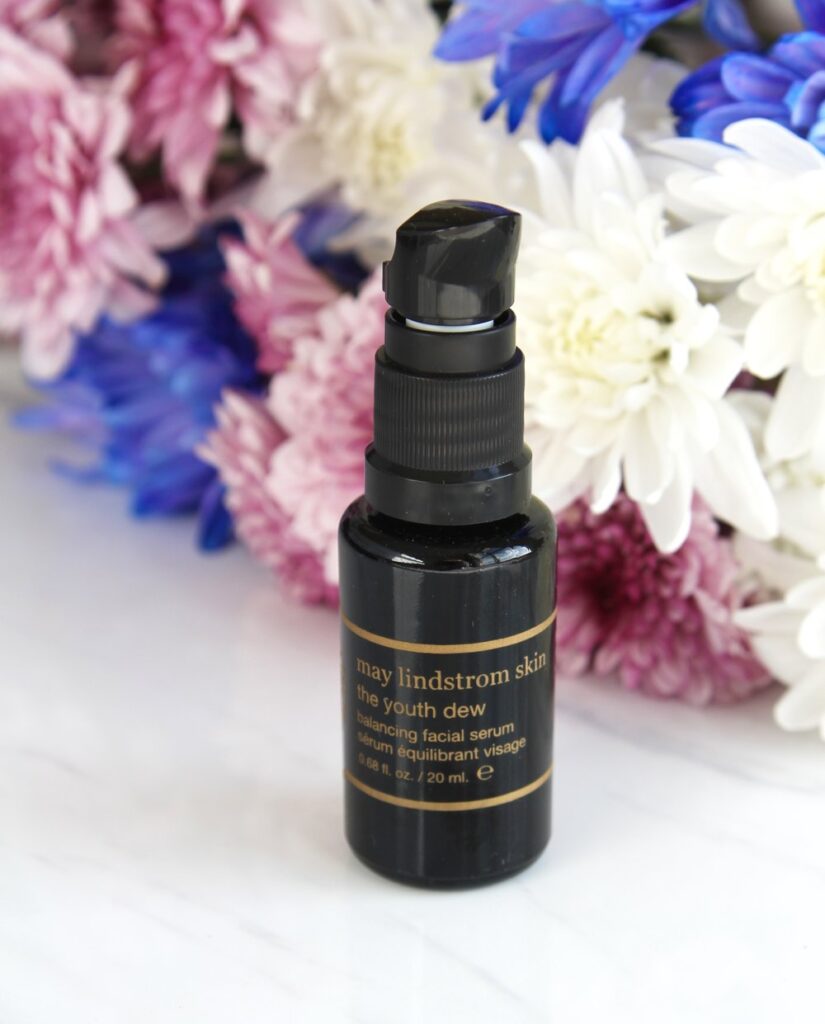 A few months ago I purchased May Lindstrom's The Clean Dirt from Amazon website and with my purchase I received a generous amount of samples from the May Lindstrom range, one of these being The Youth Dew. After trying this a few times I knew I had to get the full sized version of this and when Cultbeauty had one of their amazing gift boxes available a few weeks ago, I jumped at the opportunity of purchasing this. 
What I love about May Lindstrom Skin's The Youth Dew is that it is beautifully thick and rich looking golden oil that blends in and sinks into the skin so well. Like all thing May Lindstrom, its just absolutely luxurious and delightful to use. It leaves a beautiful dewy glow and that glow prevails underneath my makeup. This also smells absolutely delightful and that a little bit goes such a long way with this facial oil/serum, I find that 1-2 pumps is enough for my face and neck. This is an incredibly hydrating facial oil that leaves the skin looking so healthy and plump due to it's use of nourishing plant oils that are rich in essential fatty acids such as avocado oil, jojoba oil, rosehip seed oil and borage seed oil These oils also help to enrich the skin's natural barrier function and also contain a plethora of antioxidants to protect and prevent the skin from the elements and also from pollutants. The Youth Dew also does claim to be anti-ageing but I firstly haven't used this long enough to notice any changes to any fine lines and also I am 27, so ageing for me isn't a huge concern as of yet. My main reason for purchasing this was purely for that healthy radiant complexion that I get when I use this! I love using this in both the mornings and evenings as in the morning, this looks fantastic under make-up and my skin has that effortless "I woke up looking like this" dewy glow and in the evening this acts as a wonderful nourishing serum to keep my skin maintained, healthy and hydrated.
The ingredients list for The Youth Dew is the following:
Persea Americana (Avocado) Oil*, Limnanthes Alba (Meadowfoam Seed) Oil*, Simmondsia Chinensis (Jojoba) Oil*, Olea Europaea (Olive) Oil*, Prunus Spp (Plum Kernel) Oil, Hippophae Rhamnoides (Sea Buckthorn) Oil*, Rosa Rubiginosa (Rosehip Seed) Oil*, Punica Granatum (Pomegranate) Oil*, Calophyllum Inophyllum (Tamanu) Oil*, Borago Officinalis (Borage Seed) Oil*, Aleurites Moluccans (Kukui Nut) Oil, Oenothera Biennis (Evening Primrose) Oil*, Pelargonium Graveolens (Geranium Rose) Essential Oil*, Citrus Paradisi (Grapefruit) Essential Oil*, Citrus Sinensis (Sweet Orange) Essential Oil*, Citrus Limon (Lemon) Essential Oil*, Rosa Damascena (Rose Absolute) Essential Oil*, Rosa Damascena (Bulgarian Rose) Essential Oil*, Citrus Aurantium (Neroli) Essential Oil*, Daucus Carota (Carrot Seed) Essential Oil***, Ubiquinone (CoEnzyme Q10).
* Certified Organic
*** Wild Harvested
May Lindstrom Skin The Youth Dew can be purchased from Amazon.
Leaders Insolution Coconut Water Gel Sheet Masks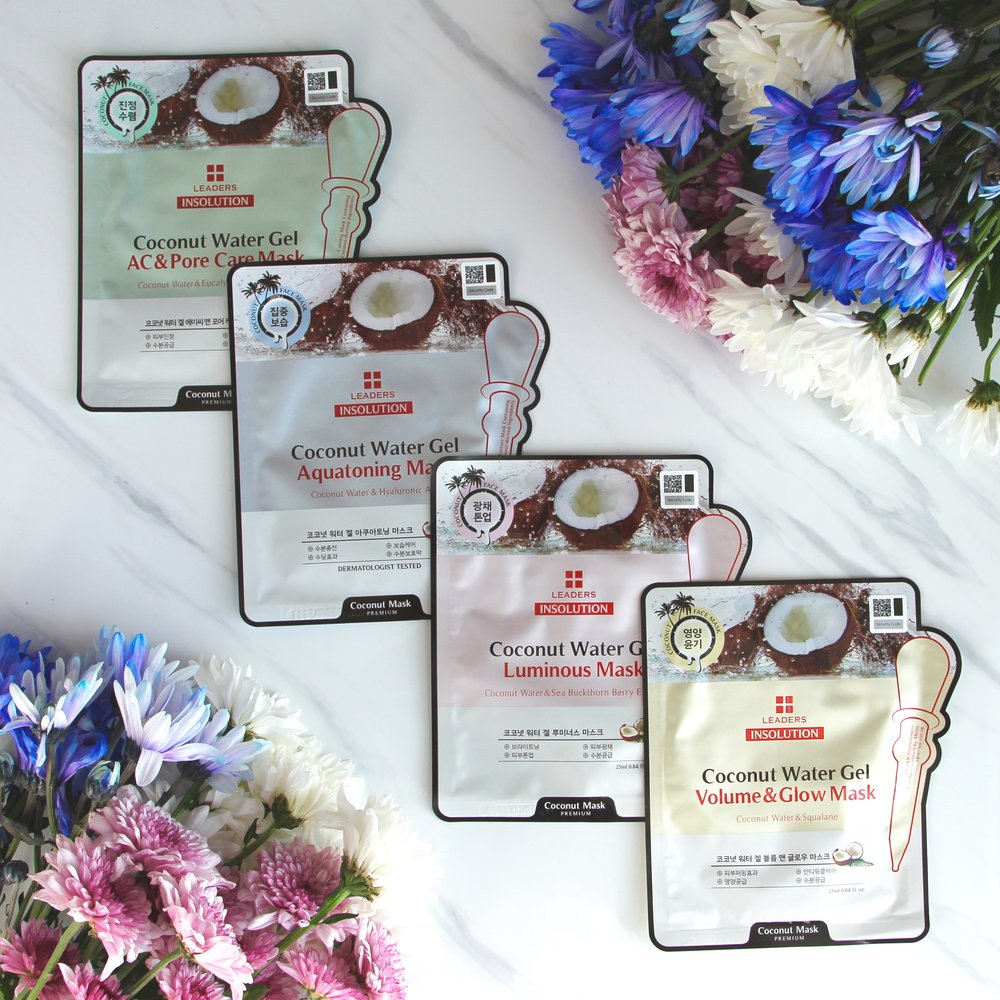 I haven't really had the chance to play with a lot of my haul from Korea with the exception for these masks (I used one of these in my first few night in Seoul to gauge whether I should buy more). I purchased the 4 different types in the range and I have to say I am so impressed with these. I recently decided to give sheet masks another go (thanks to 5YINA Divine Sheet masks) and these sheet Leaders masks have really surprised me with how they leave my skin looking and feeling, especially considering how much I purchased these for.   
The fit of these masks are a little bit big on me but due to the material of the masks being made from fermented coconut these masks were easily able to be manipulated to fit my face. I have used 3 of the 4 different types of masks in the Coconut Water Gel series and overall each mask feels so soothing and calming on and when they have been removed, they initially leave my skin looking plump and hydrated and the results follow on to the next day but each mask does serve an individual purpose. I notice that my skin looks and feels more brighter with the Luminous Mask, incredibly hydrated and plump with moisture with the Aquatoning Mask and the onset of a spot has pretty much been avoided with the AC & Pore Care Mask.
These sheet masks by Leaders are just soaked with serum, the company is in no way stingy with how much serum is included with each mask pack and whilst this is a slight annoyance when you put this on (its just far too slippery and I am also extremely uncoordinated), the benefits that these masks show on the skin are well worth it. One thing I really like about these masks are the fact that there are no drying alcohols present in its formulation (something I find that a lot of sheet masks do have) and that these do contain great ingredients such as niacinamide, botanical extracts, plenty of coconut and the fact the mask itself is made from fermented coconut. Beauty blogger Beauty Bemused (who just also happens to live in Seoul…the lucky thing) writes a little bit more about the masks and it's ingredients here, so be sure to check her out blog post. 
These masks have served as a really fun treat at the end of a long day or when I am home alone and feel like pampering myself whilst watching a good chick flick. They are a great way to unwind and I really like the way these leave my skin looking and feeling, not only after I have removed the mask but the hydration and radiance I get last well over the next few days as well. I wish I had purchased more as they are such a treat to have.
These can be purchased individually at Amazon. Yes, they are that much more expensive in Australia and the US. 
Have you tried any of the above items before? What were your experiences and thoughts? I would love to hear from you in the comments section below.