I have never been one to use a separate night cream as I have never really loved buying moisturisers as I struggle to find the right consistency whereby the moisturiser does not feel like a film on my face. Usually when purchasing moisturisers, I normally get one in which I can use both day and night and also offers plenty of hydration but doesn't feel like 'grease' for my combination skin. However, despite this, I do love to try new things and when I went to Mecca Cosmetica before my move to Shanghai, I ended up purchasing a few pieces in the Codage Paris product range. One of these purchases was the Creme de Nuit Night Cream which I probably didn't need but I wanted to try it anyway.
Codage Paris has been a brand in which many of you know that I am a huge fan of. I have previously reviewed one of their serums here. I love the brand's concept in how they market their serums and the simplicity of the brand appeals to me greatly. However, I was actually a bit reluctant to purchase this moisturiser as I wasn't sure if purchasing a separate night cream was necessary for me. I was also skeptical that it wouldn't do anything for my skin, except leave it as a greasy mess in the morning. I soon found that when I started to use this, my skepticism was uncalled for, as this night cream, although rich, thick and velvety in texture applied like a dream. After using this, I found that when I woke up in the morning, my skin was hydrated, pillowy soft and healthy looking in appearance. It has now become quite the favourite in my night time routine.
What Is It?
The Codage Paris Creme de Nuit is essentially a night cream or a richer moisturiser for the skin that aims to nourish, repair and stimulate the skin for optimum regeneration overnight.
What Does It Do:
Codage Paris Creme de Nuit is a beautifully rich night cream that has been specially formulated to work during sleep which is considered to be the optimal time for cellular regeneration of the skin. The night cream contains hyaluronic acid which helps to keep the skin hydrated and plump and a mix of other active ingredients to help collagen and elastin stimulation to help fight the signs of ageing. This night cream also contains plankton which helps to purify the skin. The night cream promises to leave the skin moisturised, glowing and smooth for the following morning.
Ingredients:
The ingredient listing for the Creme de Nuit Night cream are the following (taken from Codage Paris):
Aqua (water), caprylic/capric triglyceride, butylene glycol, Prunus armeniaca (apricot) kernel oil, C10-18 triglycerides, glycerin, Butyrospermum parkii (shea butter), caprylyl methicone, cetyl alcohol, glyceryl stearate, hydroxyethyl acrylate/sodium acryloyldimethyl taurate copolymer, glyceryl behenate, Siegesbeckia orientalis (st. paulswort) extract, Laminaria digitata (oarweed) extract, Pisum sativum (pea) extract, acetyl dipeptide-1 cetyl ester, Rabdosia rubescens (dong ling cao) extract, acetyl hexapeptide-37, sodium hyaluronate, magnesium aspartate, Commiphora mukul resin extract, hydrolyzed hyaluronic acid, copper gluconate, Plankton extract, arginine ferulate, palmitoyl tripeptide-38, zinc gluconate, lauroyl lysine, sucrose palmitate, cyclopentasiloxane, dimethicone crosspolymer, PEG-75 stearate, cyclodextrin, dimethicone/vinyl dimethicone crosspolymer, sorbitan isostearate, dimethiconol, polysorbate 60, hydroxyethylcellulose, ceteth-20, hydroxypropyl cyclodextrin, glyceryl linoleate, methylpropanediol, steareth-20, laureth-3, caprylhydroxamic acid, phenoxyethanol, allantoin, citric acid, potassium sorbate, tocopherol, disodium EDTA, BHT, sodium hydroxide, parfum (fragrance).
When looking at the ingredients list for this moisturiser, it is indeed quite long with some complex sounding ingredients. The main concerning ingredients in here that may trigger and allergic reaction for those with sensitive skins is phenoxyethanol and fragrance. Those who are acne prone may find that the shea butter in this could be a concern as shea butter is considered to be comedogenic.
My Thoughts:
I have really been enjoying using this moisturiser as part of my evening skincare routine, as the moisturiser is that perfect combination of a velvety rich texture that glides smoothly on to the skin without leaving a residue or 'film' on the face. The moisturiser, as thick and rich as it might seem actually melts into the skin effortlessly and in no way does it leave my skin feeling greasy. Instead, my skin feels smooth and pillowy soft, which really took my surprise as I did expect it to feel quite thick and heavy on. This has definitely become a firm favourite moisturiser to use in the evenings or when my skin needs that extra boost in hydration and moisture.
I have found this moisturiser to be extremely nourishing for the skin, keeping it well hydrated, plump and soft with minimal flakiness. Ingredients such as apricot kernel oil and shea butter help to moisturise and nourish the skin effectively whilst the addition of hyaluronic acid with a high molecular weight helps the skin to retain water. This water retention helps to keep the skin plump as hyaluronic acid is known to hold 1000 times its own weight in water. Apricot Kernel Oil is quite a beneficial oil for the skin as it contains Vitamin E, rich in antioxidants to help fight free radicals, anti-inflammatory and also considered to be quite good for those with sensitive skin. Shea butter is another popular ingredient that is well known as a fantastic skin moisturiser as its composition is extremely nourishing for the skin. However, both of these ingredients are considered to be comedogenic, so those who are acne prone, please use this moisturiser with caution and ask for a sample first. In saying that, I do have combination skin and I do apply this quite liberally in the evening and so far have not suffered any breakouts when using this. The combination of these nourishing and hydrating ingredients are what I believe to contribute to my skin feeling extremely soft, hydrated and healthy looking when using this. Even the Mr commented the other night when I had applied this "oh your skin feels so soft" he said, and trust me, he tries to not encourage my skincare addiction! Hahaha!
Creme de Nuit also claims to have a detoxifying action in the moisturiser which helps to purify the skin to leave a brighter complexion. I was not 100% sure on exactly how this worked, so I emailed Codage Paris customer service (which is FANTASTIC might I add) and the lovely Jane was kind enough to explain that the "Plankton" extract used in this formulation is actually a type of green micro algae. Upon further research, I could not find direct links between algae and how it may detox the human skin. However, there were studies that suggested that if algae is consumed, high level of antioxidants have been found and also it is shown to have purifying and detoxification activity due to the high levels of chlorophyll present in blood circulation. On my skin, I do not notice if my skin has been 'purified' after sleep, but my skin does look much healthier and fresh in the morning. 
Whilst this moisturiser also boasts many anti-ageing benefits for the skin in terms of reducing and smoothing out wrinkles, I am unfortunately unable to comment on its effects on my own skin, as my skin has not yet matured enough to see the effects of its active ingredients. However, it does contain complex anti-ageing peptides that claim to regenerate the skin's cell activity to stimulate collagen and elastic synthesis which will in turn help to smooth out fine lines and give the skin a tighter and firm appearance. Plant extracts are also used to help with anti-ageing as the Creme de Nuit contains a herb called Rabdosia Rubescens which, when used with St Pauls Wort Extract and an aqua and/or butylene glycol solution which will rejuvenate the skin and also give the skin a smoother and firmer look, not instantly but within 2 months of use. The use of a high molecular weight of hyaluronic acid will also aid in firming and plumping the skin to give a more youthful and hydrated appearance.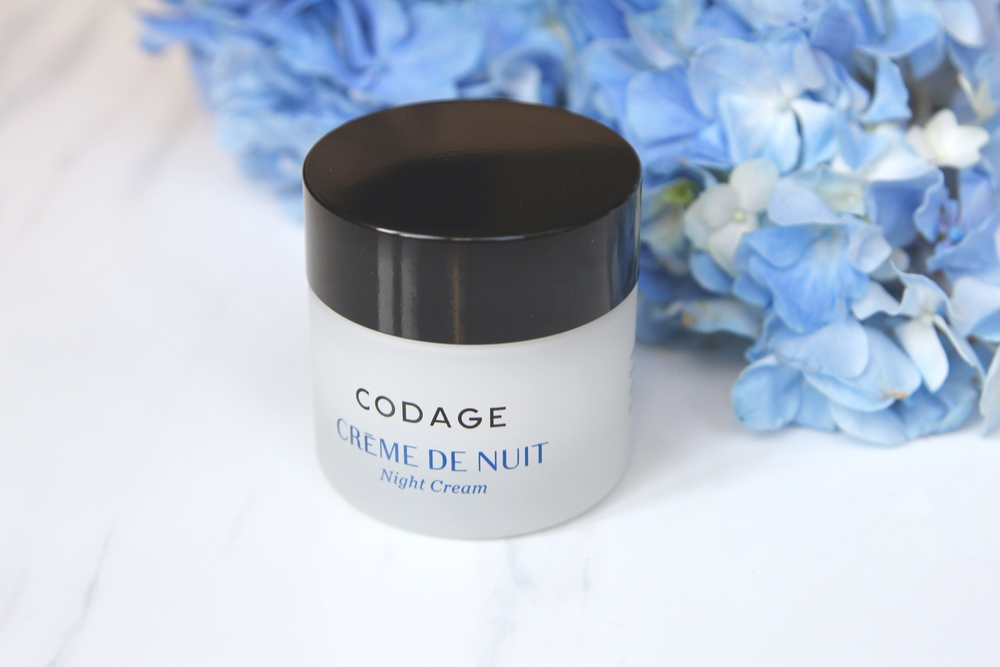 What I do love about this moisturiser is that it hydrates and nourishes my skin so well and works beautifully with other products that I use in my routine. It sits nicely with my serums or facial oils underneath and it does work well to seal all of their concentrated goodness in. My favourite combination is actually this moisturiser with OSKIA's Restoration Oil – the two of these together is absolute heaven for my face, especially when it needs some TLC or is feeling extremely sensitive. When my skin is feeling raw, flaky or red I found that using this did not sting on application but instead calmed and soothed my skin. I also find that when using this in the evening, my skin is noticeably softer, more hydrated and smoother in appearance and feeling. With the addition of nourishing oils such as apricot kernel and shea butter, hyaluronic acid and skin smoothing peptides, its no wonder my skin looks and feels like this. The night cream feels absolutely luxurious on the skin and sinks in beautifully without leaving that 'greasy' feeling that I often get with richer moisturisers. I do sometimes feel that this moisturisers anti-ageing benefits are slightly wasted on me but it really does provide my skin with wonderful hydration and nourishment. After using it in the the evening, my skin does most definitely look much more well rested and healthier in the morning. Whilst I am sure that there are other products that exist in the market that will do exactly the same thing (hydrating and nourishing) at a lower price point, I find that textures and they way a product feels on my skin are important factors to consider and can really make or break a product for me. I have tried many other rich moisturisers/night creams in the past and none of them seem to feel and sink in as well as the Codage Paris Creme de Nuit to produce that same pillow soft skin and healthy glow I will get in the morning.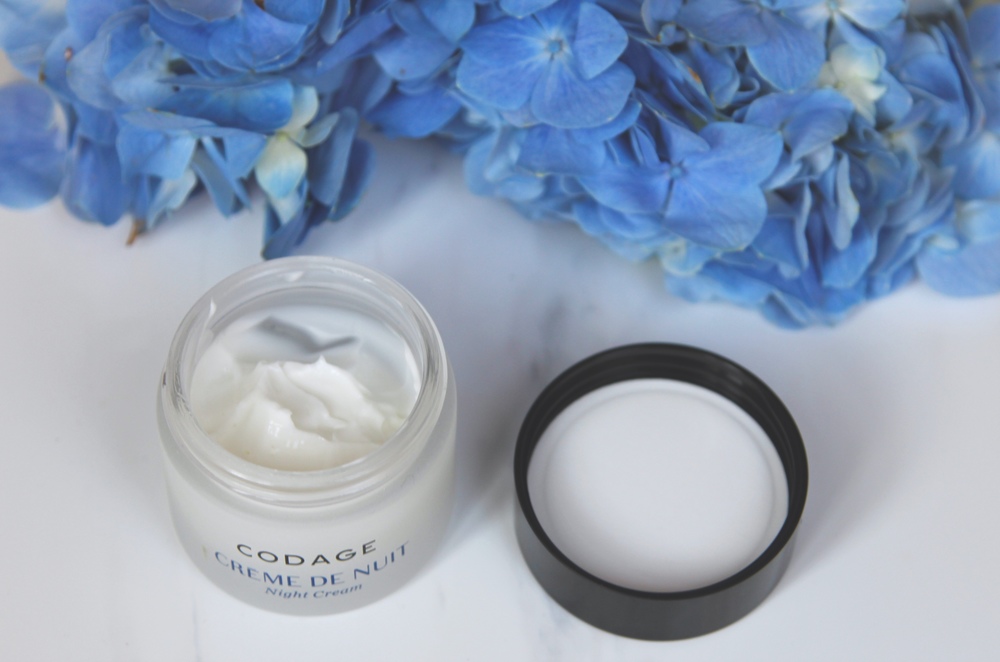 Codage Creme de Nuit comes in a heavy frosted glass jar and a spatula for hygienic application of the product. Whilst I love the look and feel of the jar, I wish there was a more hygienic way of dispensing this product other than a spatula! There is a slight scent to this moisturiser, it is quite feint but there is most definitely a soft clean floral smell, so those who may be sensitive to scents, I would suggest to try a sample of this first. The scent does not linger upon application and will disappear quite quickly. My skin is generally quite sensitive and I have found I have had no reactions to this product and funnily enough, I did use this quite often to counteract a reaction that my skin had to a another product earlier in the month.
Overall, I really enjoy using the Coadge Paris Creme de Nuit and whilst I do think those who are in their early 20's probably could go for another well priced moisturiser which will essentially hydrate and moisturise their skin (that's really all you need in your early 20's…oh to be 21 again). Those who are in their 30s may want to consider looking into this and take advantage of the cream's anti-ageing as well as its nourishing abilities.
Repurchase YAY or NAY:
I will most definitely be repurchasing this again as I really do love the texture, feel and how my skin looks and feels after using this. The super soft and supple skin and healthy well rested look is something without feeling like a greaseball is a huge benefit for me and is the reason why I will continue to purchase it. I also love the fact that this works well with many other products that I already own and doesn't 'ball' when I apply it over the top, whether I use a serum or an oil underneath. But it does provide excellent nourishment for my skin as well as added anti-ageing benefits for the skin in the form of complex peptides and rare botanical extracts.