Drunk Elephant Skincare T.L.C Framboos Glycolic Night Serum (Review)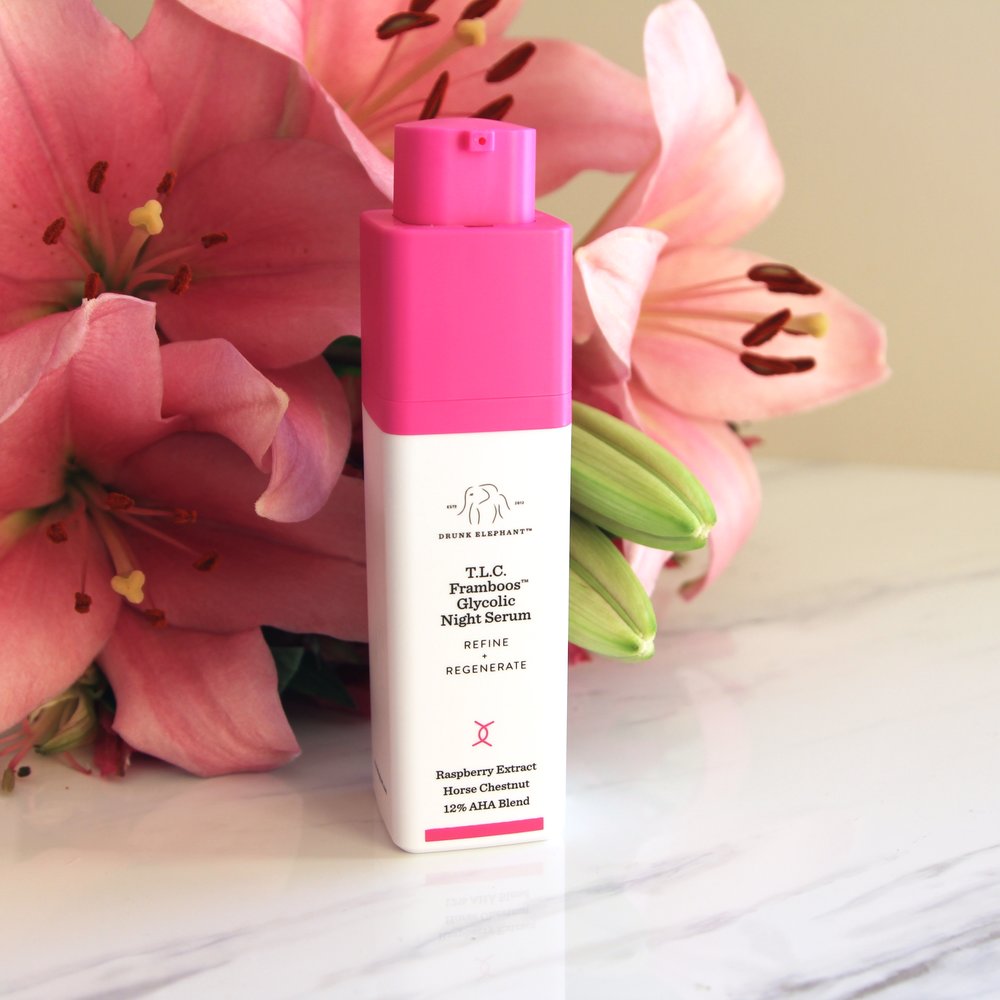 Drunk Elephant Skincare is a brand that I have always been curious to try ever since I have joined the Instagram skincare community. I often came across rave reviews about the products in the range from fellow US Instagrammers and bloggers. When my friend was visiting the states earlier this year, I asked her to kindly pick me up a bottle of T.L.C Framboos Glycolic Night Serum as I had nothing like it in my skincare stash and I thought it would be a fantastic way of mixing up my chemical exfoliation in my skincare routine.
For many of you, the name Drunk Elephant (or as I sometimes like to refer to it as Wasted Elephant hahaha) comes from the myth that elephants in Africa love to eat the fruit of the Marula trees. The story goes that once the Marula fruits have been ingested, fermentation occurs in the stomachs of the elephants and the elephants become quite drunk. How elephants comes into this equation is that Drunk Elephant Skincare features virgin marula oil in all the products across the line. You see, Marula oil is one of founder Tiffany Masterson's favourite ingredients as she believes that the oil is superior to any other oil she has ever tried. The brand was born out of Tiffany's passion to learn more about potential toxic ingredients used in our personal care products, the effect they have on general skin health and understand to root cause of skin sensitivity. 
In conversing with skin care specialists such as dermatologists, beauty editors, aestheticians and other skincare experts, Tiffany started to learn more about skincare habits, needs, what works, what doesn't work and what the perfect skincare solution may look like. In her years of research, she began to understand that the solution to good skin was simple: high quality ingredients, sticking to the essentials and keeping away from harmful ingredients. The Drunk Elephant Skincare range was born from years of research and development and every ingredients is hand picked and carefully selected from Tiffany herself. There are no fragrances whether they be natural or synthetic added to any of her formulations and the brand prides itself from eliminating a list of potentially harmful ingredients from all formulations. What I love about Drunk Elephant Skincare is that the brand doesn't claim to be all natural (it isn't) but it prides itself on producing effective and 'safe' skincare products that do not contain any irritating ingredients. 
The Drunk Elephant Skincare T.L.C Framboos Glycolic Night Serum had a lot of hype to live up to as almost everyone I had spoken to had raved about this product and I expected to see results from this. What I didn't expect however was to see results so quickly! After just using this once, I was amazed at how smooth my skin felt and how my skin tone seemed to be brighter my skin from using this overnight. I was clearly very impressed with this.
What Is It:
The Drunk Elephant Skincare T.L.C Framboos Glycolic Night Serum is basically a serum to be used in the evening that is formulated with a 12% Alpha Hydroxy Acid (AHA) and Beta Hydroxy Acid (BHA) blend to refine and resurface the skin.
What Does It Do?
The Glyclolic Serum helps to reveal a smoother and radiant complexion from the AHA and BHA blend that works to gently dissolve the glue that holds dead skin cells to the surface and also helps to increase the collagen production in the skin. It helps to decongest the skin using a unique blend of glycolic, lactic, tartaric, citric and salicylic acids and Raspberry Extract. This serum is supposed to sink in easily into the skin and delivers the most effective and precise level of chemical exfoliation without harsh side effects.
Ingredients:
Water/Aqua/Eau, Glycolic Acid, Butylene Glycol, Glycerin, Salicylic Acid, Lactic Acid, Citric Acid, Vitis Vinifera (Grape) Juice Extract, Aloe Barbadensis Leaf Juice, Opuntia Ficus-Indica Extract, Aesculus Hippocastanum (Horse Chestnut) Seed Extract, Camellia Sinensis Leaf Extract, Rubus Idaeus (Raspberry) Fruit Extract, Saccharomyces Cerevisiae Extract, Buddleja Davidii Meristem Cell Culture, Sclerocarya Birrea Seed Oil, Sodium Hyaluronate Crosspolymer, Allantoin, Hydroxyethylcellulose, Galactoarabinan, Propanediol, Disodium EDTA, Xanthan Gum, Hexylene Glycol, Phenoxyethanol, Caprylyl Glycol, Ethylhexylglycerin, Sodium Hydroxide, Sodium Nitrate, Potassium Sorbate, Pentylene Glycol, Sodium Benzoate
My Thoughts:
I was so incredibly excited to use the DE Glycolic Night Serum as I had heard so many amazing things about it. It had a lot of expectations to live up to and after my first initial use, I was definitely not disappointed. I noticed a difference in my skin within the first evening of using this this…no joke. I applied it on in the evening, layered it with my other skincare products, went to sleep and woke up with with a much more brighter, smoother and radiant complexion. I was so amazed and impressed at the difference and the clarity it brought to my skin with just the one initial use.
The Drunk Elephant Skincare T.L.C Framboos Glycolic Night Serum promises to help with diminishing things such as fine lines, wrinkles, hyperpigmentation, excess oiliness and acne which stem from the use of the Alpha Hydroxy Acids and Beta Hydroxy Acids in the formulation. The blend of AHAs and BHAs in the T.L.C Framboos Glycolic Night Serum are quite potent and they really do act efficiently to slough off any debris, excess oil and dead skin cells, without altering the skin's acid mantle (this has a pH of 3.8-4.0) which can lead to skin irritation or further breakouts. How these acids work is that they dissolve the 'glue' that holds dead skin cells and debris to the skin – essentially working to resurface the skin to reveal a brighter, fresher complexion. The Drunk Elephant Night Serum is unique as it uses a blend of glycolic, lactic, tartaric, citric and salicylic acids to do this. Glycolic acid and lactic acid are popular acids that we often see in many skincare products. Glycolic acid is a smaller molecule and is generally more successful with sun damaged skin as it fights issues such as pigmentation. Lactic acid is derived from milk and is also popular due to the fact it is considered to be quite gentle for all skin types, it is generally found in formulations that are more geared towards sensitive skin. The molecules of lactic acid are larger and are therefore considered to not be as efficient as glycolic acid. Tartaric acid and citric acid are also acids that have been derived from fruit and help to improve the appearance of acne over time and work to resurface the skin. Salicylic acid is an BHA that has the ability to penetrate deeper into the skin (it penetrates the pore lining) and exfoliates the pores. This makes it an extremely effective acid in terms of reducing breakouts in the skin and also reducing blackheads and whiteheads which are the results of buildup within the skin's pores.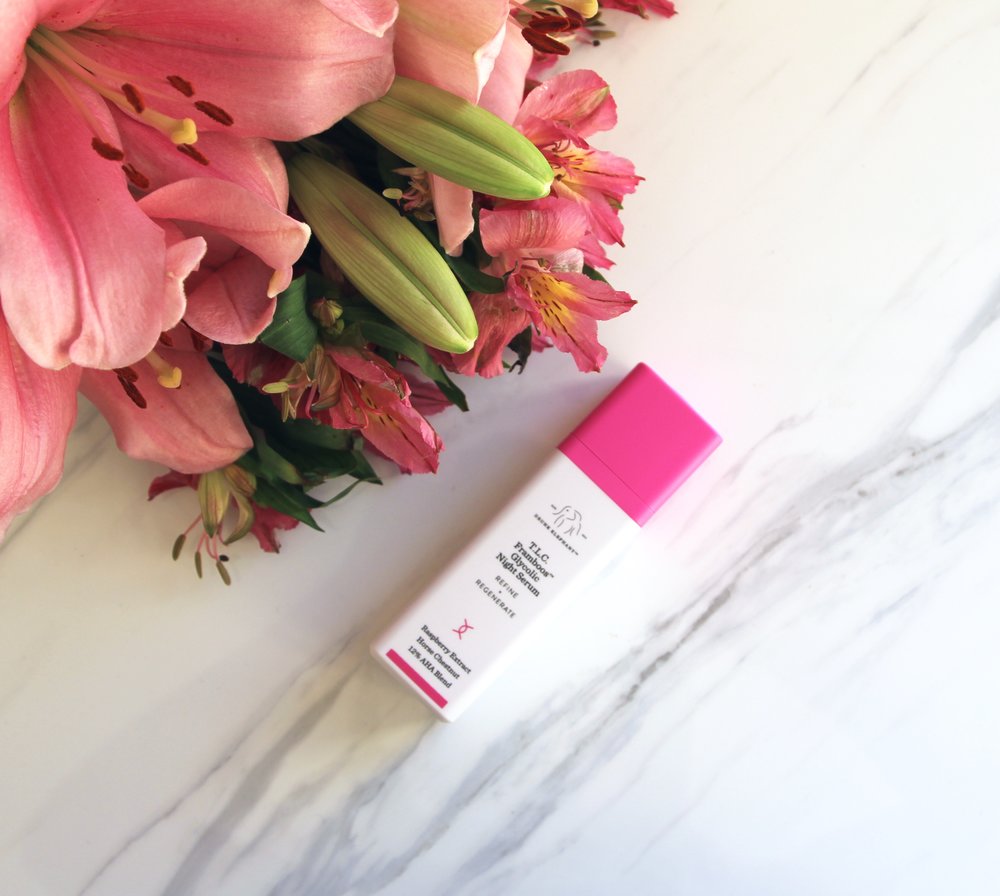 Whilst I cannot comment too much on issues such as fine lines, wrinkles and pigmentation I do notice that when I do use this Glycolic serum on a regular basis (ie. once or twice a week), my combination skin does seem to be more balanced and my skin doesn't get as oily. In terms of anti-aging properties -there is plenty of scientific literature out there outlining the benefits of AHAs and BHAs in the way of helping to reduce these signs. For example, in a small study conducted in 1997, scientists compared the results of patients who used a 10% glycolic acid lotion vs those who used mechanical exfoliation via a loofah on the hand. Scientists found that patients who used the lotion showed significant improvements in the skin's texture, skin tone and a decrease in the appearance of pigmentation in the skin after 10 weeks. In a review written in the Journal of Nursing Clinics in North America in 2007, the use of BHAs such as salicylic acid is discussed as treatment for aging skin as it considered to be useful in enhancing the absorption of other products used for anti-aging. However, its main success is helping actually those with acne or blemish prone skin as discussed in a study conducted in 2005, in which patients were to topically apply a 2% salicylic acne treatment. Scientists concluded that that inflammation redness and size was decreased as early as one day after treatment commenced. 
What I can absolutely vouch for in the Drunk Elephant Night Serum is beautiful, smooth, brighter skin the next morning when using this overnight. The acids in this serum are indeed potent enough to slough through any debris or dead skin cells on the skin and it really does reveal beautiful, vibrant and glowing "hello I woke up like this" complexion the following morning. I love the fact that this isn't harsh like other acid serums (such as Sunday Riley's Good Genes, which essentially does the same thing) and it is relatively gentle for most skin types but at the same time it does not loose its effectiveness in anyway. Due to its effectiveness in exfoliating skin, any other products layered over the top are also further enhanced as there is nothing else to 'block' the product from penetrating further and are therefore able to be better absorbed by the skin. Whilst the serum does act as a overnight peel, it in no way leaves the skin feeling dry or tight after use. AHAs are considered to be quite hydrating as they act as a humectant for the skin and with the added use of ingredients such as hyaluronic acid, Marula Oil and Aloe Vera extract, these further enhance the serum's hydration and moisturising properties. I also love to use this as a spot treatment as it really does help to clear away those pesky hormonal breakouts that I sometimes get. It does it effectively as well, I find that spots are generally reduced overnight in size and redness and after a few days they are cleared.
Whilst, the T.L.C Framboos Glycolic Night Serum has been extremely effective in acting as a chemical exfoliator for my skin, those with sensitive skin types or are new to acids do need to be quite careful when incorporating this serum into a routine as the serum can be a bit 'much' to begin with. For me, the first time I applied this I most definitely noticed a little tingle that lasted for about a minute. If you are not used to acids like AHAs and BHAs, then do be cautious that it might sting a little but it should not in anyway be a burning sensation. Due to the fact that it is a chemical exfoliator, I do believe that it should be slowly incorporated into routine if you are new to AHAs and BHAs and then slowly build tolerance to using this product every other day or at least 3 times a week. Also do not forget to wear sunscreen the next day (you should be applying sunscreen automatically anyway) as your skin will be quite sensitive to the sun.
In terms of texture, the texture of the Drunk Elephant Skincare T.L.C Framboos Glycolic Night Serum is a lightweight gel like texture that feels quite hydrating on and is easy to apply and work into the skin. It sinks in quite easily and doesn't leave a sticky or uncomfortable film on the skin. There is absolutely no fragrance in this formulation. No synthetic fragrances or essential oils are added so those who are sensitive to smells – this a is great product for you. What I do have to praise Drunk Elephant for though, is their incredibly smart, hygienic and well thought out packaging for this product (and almost all their products actually). The serum uses a simple twist mechanism in which when you twist up, a pump is revealed and twist down again, the pump is concealed. There are no lids to lose, no chances of product going everywhere when travelling and it is completely airless. It is fantastic packaging that is efficient, easy to use and the risk of contamination is very low.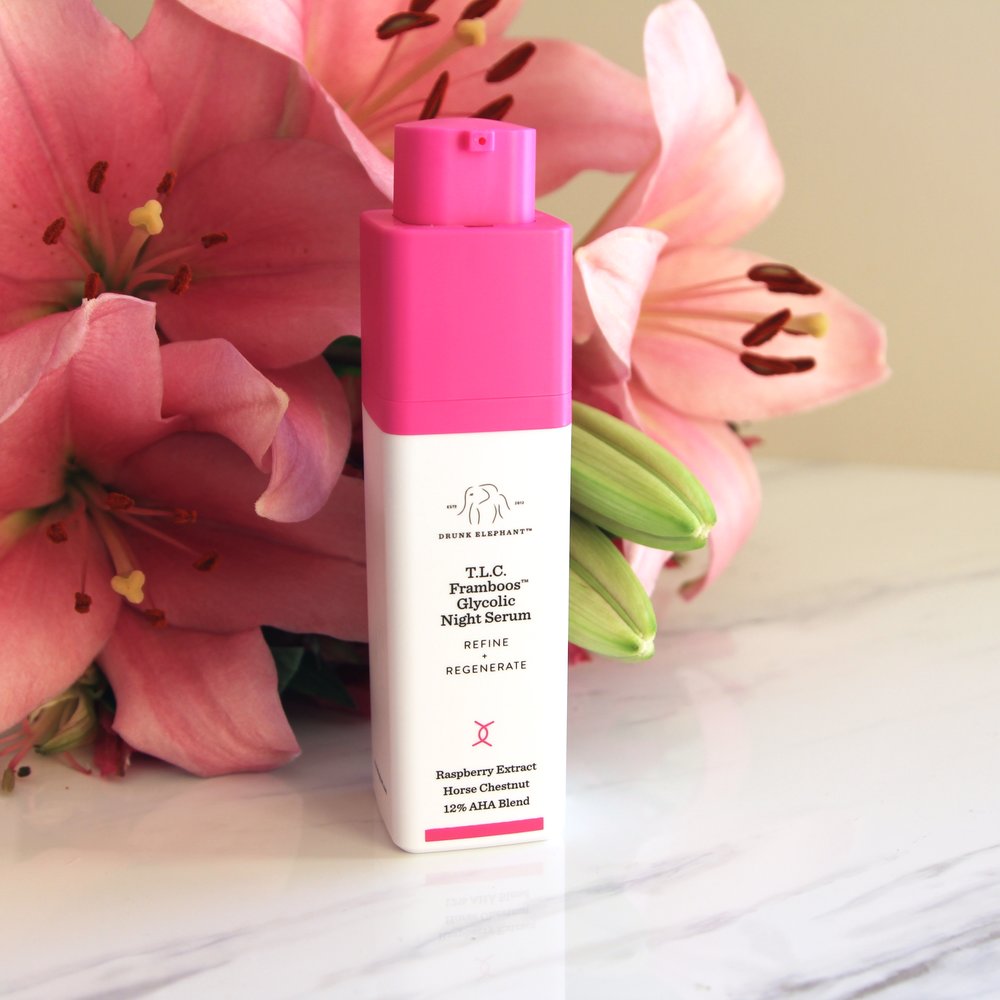 I absolutely love using the Drunk Elephant Skincare T.L.C Framboos Glycolic Night Serum and enjoy mixing this up with my other exfoliators that I own. I love the visible difference that this gives my skin overnight as it truly does work wonders at resurfacing the skin to reveal a fresh, smooth and radiant complexion. What I also love about this serum is whilst it is still quite the potent formulation of AHAs and BHAs, it is gentle enough for my skin to be used 2-3 times a week if need be.
Repurchase YAY or NAY:
Overall I love the Drunk Elephant Skincare T.L.C Framboos Glycolic Night Serum for its effective and relatively gentle way it exfoliates my skin overnight, giving me a beautiful smooth, soft, bright and glowing complexion the following morning. It is so easy to use, as it works as just another treatment step and other products do layer over this quite nicely. I love the fact it feels quite refreshing on the skin due to its lightweight gel consistency and it also does work to the keep the skin hydrated from other nourishing ingredients in the formula. I will most definitely repurchase this again once I have ran out as the effect that this gives my skin overnight is fantastic. My skin is left so radiant and it most certainly is like I have had a mini facial as skin is left quite clear.
The Drunk Elephant Skincare T.L.C Framboos Glycolic Night Serum is in no way a cheap purchase as it does retail for USD$90 from the Drunk Elephant website or AUD$132 from Mecca Cosmetica for a 30ml bottle. Unfortunately those ladies in the UK will have to purchase this one from Amazon and pay for international shipping as there is no official stockist for Drunk Elephant as of yet!
Have you tried anything from the Drunk Elephant range? What did you think of it? What is product from their range do you wish to try next? Please share in the comments section below!