The Frank Body Original Coffee Scrub Review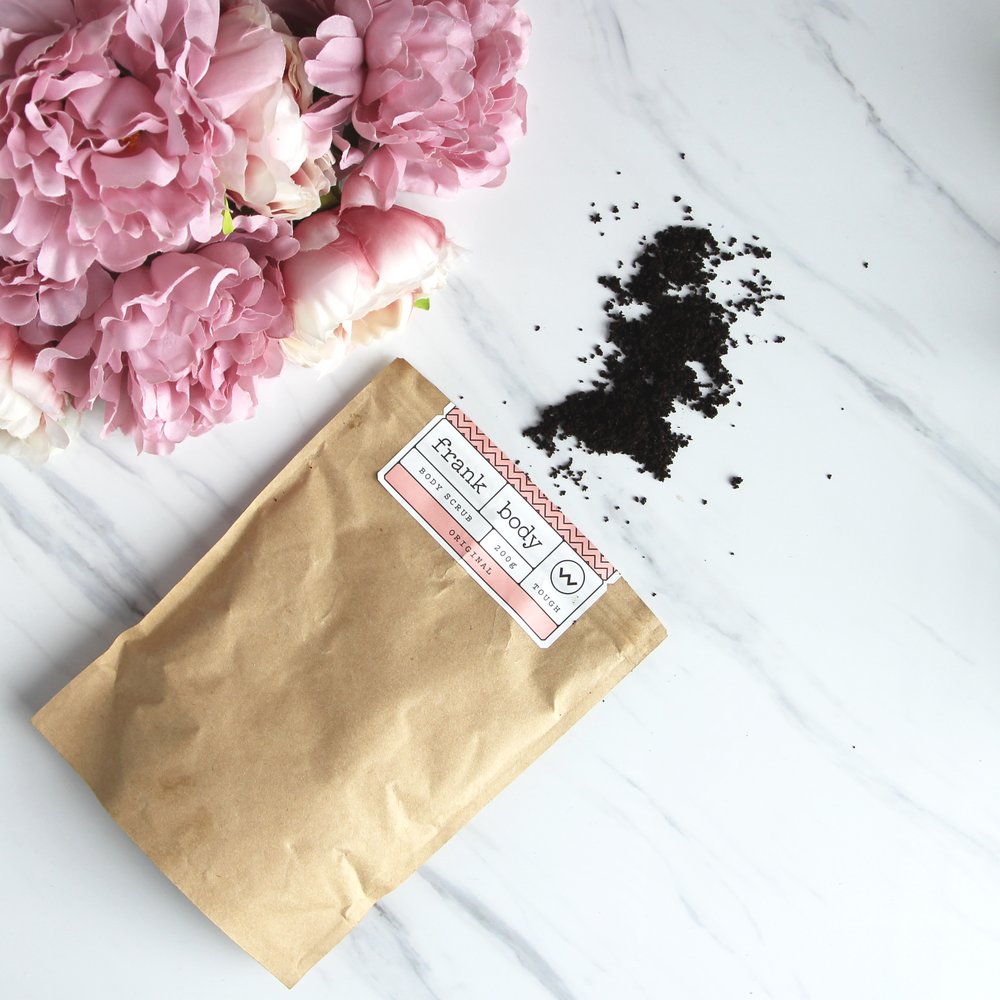 I am not going to lie…I am the world's most laziest person when it comes to general body care. The amount of time I spend into body care is very, very little when you compare to how much time I put into looking after my face. However, with my wedding upcoming (its THIS weekend!), I decided that in the lead up I would pay some extra special attention to my body. I began moisturising my skin more often and also looked into exfoliating my skin for the first time ever. The way I went about this was using the infamous Frank Body Original Coffee Scrub which was sent to me as Kris Kringle/Secret Santa gift last year by the lovely Eleshaamyanne – makeup and beauty lover, 
With such unique, fun and refreshing marketing behind the brand, Frank Body has definitely taken social media by storm. I mean who hasn't seen a Frank Body product somewhere on their social media feeds in the last month? Or those infamous social media selfies of girls (and guys) with coffee all over their faces and bodies (and bathrooms too!). There is no doubt that Frank Body has successfully made their presence known via the world of social media but despite being absolutely everywhere – is the actual product as 'amazing' as it is. Is #thefrankeffect real? Well after a few months of using this product, I would have to say, this coffee scrub does leave my body smooth and nourished.
What Is It:
The Frank Body Original Coffee Scrub is basically a body scrub that is made from ground coffee, salt, sugar and nourishing oils.
What Does It Do?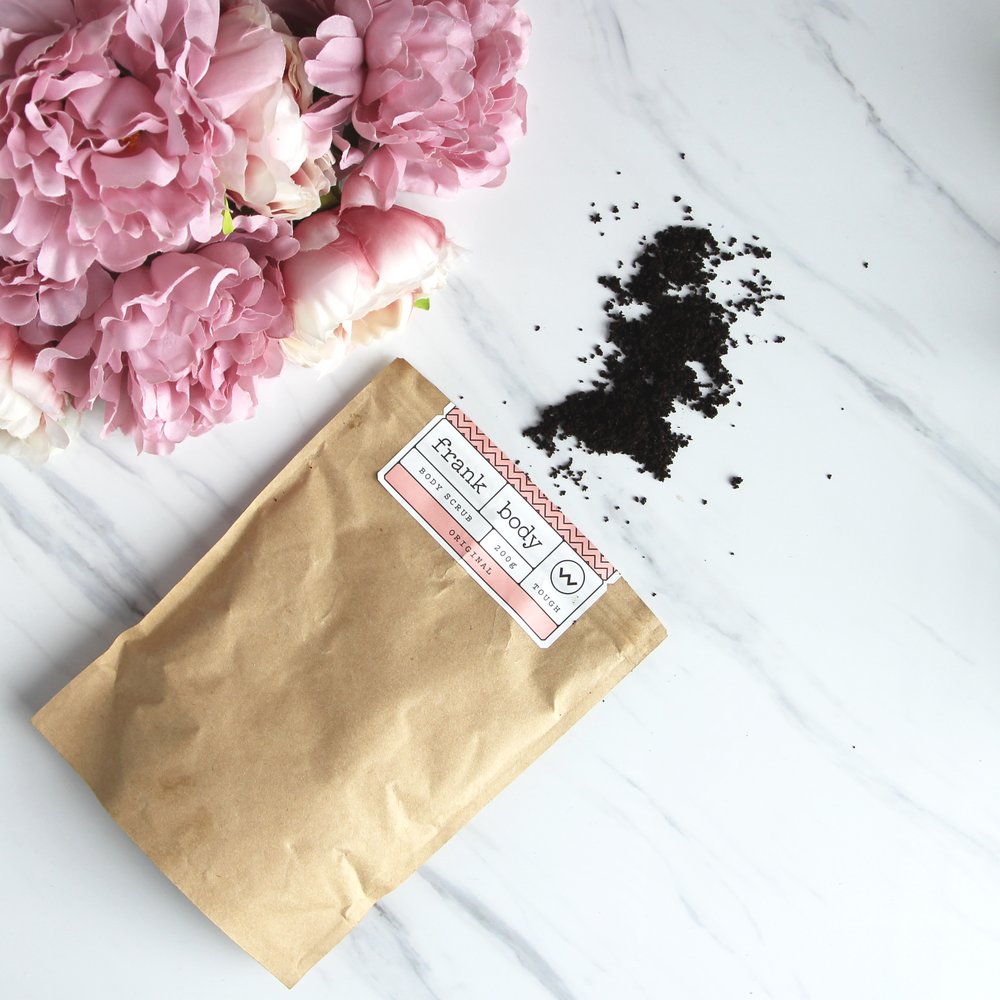 This infamous body scrub by Frank Body aims to exfoliate the body and give beautiful healthy glowing skin with it mix of coffee, sugar and almond oil.
Ingredients:
Coffea Robusta Seed Powder (Coffee), Prunus Amygdalus Dulcis (Sweet Almond) Oil, Water (Aqua), Sodium Chloride (Salt), Sucrose (Brown Sugar), Citrus Aurantium Dulcis (Orange) Oil, Tocopherol (Vitamin E), Glycine Soja (Soybean) Oil, Benzyl Alcohol (Cinnamon Derived).
Naturally Derived: 100%
My Thoughts:
#letsbefrank … (hahaha see the joke) this body scrub has made waves all over social media with images of girls (and guys) covered in grounded coffee making an absolute mess in their bathrooms. There is no doubt #thefrankeffect has been an incredibly wonderful marketing tool, sky rocketing sales of the Frank Body range. However, is this scrub worth the hype? Is it as life changing as everyone seems to make it out to be?
Well…its a yes and no answer for me.
Why? Put simply – the product has changed the way I view body care and I guess has made general body care a lot more enjoyable and fun for me. Despite the mess this makes (and trust me, this body scrub can be quite messy), its actually a lot of fun to apply and also gives the bathroom a beautiful coffee bean aroma. When it is massaged into the skin, it feels quite invigorating and it does feel like the grounded coffee beans and brown sugar work quite well to exfoliate the skin. With the sweet almond oil in the mixture, the Frank Body Original Coffee Scrub also offers my skin some much needed nourishment and hydration. My skin absolutely drinks up the almond oil and in conjunction with the coffee grains and sugar revealing fresh new skin, leaves my body looking fresh, renewed and with a subtle glow.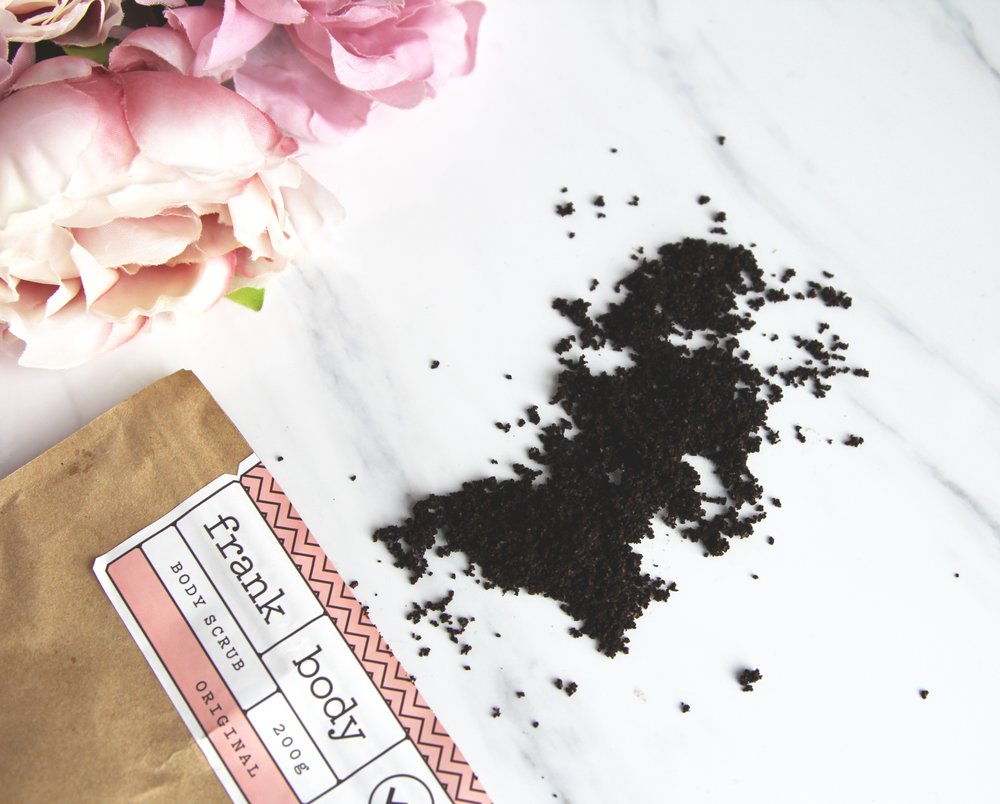 Is it worth the hype? Well I would have to say that the Frank Body Original Coffee Scrub isn't anything ground breaking in terms of ingredients as it really is simply ground coffee, almond oil, sugar and salt as well as some Vitamin E for extra nourishment. In all honesty, the scrub is relatively simple in the scheme of things and it is quite effective in nourishing the skin and sloughing off dead skin cells. However, the claims that people have made with regards to the Frank Original Coffee Scrub helping cellulite disappear or helps 'smooth' out lumps and bumps are a little overrated thus making it a little overhyped. I think that whilst the scrub is a fantastic exfoliator that helps smooth over bits of dry, flaky skin whilst keeping skin nourished and hydrated – it is definitely not some magical cure for cellulite (nor does Frank Body claim to on their website either)!
Whilst this coffee scrub is a fantastic exfoliator for the body, the coffee grains can be a little harsh for super sensitive skins who might not be able to take the 'grit' from the ground coffee. I personally do not mind the feel of the scrub and I find it quite therapeutic when massaging it in the skin as it does really feel quite energising in both the 'feel' and of course that gorgeous coffee scent. My only complain about this scrub (and again it is fairly minor) is the packaging. Yes, I understand the scrub is supposed to be cost effective and environmentally friendly but I really do dislike resealable pouches and I do find it hard to get into when I am in the shower. I am also wary that too much water will get into the pouch and overall damage the actual product. The other factor that may put some people off is the mess – whilst I do think using this is alot of fun, you will find coffee grains almost everywhere in your shower/bath. If you are in a rush, it can be a little bit of a pain to clean/wash off both yourself and your bathroom. There is no doubt that this is a messy product to use.
Overall, the Frank Body Original Coffee Scrub is fantastic exfoliator for the body – its relatively simple formula is incredibly effective at sloughing off dead surface skin cells and also keeping the skin hydrated and nourished. My body feels quite healthy and has a really lovely soft glow to it from the almond oil. I really enjoy using this as it does two things in one for me – exfoliates and moisturises the skin – the ultimate lazy girl product!
Repurchase YAY or NAY:
I was given this as a gift from my lovely Secret Santa for Christmas that just passed and I think I won't be in a huge rush to repurchase this after I have finished using this. The main reason is not because the product isn't good at what it does – it's just I am not really a 'body care' type person and using this does get rather messy. I think I would like to explore other body scrubs first before coming back to the Frank Body Original Coffee Scrub. In saying that though, this has been a really fun and great beginners foray into body care and I am so glad that I was introduced to this!