DECIEM's The Ordinary Hyaluronic Acid 2% + B5 Serum (Review)
Let's be honest, if there is one brand to have shaken up the skincare industry in the past 12 months, it would have to be DECIEM's launch of The Ordinary. The line is described as 'an evolving collection of treatments offering familiar, effective clinical technologies positioned to raise pricing and communication integrity in skincare' and is "Clinical formulations with integrity" as it's premise was to offer formulations that have been tried and tested in the industry but are often sold at exorbitant prices at a much more humble price point. The Ordinary offers industry proven skincare formulations but at the same time are transparent and honest about it price points. There is no over charging, no 'extra' and unnecessary money spent on packaging and general branding – the brand is all about the formulations and just how much these simplistic formulations are really worth. 
Since being launched, I have noticed that the range has had mixed reviews. There are those who absolutely LOVE the range to those (like myself) who are a bit meh about the line. There is no denying that The Ordinary has really opened up a new can of worms in the skincare industry. I also feel it has made skincare a little bit more accessible to those who had always thought that looking after the skin was expensive. I have had so many friends who don't normally purchase skincare ask me about my thoughts on the range and what products they should use. This is their first time exploring slightly complex serums and straying away from the usual cleanse, tone and moisturise. I think this is great as it has grabbed the attention of those who normally wouldn't care less about what they use on their skin due to its price point and concept. Whilst I haven't been the biggest fan of what I have tried of the range so far, I do have to give DECIEM props on making a skincare line just so damned affordable.
A little while ago, I shared my opinions on The Ordinary's Niacinamide Niacinamide 10% + Zinc 1% stating that I personally didn't love this. Recently, I finally opened up my bottle of The Ordinary's Hyaluronic Acid 2% + B5 and I have to say…it's not that bad, especially given its price point. 
What Is It: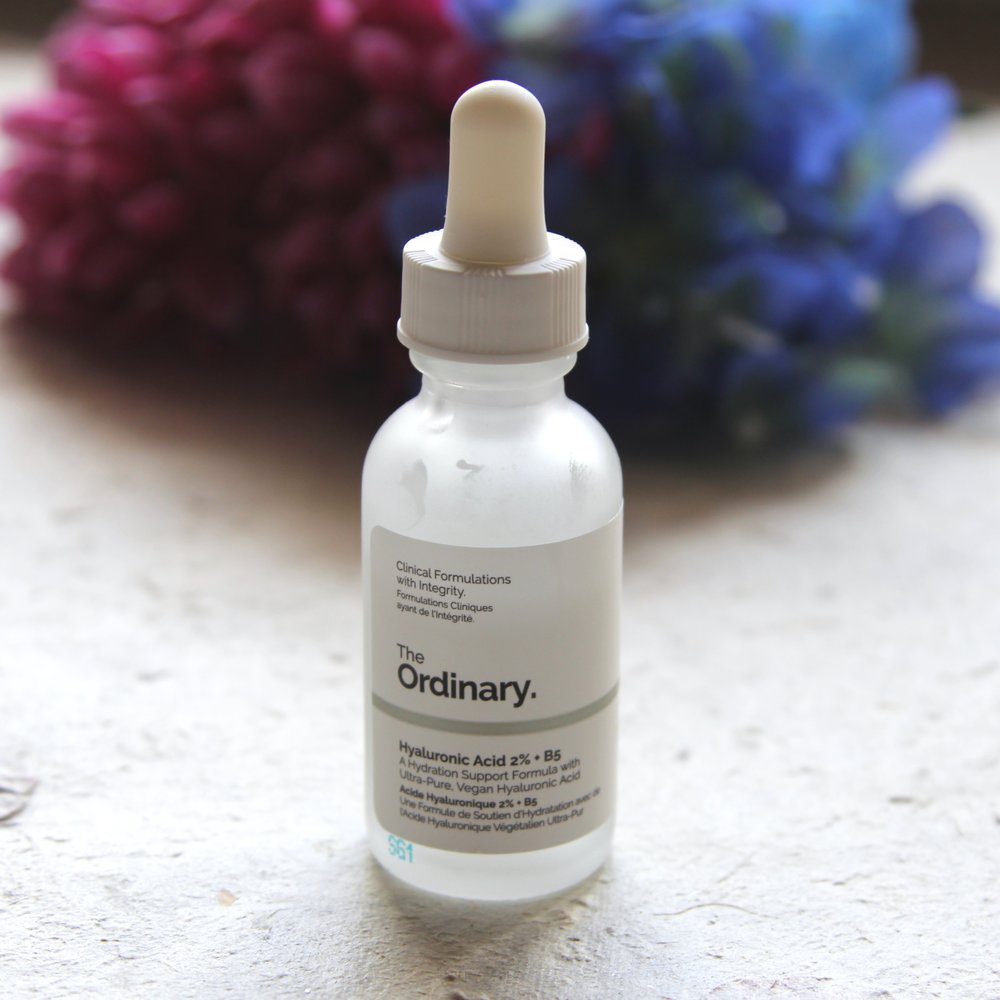 The Ordinary's Hyaluronic Acid 2% + B5 is basically a water based serum that contains hyaluronic acid and Vitamin B5.
What Does It Do:
This Hyaluronic Acid Serum aims to hydrate the skin to create a smooth and plump appearance. Hyaluronic acid is an amazing ingredient that can hold up to 1000 times it weight in water therefore giving the skin a boost in hydration, whilst also smoothing the skin texture and giving it a more firm appearance.
Ingredients:
Aqua (Water), Sodium Hyaluronate, Sodium Hyaluronate Crosspolymer, Panthenol, Ahnfeltia Concinna Extract, Glycerin, Pentylene Glycol, Propanediol, Polyacrylate Crosspolymer-6, PPG-26-Buteth-26, PEG-40 Hydrogenated Castor Oil, Trisodium Ethylenediamine Disuccinate, Citric Acid, Ethoxydiglycol, Caprylyl Glycol, Hexylene Glycol, Ethylhexylglycerin, Phenoxyethanol, Chlorphenesin.
My Thoughts: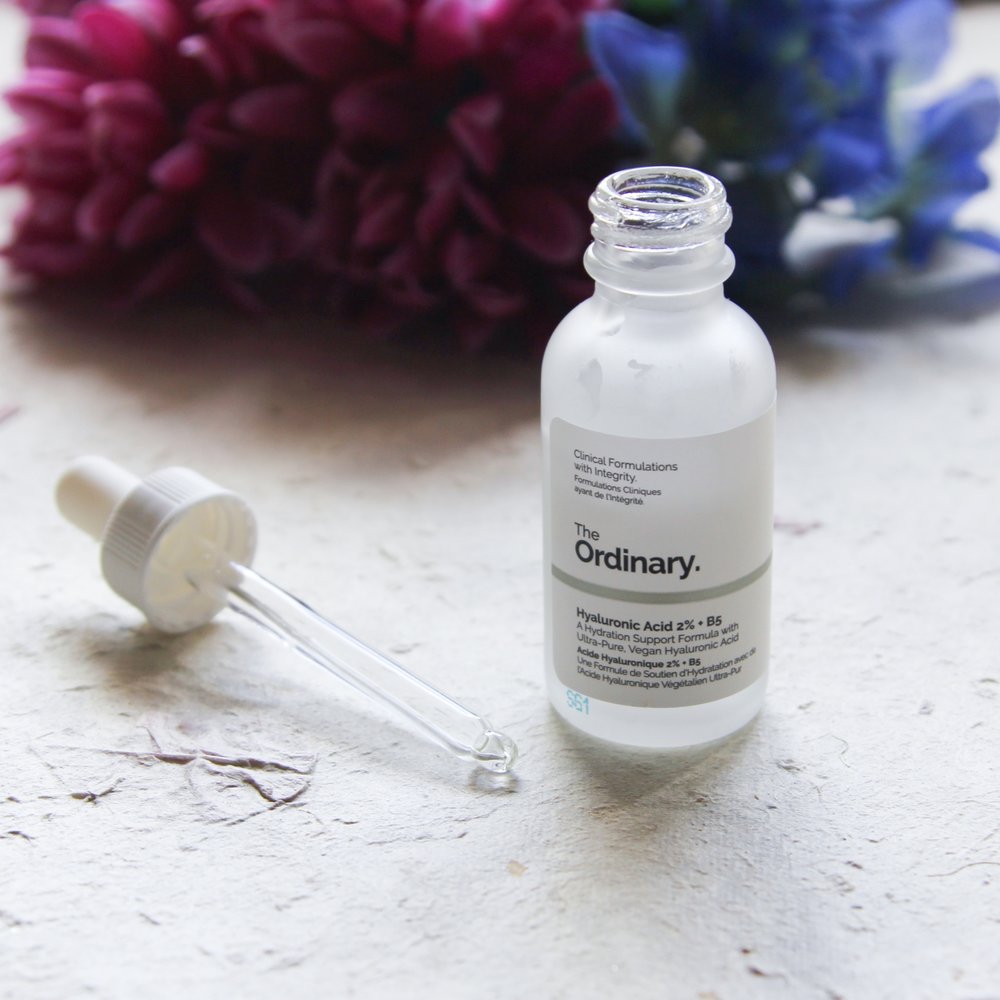 I was a little disappointed with my experience of The Ordinary's Niacinamide 10% + Zinc 1% Serum that I was in no rush to try the rest of The Ordinary range which I had purchased from Victoria Health. However, I decided to go back to what I had purchased and try something else from the range – the The Ordinary's Hyaluronic Acid 2% + B5 with an open mind. I haven't had much with other hyaluronic acids from the DECIEM ranges and I was expecting Hyaluronic Acid 2% + B5 to much the same, however I did find myself pleasantly surprised. I did feel that this did give my skin a much needed drink of water and made my skin feel smoother, hydrated and almost a little bouncy. Whilst I didn't love this as much as other hyaluronic acid serums I have used, I do find that The Ordinary's Hyaluronic Acid 2% + B5 is worth exploring, especially if on a budget, trying new things or if you go through hyaluronic acid serums like you do with underwear. 
For those who do not know, Hyaluronic Acid or sometimes known as HA, is a sugary molecule that can attract up to 1,000 times its molecular weight in water. It is considered to be an amazing hydrating ingredient for skin, suitable for all skin types whether skin be oily, sensitive or prone to breakouts. Hyaluronic acid occurs in body naturally, in fact, our bodies contain around 15 grams of hyaluronic acid and it is found in almost every part of our body but it plays a vital role in our skin (almost half the body's hyaluronic acid is found in the collagen of the skin!). Due to the fact that it can retain and hold so much water, hyaluronic acid is considered to be a wonderful moisturising agent. It's water retention is also how this acid results in increasing firmness, smoothness and softness in the skin as it works to 'draw in' water and 'expand' and even everything out. As we age, our levels of hyaluronic acid will decrease and this plays a part in skin loosing its firmness as it no longer holds as much water (what many of us call aging). This is why serums which contain hyaluronic acid are fantastic to minimise the appearance of fine lines or help those who have dehydrated skin.  
It is important to note that the  molecular size of hyaluronic acid determines how deep in penetrates into the skin, this is why we often hear serums containing various molecular weights. Different molecular weights of hyaluronic acid is important and serums that contain a variation of different molecular weight (size) of hyaluronic acid is imperative. For example, lower molecular weights can penetrate travel deeper into the skin as it is a smaller sized molecule. High molecular weights can hold more water than a hyaluronic acid with low molecular weight but it's downside is that the molecules are too large to go deeper in to the skin. The benefit of having a higher molecular weight is that it does form a protective layer on the outside of the skin. In short, having varying weights of hyaluronic acid is ideal as the larger weights create a barrier on the surface of the skin which acts to hold in moisture and protect the skin's surface from a drying external environment. The lower molecular weights will work to travel deeper into the skin and give the deeper layers of the skin hydration as well as help to stimulate collagen. The Ordinary's Hyaluronic Acid 2% + B5 contains high, medium and low molecular weights in its formulation as well as Vitamin B5 (which enhances surface hydration).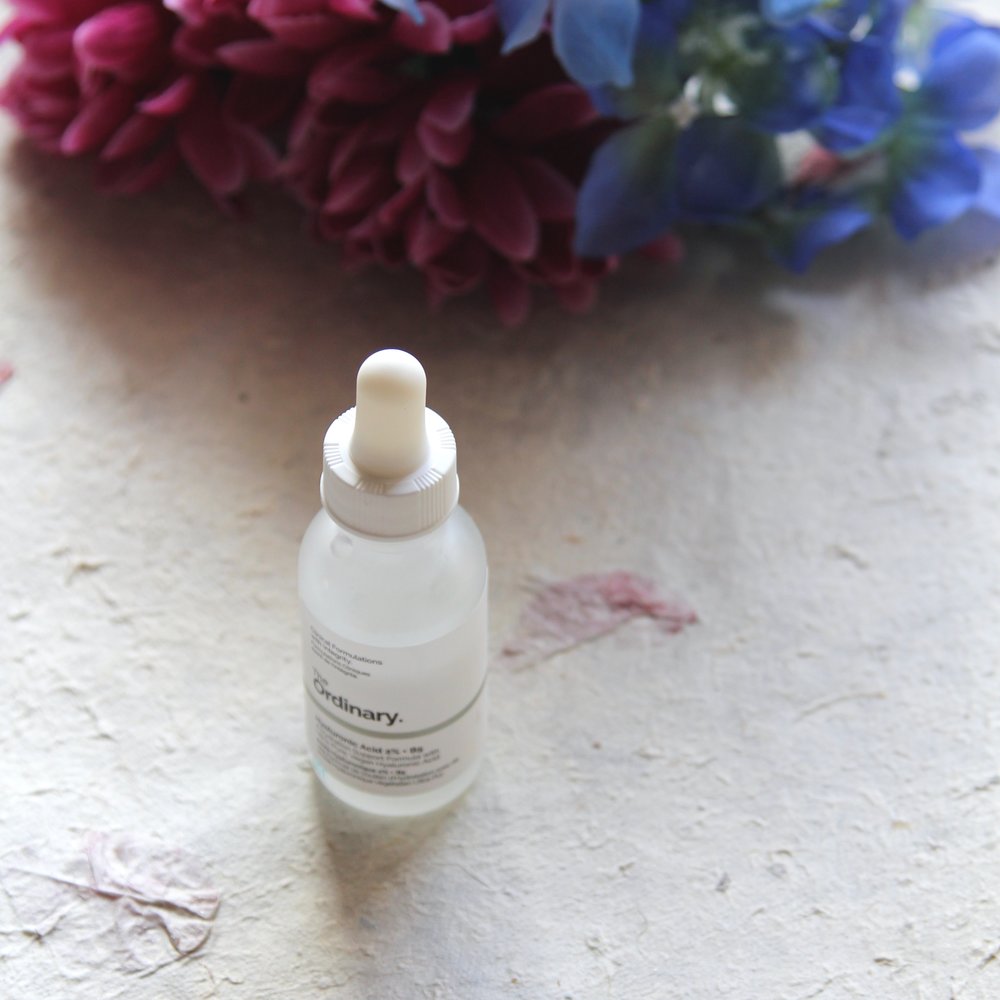 So how did I find The Ordinary's Hyaluronic Acid 2% + B5? I actually quite liked it and I found that my skin responded quite well to this formulation. The lightweight gel serum seems to not only sink into my skin instantly but it gives immediate effects in terms of how my skin feels and looks afterwards. I find that when I apply this serum, my skin feels immediately hydrated and I can almost feel it 'drinking' up the moisture. I notice in terms of texture, my skin feels quite smooth and it is a little more firmer and bouncier due to the plumping effects of the hyaluronic acid 'drawing in' water. I did use this for about 2 weeks consecutively and I found that my skin seemed to enjoy the extra hydration I got from using this serum.
What I didn't love about The Ordinary's Hyaluronic Acid 2% + B5 is the smell – it smells like a chemical?! Whilst I understand the product is fragrance free and I completely respect that, this has a really 'chemical' scent to it, which for me wasn't the most pleasant of smells. I have used a few other hyaluronic acid serums before like Indeed Labs's Hydraluron or Pestle and Mortar's Pure Hyaluronic Serum and each of these products don't have a scent (they smell like air…like nothing). The Ordinary's Hyaluronic Acid 2% + B5 however has a really artificial chemical scent, almost like a permanent marker which bothers me a little because I found it a little unpleasant. For me, a skincare routine is a ritual, it is a means for me to slow down and enjoy myself a little after a busy day or to brace myself for a day ahead. The Ordinary's Hyaluronic Acid 2% + B5 doesn't really inspire enjoyment, rather the scent is a little off putting, but having said that, this product does work.
The Ordinary's Hyaluronic Acid 2% + B5 has a really lightweight, cooling watery gel texture that is incredibly easy to spread and apply on to the complexion. It's texture makes it really easy to work with and I find that this hyaluronic acid serum absorbs and sinks into the skin quite quickly. There is lingering 'filmy' feeling, I find that it just sinks in and the skin almost instantaneously becomes a little plumper, more hydrated and firmer. I do find that I have to use a little bit more product than what I am used to with the Indeed Labs's Hydraluron or Pestle and Mortar's Pure Hyaluronic Serum to get the same hydration boost to last all day, but let's not be too picky here – The Ordinary's Hyaluronic Acid 2% + B5 is only USD $6.80, GBP £5.90 and AUD$12.90 for 30ml.
Overall, The Ordinary's Hyaluronic Acid 2% + B5 isn't bad at all and is the probably the first of The Ordinary range that I don't mind. I think that this serum does indeed work to give the skin a boost of hydration and works quite well to smooth out the skin and for the price I can't really complain. It isn't anything exciting or special as it is just pure hyaluronic acid, so don't expect it to reverse signs of aging with in weeks or anything too groundbreaking. This won't do that – it is quite simply a hydration booster which would suit most skin types. It's biggest downfall for me in comparison to its 'competitors' is the smell and its longevity. A little does not go a long with this product and you do need to apply a little more for that all day hydration. However it's price point is great for most wallets and this is something that many cannot argue with – this is great value for money considering it actually works.
Repurchase YAY or NAY: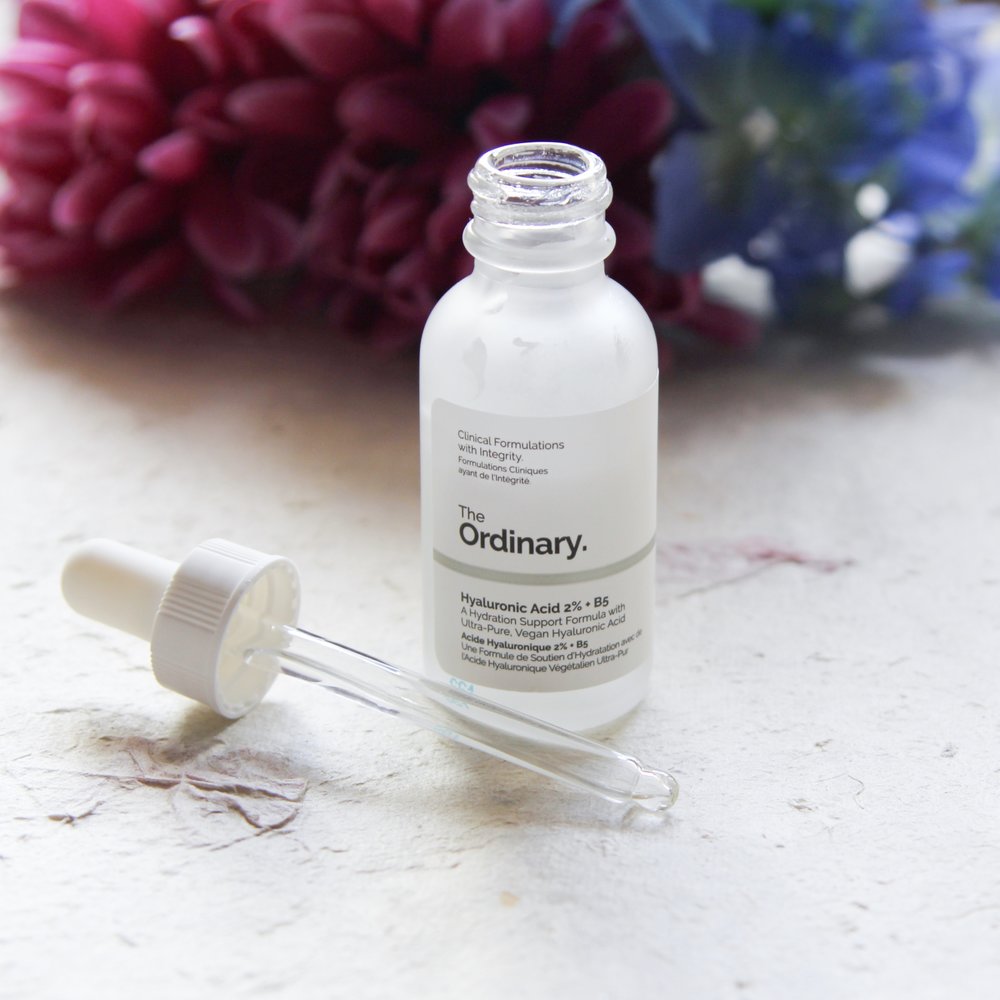 I won't be repurchasing this again any time soon as my favourite 'cheap' hyaluronic acid serum goes to Indeed Labs Hydraluron and I do feel that the Indeed Labs product gives my skin more of a hydration boost and longer lasting effects in terms of moisture retention and it doesn't have that funky chemical smell. The Ordinary's Hyaluronic Acid 2% + B5 is a good hyaluronic acid serum, its not amazing but for me it does job and does it relatively well. In saying that this is a great option for those who are on a budget or go through hyaluronic acid like socks and underwear as it is at positioned at a fantastic price point.
The Ordinary's Hyaluronic Acid 2% + B5 can be purchased from many different retailers such as Victoria Health, DECIEM online store, ASOS, Beautylish and BeautyBay. It retails for USD $6.80, GBP £5.90 and AUD$12.90 for a 30ml glass dropper bottle.
Have you used The Ordinary's Hyaluronic Acid 2% + B5? What were your thoughts? Have you enjoyed anything else from the range? Would love to know your thoughts in the comments section below!