This Works In Transit Camera Close-Up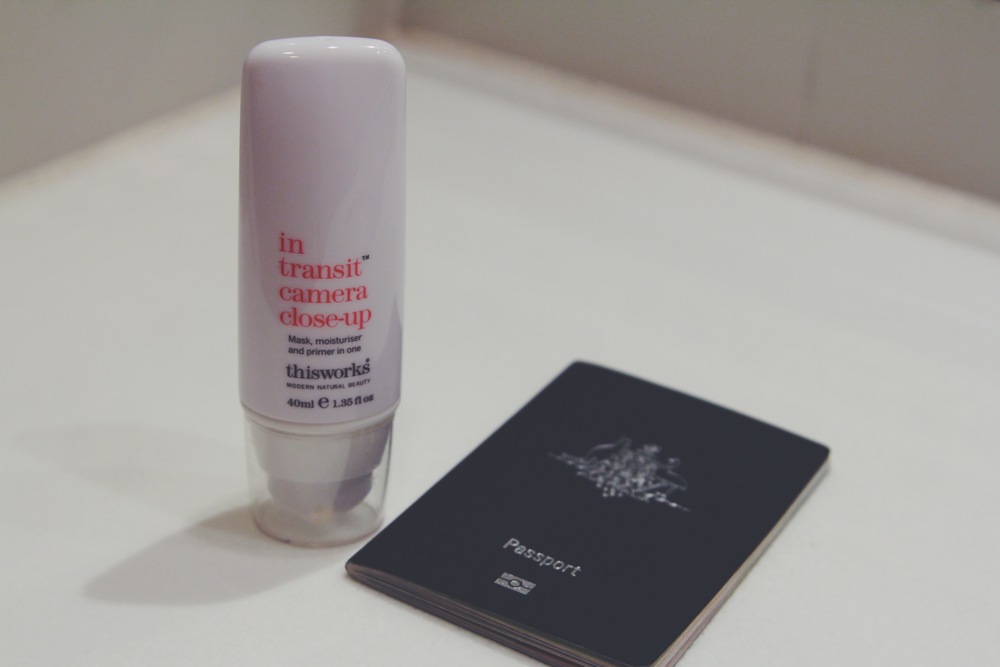 As most of you already know, I am currently away on holiday at the moment but it doesn't stop me blogging (or at least have some scheduled blog posts up my sleeve). Whilst we are on the 'holiday' theme here, I thought I would tell you about one of my favourite travel companions – the This Works In Transit Camera Close-Up. It is probably considered to be one of my favourite things to take with me travelling as it acts as a 3 in 1 product and it actually works quite well for a multitasking/hybrid product. I take this with me almost on every single flight without fail and I also love taking this with me on trips where I really need to pack light or if I need to go somewhere straight after a boxing/gym session. It really is quite the little gem!
This Works is a brand that was created by international beauty journalist Kathy Phillips who worked for Vogue as their Health and Beauty Director for seven years. She created This Works in 2003 and the brand tries to combine both natural/naturally derived ingredients to create beautiful, modern and results driven products that simply 'works'. I love the philosophy behind this company, it really is a no frills approach that doesn't boast the latest technology, instead it combines both naturally derived active ingredients with science in their formulations. It is simple, straightforward and to the point. The Camera Close-Up is part of the In Transit range which is catered for those who travel or are constantly on the go. I have used some products in this range before but for me, the stand out of this range is the Camera Close-Up. 
What Is It: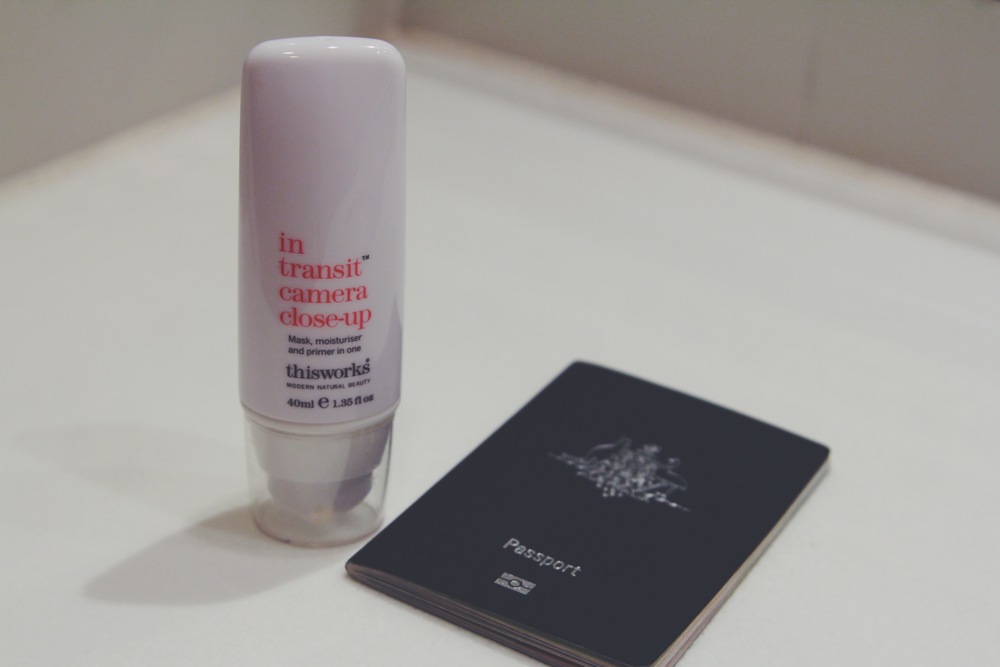 The This Works In Transit Camera Close-Up is a 3 in 1 multitasking moisturiser, primer and mask in a simple but effective 40ml pump tube. The packaging is well thought out because it's compact, hygienic and quite aesthetically pleasing in white with black and red writing. It is part of the This Works "In Transit" range which is designed specifically for people on the go.
What Does It Do:
The product promises to moisturise, be a primer and be a facial mask all in one product and it also promises to work – which is a huge claim to have! According to the This Works website, it claims for you to "be ready for that "close up" in seconds" and that the product is a portable pick-me-up that evens, plumps and brightens instantly, which contains bio boost (their blend of repairing plant oils), hyaluronic acid, argan and starflower oils plus a hit of caffeine for a revitalising formula. It also promises to rapidly erases signs of fatigue, boosts hydration, and preps the skin for photo perfect make-up.
Ingredients:
According to the 'This Works' website, the ingredients for this product is the following:
AQUA, BUTYROSPERUM PARKII, CAPRIC TRIGLYCERIDE, GLYCERIN, ALOE BARBADENSIS, CETYL ALCOHOL, GIGAWHITE, STEARIC ACID, ARGANIA SPINOSA, EUPHRASIA OFFICINALIS, BORAGO OFFICINALIS, SORBITON MONOSTEARATE, PEG-100 STEARATE, XANTHUM GUM, COFFEE-CHEMYUNION, HYULRONIC ACID, DIMETHICONE, PHYKOSIL 2000, BENZYL ALCOHOL, POTASSIUM SORBATE, GEGLAG, VITAMINS A, C AND E, ALPHA TOCOPHEROL, TREITHANOLAMINE, DISOIUM EDTA, METHYL ISOTHIAZOLINONE, CITRUS AURANTIUM FLOS, ROSA DAMASCENA, PHENYLETHYL ALCOHOL, BISOBOLOL.
As you can see, this product has lots of soothing and calming ingredients, moisturising agents and also ALCOHOL which I have in bold. Despite my previous post on alcohols, I found this product to be okay – the benzyl alcohol in this I am assuming is of natural sources and is a preservative and the phenylethyl alcohol in this is another aromatic alcohol derived naturally as well and is used only for fragrance. It is also the second last ingredient. I haven't had any reactions to this and was very wary before I purchased this that I asked for a sample. My skin is okay and if anything it truly survives plane travel a lot better when I use it!
My Thoughts:
As you can see, I really love using this product when I am on the go as it is so convenient and compact. Despite the fact it does have some questionable forms of alcohol in this, it is most likely of natural origins and I have found that it in no way dries out my skin. I have been using this on all travels for the past year now and I can happily vouch that it actually does the opposite – it hydrates my skin and keeps me looking from like a zombie on some of those longer flights.
The fact that this product is multitasking is quite confusing – a moisturiser, mask and primer in one? How does it work? I find that its moisturising properties are most likely due to the ingredients – it contains shea butter, argan oil, starflower oil, water, fatty alcohols such as cetyl alcohol and hyaluronic acid which are great moisturising or moisture retaining agents. Those with oily or combination skin, may be a bit cautious due to the shea butter in this. I have an oily t-zone and dry cheeks and find that I do not in any way get greasy when using this on a flight. I generally find that on flights, my skin gets very dry and sometimes, if not prepped properly, I will often have those annoying dry flakey patches on the skin. When using the In Camera Close-Up, I find that those dry patches are minimised. When using this on the go, I also do not find I don't become a grease ball when using this either which is great and I in no way get breakouts from the shea butter.
As a primer, this works quite well too. In no way is it amazing and ground breaking like the Hourglass Mineral Veil but it does do a pretty good job at keeping oil and making my make-up last throughout the day. It really does smooth out the skin and help create a nice base for a foundation or a tinted moisturiser. This absorbs and sinks really well into the skin and doesn't leave a tacky or uncomfortable sticky finish (which i hate). I find that my base will glide on quite nicely after using this and for me and my make-up will last a good 8 hours without me looking too oily or my foundation becoming patchy. It is great for when you are on the go and don't have the time to wait for our moisturiser and then a primer to absorb or if you want to keep your routine as minimal as possible in terms of product.
The Camera Close Up also claims to be a mask, I honestly haven't tried using it specifically as a mask in any way but I can see where the 'mask' claims lie. This isn't the traditional mask that I am used to where, you will leave it on and wash it off. Instead, I think it works like a sleeping mask, where you leave it on overnight. It does contain some soothing ingredients such as aloe vera as well as some ingredients which help brighten and perk the skin (gigabright and caffeine), but for me this generally comes down to its moisturiser capabilities and not so much a mask. The Camera Close Up, for sure makes me look a lot more alive on those horrible red eye flights and my skin does look brighter and fresh when using it but I wouldn't rely on it as a mask for your general routine. 
The texture of this is much like a regular moisturiser, it is creamy in consistency and blends and sinks well into the skin. There is a slight scent to this, its a very soft scent with a hint of rose but is nothing too heavy or offensive on the nose.
Overall, the This Works In Transit Camera Close Up is my god send when it comes to plane travel and when I am on the go. The product really does keep my skin hydrated without that greasy feeling and prevents my skin from drying out on a flight. I love the fact I can also add this to my gym kit and minimise what I need to take if I have something to attend straight after. The compact and well thought out product design makes it an absolute dream for someone constantly on the run. It even gets a seal of approval from Victoria Beckham who seems to swear by this product when it comes to travel (and posted it all over Twitter some years back). I would definitely recommend this for those who are constantly trying to minimise their skincare routine or someone who travels quite often.
Repurchase, YAY or NAY:
I already have repurchased this as my current one is running low, the reason being, is that it is such a fantastic hybrid product that keeps my skin calm, hydrated and 'alive' on plane travel. I wouldn't necessarily use it specifically for a mask as I think there are more active masks available out there on the market but as a moisturiser/primer this is fantastic. Those who like to keep their skincare routine simple, the travellers out there or those who are constantly on the go I think will like this product and its no fuss approach.