My Recent Skincare Haul – August Edition
I won't lie…I did go a bit nuts over the past few months with my online purchases. In my defence though…I rarely buy skincare locally in China due to a number of reasons. The main reason is that the type of brands that I do tend to use are just not available here as they cannot be sold due to China's strict laws and regulations – one being that imported products MUST be tested on animals. Most of the brands that I use are generally cruelty free and are not tested on animals and therefore these brands are not legal here. The other reason as to why I do not buy products in China is simply due to the fact imported goods are generally quite expensive here (and I thought we had it bad in Australia!). For example, a Chanel lipstick which costs about AUD$49 will easily got about AUD$70 here due to the higher tax rate that imported and luxury goods will have. In terms of where or not products are safe, that is also something of concern as well, but if I do buy any personal care goods, I generally do buy it from a larger overseas chain (ie. Japanese department stores or from Watsons). 
Then there is the issue of shipping to China. From what I have read, shipping goods to China can be quite heavily taxed for skincare and cosmetics. I have read that consumers have been taxed between 30-50% on their personal goods before which has really put me off having my online shopping sent here. There is also the added the concern that it might just go missing in the crazy China postal system. Mind you, as of recently I have relaxed this a little and I have purchased and received some things online where the seller has kindly under declared the goods for me incase I do get taxed. So far, I am pleased to say that I haven't had any missing mail or have been asked to pay for taxes. Fingers crossed it does stay that way!
However, most of my online purchases are not urgent and I am willing to patiently wait for them. Therefore I will happily send my mail back home to Australia and wait until we have someone visiting Shanghai to bring these goods with them or wait until we are meeting family in another country. We have been extremely lucky to have visitors and family trips scheduled over the past few months and also those people have been kind enough to share their luggage space with us. My most recent haul is the result of an accumulation of skincare goods which I purchased in the months of June and July and I thought I would share the fun with you all!
NIOD Products from Victoria Health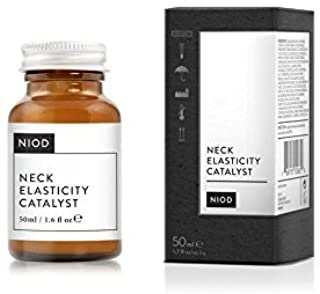 I blame these purchases on detailorientatedbeauty and Brexit hahaha. The lovely Arly at Amazon wrote about NIOD's most recent creations – the Non Acid-Acid Precursor (NAAP) and the Superoxide Dimutase Saccharide Mist (SDSM) and her reviews were just glowing. I was also so impressed by the Copper Amino Isolate Serum (CAIS) that I decided to bite the bullet and buy NAAP, SDSM and repurchase a back up of CAIS from Victoria Health. The added benefit of the UK VAT being deducted of my purchase, reasonable shipping charges and the lower British Pound (I purchased these almost straight after Brexit happened) made the purchase just too good of value to pass up. 
NIOD's Non Acid Acid Precursor and Superoxide Dismutase Saccharide Mist…yes they are a mouthful to say aren't they?
I have used CAIS before and I quite like what it does for my skin in general. My skin overall looks healthier and most importantly heals a lot faster when I have a spot or have reactions to the weather, so repurchasing it did not require a second thought. NAAP is basically a more gentle alternative to traditional AHA and BHA exfoliating acids. Generally I do have to be careful with what acids I use as my skin is generally quite sensitive. To me, NAAP was perhaps another alternative to some of my more stronger AHA's that I have on rotation. I haven't cracked this open yet but will do in due course. My final item from Victoria Health is the SDSM which is basically like a toner on steroids – it is a beautiful mist that is to be used in the toner phase of your skincare routine and acts to help the skin protect itself from oxidative stress, water loss and inflammation. I have used this in my routine over the past few days and whilst I haven't seen a huge change as of yet (too soon to tell!), it feels extremely refreshing on the skin post cleanse.
Leah Lani Skincare from Eve Organics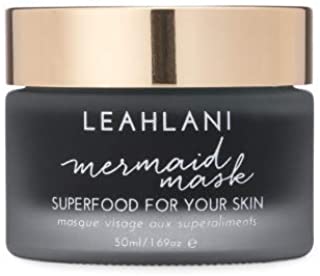 Eve Organics, an Australian online beauty retailer (located in my home city!) recently started stocking skincare label Leah Lani from Hawaii. My intrigue with Leah Lani started when I had seen a plethora of Instagram mask selfies of ladies wearing a greenish colour mask and #mermaidmondays. I soon discovered that this was Leah Lani's Mermaid Mask, which is made with love from soil and nectar of Hawaii. It is a mask that aims to purify, hydrate and clean your skin. The reason why it is so green is the fact the mask is loaded with organic chlorella and spirulina harvested from Hawaii. Not owning a mask quite like this, I decided to give it a go!
Doesn't this look lush? Leah Lani's Bless Balm smells as pretty as it looks!
The second product I purchased was the Bless Beauty Balm, which again had rave reviews from bloggers and Instagrammers alike. I had no idea what to expect from this as I don't own a beauty balm but I had heard that this is fantastic for irritated skin and helps to soothe due to the ingredients such as blue tansy in this formulation. Again, I have not had a chance to use this as of yet but oh my does this balm just SMELL amazing. I will be incorporating both Leah Lani products in to my skincare routine soon so watch this space!
May Lindstrom Skin The Clean Dirt from May Lindstrom Skin
The Clean Dirt and Handwritten love from May. It's these little things that make purchasing from May directly an absolute pleasure.
My love affair with May Lindstrom Skin continues with The Clean Dirt and the generous amount of samples that came with my order. Whilst I know The Clean Dirt may be the least favourite of the May Lindstrom range I have found that I really like this, only after using it once! It has created a fantastic first impression with my skin. After using this, I found that my skin felt quite soft, smooth, purified and clean due to the use of ingredients such as white clay, Moroccan clay, sea salt, tumeric, cacao and marshmallow root.  I needt to use this a bit more to get a better feel of the product but so far so good.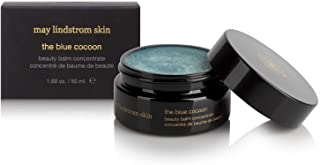 May Lindstrom Skin's generous samples. Yes I will be adding to my collection no doubt!
With my order I also received a beautiful handwritten inspirational note from May and also a generous amount of samples of her products such as the Blue Cocoon (I REALLY can't wait to try this), The Problem Solver (fingers crossed this isn't too harsh for me), The Jasmine Garden Mist and the Youth Dew. I can't wait to try each and everyone of these samples and knowing me, I will find another product to fall in love with and purchase later on down the track.  
Drunk Elephant Skincare 12% Glycolic Serum from Sephora USA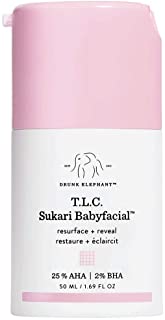 The Drunk Elephant Glycolic Night Serum which is so pretty in pink!
The final product in my most recent haul is from Amazon – a brand that I have been so curious to try for sometime now as I see this on many US Instagram profiles. I have been dying to try Drunk Elephant's skincare range for ages now but unfortunately, it is only available in the US (but you can purchase it via Amazon online who will ship it internationally). What attracted me to the brand is the fact it carries a fantastic ingredients list that does not contain any mineral oils, drying alcohols, parabens, fragrances etc but at the same time it has had rave reviews and given its users amazing results.  
After much research, I decided to try the Glycolic Serum first as I don't have a serum like it in my collection. It uses a 12% blend of AHAs and BHAs to give the skin a smoother and more radiant complexion but at the same time it has been formulated to suit all skin types, including sensitive skins. Again, I can't wait to try this out and see how my skin likes this! I also received a sample of the B-Hydra Intensive Hydration Gel and if all goes well, this could potentially be my next Drunk Elephant purchase!
So that is it for now from my haul. Hahaha, the Mr is quite impressed (but not impressed at the same time) with my new product acquisitions. Is there a product from this haul that you would like me to review in particular? Have you used any of the above products? What were your thoughts? Let me know in the comments section below!