It's been nearly two months now since I embarked on my one week skincare shopping spree in Seoul! As many of you would have guessed I had a fantastic time shopping over there, buying new skincare and beauty products everyday in different stores and areas of Seoul. It was such a fun and exciting experience and I thoroughly enjoyed exploring each and every beauty haunt I could find! Its something that I am not exposed to in Australia as the beauty industry here is so small in comparison.
In saying that I know that for many, shopping in Seoul can be so overwhelming as there is a plethora of different brands, products and ranges available. It can also be quite difficult to find things (especially when Google Maps in Korea isn't 100% accurate) and many of us may be short on time as we may have other things to attend to. I thought I would compile a little guide with a few tips of some stores and areas which I thoroughly enjoyed shopping in and venturing out to. Keep in mind, my list and recommendations are not that comprehensive but it does gives you some insight into a few popular stores and shopping areas. It also gives many of you a basic idea as to where to find some slightly more obscure Korean skincare brands such as Huxley, Whamisa and Cremorlab which are not widely available everywhere in Seoul!
Stores Worth Checking Out
LOHBS (Love Health and Beauty)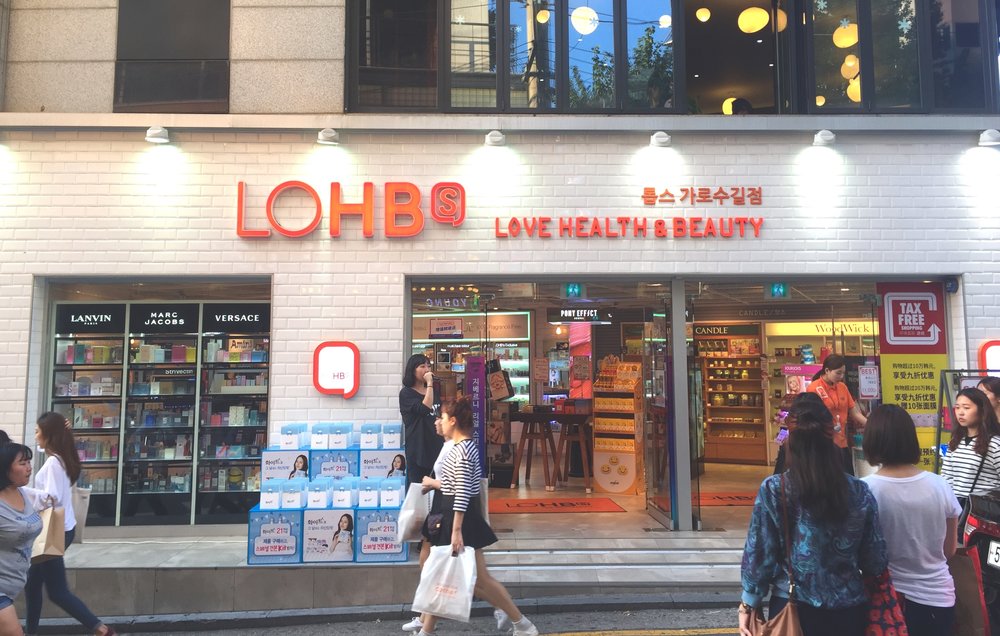 LOHBs can be quite comparable to a cheaper version of Sephora or ULTA (US ladies), Boots (for the UK ladies) and a Priceline Pharmacy on steroids (Australian ladies) as it carries a diverse range of skincare, cosmetics, haircare, body care and snacks in each of their branches. Out of all the chains that are similar to this 'drugstore' concept, LOHBs seems to be a little bit more higher end as the stores appear to carry more niche brands as well as some popular mainstream ones in terms of beauty, skincare and fragrances.
You will find that Love Health and Beauty or LOHBs, stocks quite a few brands that US Korean Beauty stores such as Peach & Lily, Glow Reciepe and Soko Glam stock in their online stores. You will be able to find brands such as Cremorlab, Aromatica, My Beauty Diary and Huxley in most LOHBs branches, but do keep in mind each branch does vary. I also found that LOHBs was harder to find in comparison to Olive and Young which I saw in pretty much every main road or shopping strip. The biggest LOHBs store that I found in Korea that seemed to stock quite a diverse range of product was the one in Hongdae, just outside the train station.
Olive and Young
Olive and Young is very much the same concept as LOHBs, except the brands stocked here are perhaps slightly more mainstream and perhaps at a slightly lower price category than LOHBs. The great thing about Olive and Young is that the brands and products that they do carry is diverse and I found that every store slightly varies on what they sell which is exciting. I literally walked into every Olive and Young store I came across (much to the dismay of my sister) because of this. The biggest ones I find are the best to shop at, my personal favourites were the large Olive and Young at Eewha Women's University and also the multilevel one in Myeong-dong.
Olive and Young is great for skincare brands such as Neogen, Son & Park, Dr Jart as well as cosmetics brands such as Clio and K-Palette (great eye products). It is also a fantastic starting point for brands such as CosRx as they do stock some products from the range such as the pimple/acne pads, cleansers and also the masks. I also found this store a fantastic place to purchase a wide variety of single sheet masks to try instead of having to commit to a 10 pack. They have a wide variety of different brands such as "I am Sorry", Dr Jart rubber range, SNP and also some fun sheet masks like those printed with the characters from Shrek.
Lotte Duty Free
If you are ready to battle the mainland Chinese crowd and wanting to grab some Korean beauty products without the hassle of claiming tax back later (although most stores in Myeng-dong do give you the tax back on the spot provided you have your passport) then it is worth giving the Lotte Duty Free a try at the huge Lotte department store in Myeong-dong. It is also a great place to purchase more of the high end brands such as History of Whoo, Sulawhasoo, IOPE, Amore Pacific, Hera and SU:M37 as most of their boutique stores are unable to give tax back on the spot (and will instead issue you with an invoice to claim tax later). Lotte Duty Free is also a fantastic place for international brands such as La Mer, Givenchy, Make Up Forever, NARS, Chanel etc to just name a few. They are not necessarily cheaper than the US and UK (but some brands are cheaper than Australia) but there is a good range with some beautiful limited editions as well.
Be warned, it can get crazy, hectic and incredibly busy in the Lotte Duty Free shop as it does attract many tourists. I would suggest to at least have a shopping list of the products you would like to buy or a narrowed down shopping list. I personally found it too busy to just browse and also the sales assistants are generally swamped with customers. I chose to just purchase products full price at the actual boutique stores as I had a few questions to ask and wanted to play with the products a little!
Eden Plaza
A small part of the Whamisa display at Eden Garden
If you are looking for Whamisa and other 'green' Korean beauty brands then Eden Plaza is the way to go. Be warned, it is a little hidden and it does require a little bit of walking to get there but if you are after Whamisa specifically and have quite the list then this is the most reliable place to get it as Eden Plaza is ENS Beauty Group's retail store and showroom. ENS Beauty Group is the company in which Whamisa, New Days and Beausome all belong under.
It is a beautiful store and the service there is amazing. I was under the impression that the store was closed at 8pm and when I travelled all the way to Cheongdam and got to the store at 7:20pm, the sales girl was just about to leave and when she saw me and my disappointment (I had walked a bit and took a few wrong turns to get there) she kindly welcomed me in store even though everything was closed down for the day. I happily purchased a whole bunch of items including their famed toners and masks for both myself and for friends. Twenty minutes later, I walked out of the store with quite a large (and heavy) haul but I was so incredibly impressed with the kindness and compassion shown by the sales girl. She really didn't need to help me but she did anyway and I am so thankful that she did as she made not only myself but many others who wanted Whamisa goodies really happy as well!
For those who do not know how to get to Eden Plaza at Cheongdam, it is a bit of a walk from Cheongdam Station. To get to Cheongdam Station, take line 7 (olive green line) and take exit 8 and follow the map as shown below. The address for those interested is: 8 Samseoung-ro 147, Gangnam-Gu in Seoul.
How to get to Eden Plaza from Cheongdam Station courtesy of Google Maps.
ALAND
ALAND became one of my favourite stores to browse through in Seoul as it had such a huge range of well…everything from clothes, shoes, bags and other random bits and pieces (great for presents!). What surprised me most however was that at a select few ALAND stores there was an impressive range of Korean Indie Beauty brands that I had never heard of before. These included Land Museum, Thank You Farmer, Time to Blossom to name a few and they also boast an impressive range of products byCosRx.
It is important to remember that not all ALAND stores carry Korean skincare products but the main boutiques in Myeong-dong and Garosu-gil all stock an impressive range on their ground floor. If you are are really into the latest in Korean beauty, the ALAND stores should not to be missed as I do believe they stock some really exciting up and coming Korean skincare brands. Also be prepared to pick up some other bits and pieces such as clothing or accessories as well as the selection there is quite unique and some items not too badly priced either!
Areas to Shop
Garosu-gil
Garosu-gil is a shopping street that is located in Sinsa-Dong in the Gangnam-gu district of Seoul. It a gorgeous street that is lined with beautiful Gingko trees with many stylish shops and boutiques that sell clothing, accessories and of course beauty products. What I loved most about Garosu-gil is that not only is the street quite beautiful, but also the atmosphere wasn't overtly touristy. I found that there were not as many tourists in this street in comparison to areas such as Hongdae and Myeong-dong, in fact, this street had a much more relaxed and peaceful feel to it.
In terms of beauty shopping, I found that Garosu-gil had a much more upscale feel to it, with more high end skincare and beauty flag ship stores in comparison to that of Myeong-dong. On this shopping strip I found the a huge Belport store which stocks a variety of international boutique brands such as Darphin, Omorovicza and Kahina Giving Beauty as well as Belport's own labels. Garosu-gil was also home to the SU:M37 boutique and also the History of Whoo store which were absolutely beautiful in their own right (thank you SkinfullofSeoul and Beautybemused for helping me locate these stores!). There is also a huge LOHBS (Love Health and Beauty) store at the start of the Garosu-gil shopping strip which have many of those brands that you see often stocked Glow Recipe, Peach and Lily and SokoGlam. Some of these brands include Cremorlab, Huxley Korea and Aromatica which can all be found in LOHBs (as mentioned earlier not all stores will carry the same stock, but this store in particular had one of the bigger ranges). Garosu-gil is also home to some of the more popular Korean brands such as Innisfree, Belif and Skinfood, which all have their own standalone stores as well as a huge ALAND store which stock some fantastic independent skincare and beauty brands.
What I also loved about Garosu-gil apart from its more relaxed and friendly atmosphere is the amount of cafes are in the area which are just visually stunning. It's a wonderful area to spend a relaxing day shopping and cafe hopping and it is hands down one of my favourite areas in Seoul.
To get to Garosu-gil take line 3 (the Orange line) to Sinsa Station and take Station Exit 8. Keep on walking straight and until you get to Garosu-gil street, which is lined with beautiful trees. You can't miss it!
Myeong-dong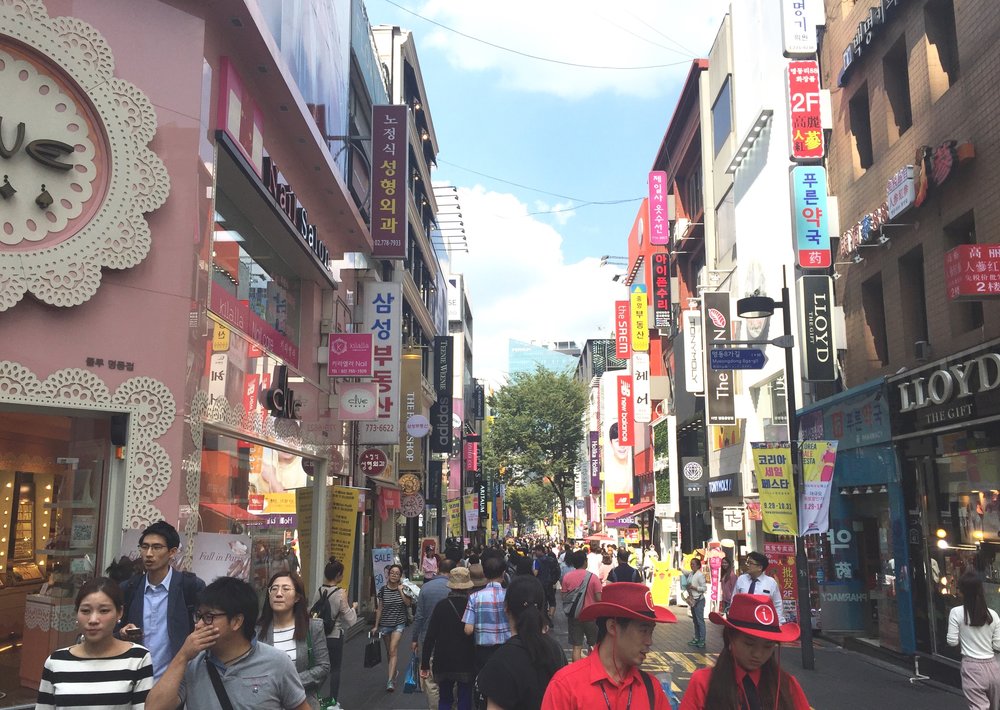 Whilst this area is extremely touristy and busy – it is touristy and busy for a reason. This is a beauty mecca with every where you turn there is a store that sells Korean skincare or make-up a few steps away. Myeong-dong is home to the big Korean skincare brands such as Laniege, Skin79, Banila & Co, Innisfree, Missha and Etude House just to name a few and also a huge range of cosmetic brands such as Espoir, Clio and Moonshot. Most stores offer a tax refund on the spot for tourists over a certain amount, so don't forget to bring your passport with you if you intend to spend big in the area.
The Myeong-dong shopping area is also home to the Shinsagae Department store as well at the Lotte Department store which all have their respective Duty Free shopping halls (again, don't forget to bring your passport). These Duty Free shopping areas in each department store are absolutely massive with almost every mainstream skincare or beauty brand that you can think of available. As mentioned earlier, the biggest downside, is that is so incredibly busy and I found it too busy that I just gave it a miss and shopped downtown instead.
Getting to Myeong-dong is relatively easily, take Line 4 (Light Blue Line) on the Seoul Metro to Myeongdong and take Station Exit 6 which will take you to the middle of the Myeong-dong shopping strip. There are also plenty of signs in this area so you cannot get lost (and also follow the crowds).
A Word About Tax Refunds
I just thought I would also give you all a little note on how tax refunds work in Korea. In Myeong-dong, most stores will offer you a tax refund on the spot provided you bring your passport with you and that you spend over a certain amount. However, sometimes you forget to bring your passport or decide to not take your passport along with you. Do not fret as you do have the chance to claim at the airport if you need to. Just simply let your cashier know you are travelling and they will give you a special invoice to use to claim at Incheon airport.
Just don't make the same mistake that I did, and pack all those receipts in your checked luggage as the helpful souls at the tax refund area at Incheon will not be able to refund you without these receipts! I also do not believe you need to show them the goods either when you claim (in Australia you need to show immigration everything you have purchased to claim GST). The special tax invoice and your passport is all that is needed to claim back the Korean taxes which is generally calculated at around 7%.
Have you ever been to Seoul? What were your favourite beauty shopping haunts? What is your favourite Korean beauty brand currently? I would love to find out more, so please share your thoughts in the comments section below.