Darphin Aromatic Cleansing Balm with Rosewood (Review)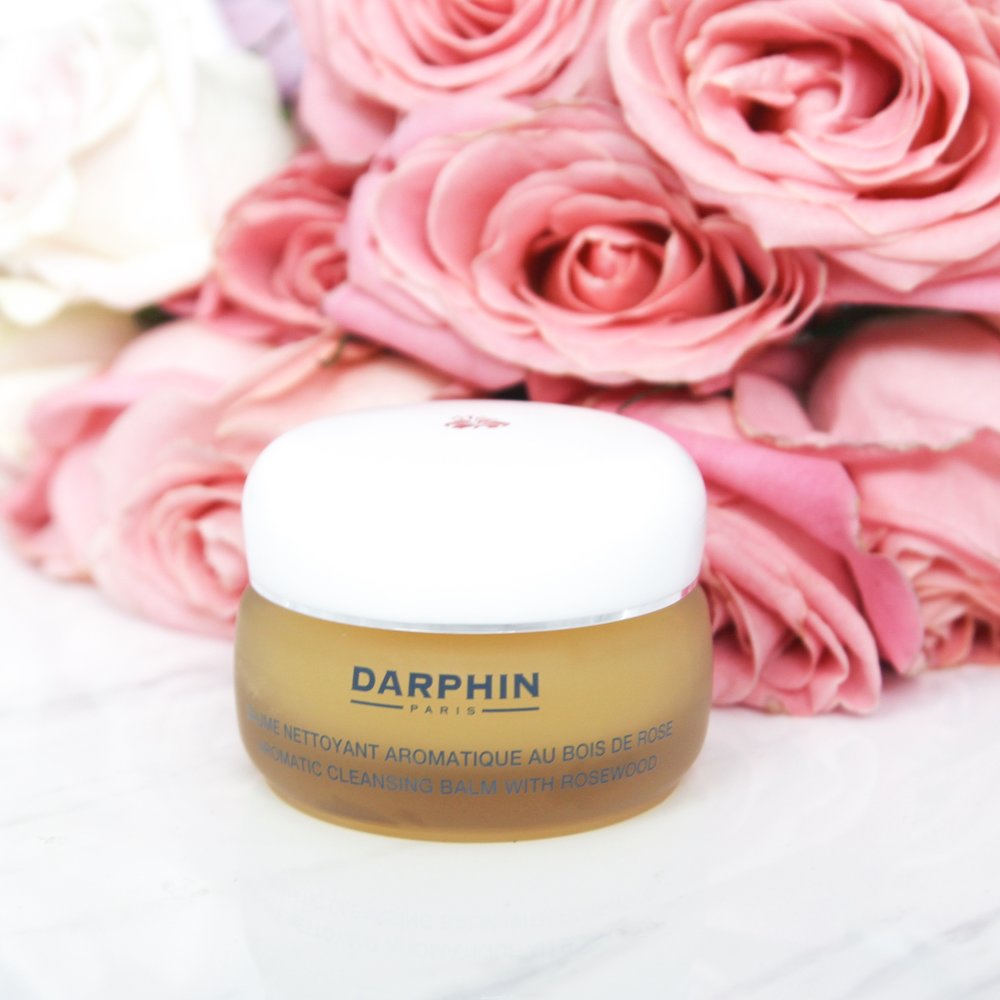 I am such a sucker for cleansers. Seriously, cleansers are my kryptonite and I am sure many of my fellow skincare junkies can relate (in all seriousness though, I do have a problem). I love trying new cleansers and I find that cleansing balms are always one of those products that seem relatively 'easy' to find but so hard to find the right one. I love a good cleansing balm, however they can sometimes be a bit of pain to wash off as some formulations don't allow the cleanser itself to emulsify. I find that in these cases, using a cloth is the best method of getting rid of excess. These cleansers are great to use at home as it truly creates a wonderful experience but it can be a bit of pain when travelling or when in a rush. However, there are some fantastic formulations like that of the Darphin Aromatic Cleansing Balm with Rosewood which is rich and heavy in consistency but will emulsify into a milky residue and wash off effortlessly. This made this cleanser a very travel friendly one for me, and the beautiful scent of this just added to my enjoyment of using this cleanser.
For me, Darphin is often a very underrated and overlooked skincare brand. This French skincare company creates some amazing formulations with luxurious textures whilst performing almost exactly what is promised on the package. I find that it is a brand that is often quite overlooked for more 'flashier' formulations promising the world. In saying that though, don't underestimate how effective the Darphin range can be (their Hydraskin Light moisturiser has been a favourite in the past) as the formulations of this skincare brand can also be just as effective. Recently I had the opportunity to try the some of the Darphin range and I was quite impressed with some of the products. One that took me by surprise was the Darphin Aromatic Cleansing Balm with Rosewood, as I was quite impressed at how much I enjoyed this as a cleansing balm as it not only cleaned the skin throughly but also kept it feeling healthy and full of nourishment.
***Please note, this item was gifted to me from a PR Company with the expectation of a review/and or content. All opinions in this blog post are my own and are my honest opinions. I really did simply just enjoyed this cleansing balm (and I know many others do too!).
What Is It?
The Darphin Aromatic Cleansing Balm with Rosewood is basically a luxurious cleansing balm used to cleanse and clean the face.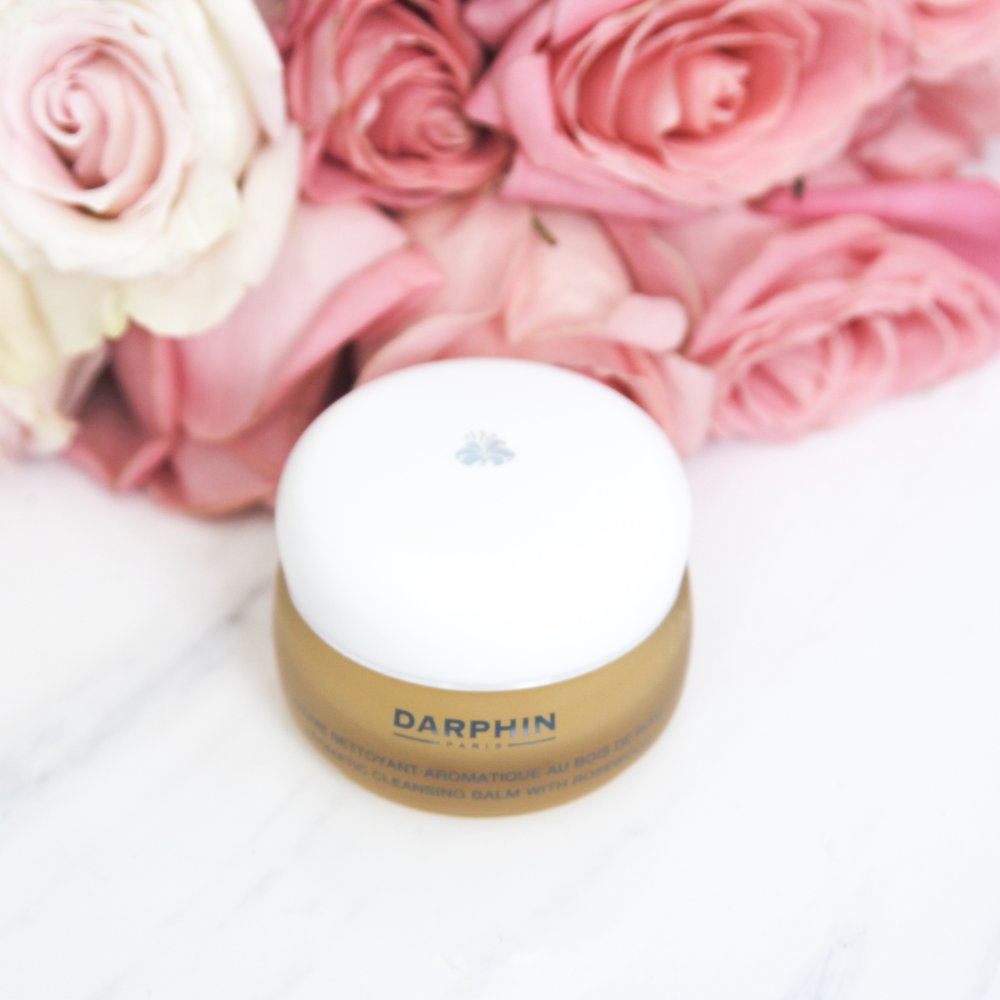 What Does It Do?
As with all cleansing balms, the Aromatic Cleansing Balm with Rosewood helps to rid the face of makeup and impurities on the skin's surface. It can be used as a first cleanse, but I would rather use it as a morning or second cleanser due to how luxe it feels on the skin and its scent.
Ingredients:
HYDROGENATED POLYDECENE, OLEIC/LINOLEIC/LINOLENIC POLYGLYCERIDES, GLYCERIN, HYDROXYSTEARIC/LINOLENIC/OLEIC POLYGLYCERIDES, SORBITAN OLEATE, PEG-10 LAURATE, PEG-100 STEARATE, GLYCERYL BEHENATE/EICOSADIOATE [] POLYGLYCERYL-10 BEHENATE/EICOSADIOATE, DECYL GLUCOSIDE, POLYGLYCERYL-10 HYDROXYSTEARATE/STEARATE/EICOSADIOATE, SIMMONDSIA CHINENSIS (JOJOBA) SEED OIL, ANIBA ROSAEODORA, WOOD OIL, CANANGA ODORATA FLOWER OIL, SALVIA OFFICINALIS (SAGE) OIL, SCLEROCARYA BIRREA SEED OIL, VANILLA PLANIFOLIA FRUIT EXTRACT, WATERAQUAEAU, BETA-CAROTENE, CETEARYL ALCOHOL, GLYCERYL STEARATE SE, BEHENYL ALCOHOL, TOCOPHEROL, CAPRYLYL GLYCOL, DEXTRIN PALMITATE, HEXYLENE GLYCOL, BENZYL BENZOATE, LINALOOL, BENZYL SALICYLATE, PHENOXYETHANOL
My Thoughts:
Have you ever seen a Caroline Hirons YouTube video, where she opens up a jar or bottle of a product, sniffs it like it is crack and then just sighs deeply and dreamily because she loves the scent so much? Well, this is exactly the sentiments that I have with the Darphin Aromatic Cleansing Balm with Rosewood. As soon as I opened this little pot of gold balmy goodness, the first thing that hits me is that dreamy, fragrant smell that is the rosewood essential oil in the formulation. The scent is not too overpowering but enough to really put yourself in a relaxed state of mind. I took this on my honeymoon due to its ease of use and this beautiful balm was just a wonderful way to end an already 'tough' day in the Maldives. Hahahaha.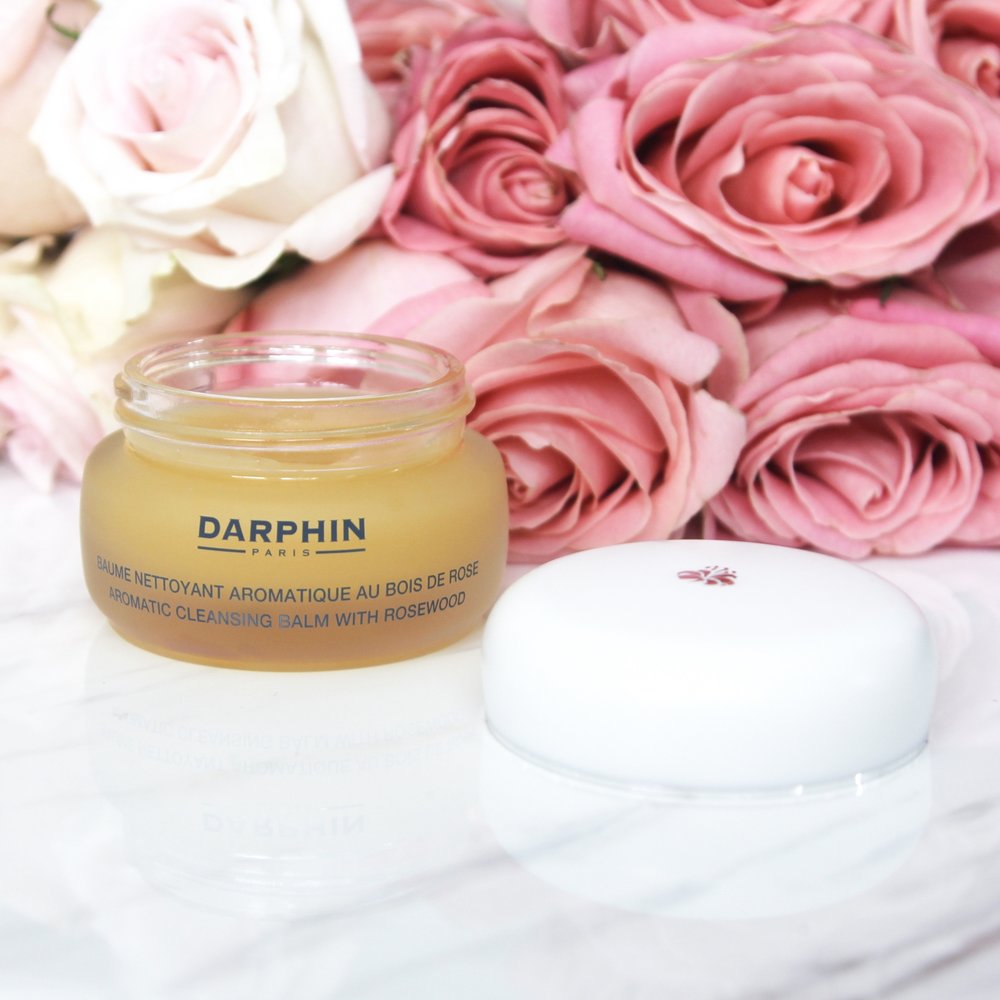 As mentioned before, I find Darphin such an underrated French skincare brand. The brand does consistently bring out some solid formulations that feel luxurious and also perform. The brand's Aromatic Cleansing Balm with Rosewood is no exception. From the beautiful frosted glass jar, to its decadent golden colour and finally its dreamy scent – the Darphin Aromatic Cleansing Balm with Rosewood oozes in modern luxury. The balm itself feels quite rich but when warmed together in the palm of the hands, it melts into a thick oil making it quite a lovely texture to massage and work into the face. The feeling of this particular balm is a little heavier than other cleansing balms, however I do not see this as a downside. For me, a thicker balm is much more enjoyable to work into the skin as it creates enough slip to massage throughly into the face. It creates a more relaxing skincare ritual and forces one to just take a moment out of the day to pamper and indulge, the scent of this balm helps further elevate this experience. I find that just a little bit of the Darphin Aromatic Cleansing Balm with Rosewood goes quite a long way due to the thickness and consistency of the balm.
When rinsing this beautiful balm off, the balm emulsifies into a milk and I found it quite surprising that it washed off the face quite well and did not leave a residue considering how thick the balm initially felt. It leaves the face feeling quite nourished and in no way tight or dry. I found that this removed makeup relatively well but I can understand that due to the price point, most would only want to use this as a second cleanse/morning cleanse – its just too good of a product to use as a makeup remover! The appearance of my skin was fresh, clean, soft and even in tone. The cleansing balm in no way caused any irritation and due to its nourishing properties from the oils used in its formulation, it seemed to soothe the skin and help to calm it down.
In terms of the ingredients, the Darphin Aromatic Cleansing Balm with Rosewood is not a purely natural or organic product. It does contain a fair amount of synthetic ingredients, most of these are emollients and emulsifiers (such as the first ingredient on the listing Hydrogenated Polydecene). However, there are also some beautiful oils featured in this formulation as well; these include Jojoba Oil, Ylang Ylang Oil, Marula Oil, Rosewood Oil and Sage Oil. Jojoba Oil is a fantastic oil for most skin types as this unique oil/wax has esters that mimic the skin's natural sebum and is a natual source of essential fatty acids and Vitamin A. Marula Oil (a favourite oil of mine!) is an oil that is also high in essential fatty acids that help to nourish and hydrate the skin but also contain a high level of antioxidants to help protect the skin from free radical damage. Sage Oil is a known antimicrobial and anti-inflammatory that will help to protect the skin from bacteria but also help to calm irritated or stressed skin. Ylang Ylang and Rosewood have some skincare benefits similar to the above listed, but these two oils help create the unique and evocative scent that is so unique to this Darphin Aromatic Cleansing Balm. If you are looking for a predominantly natural cleansing balm then unfortunately this would not be the right product for you. However, those who are seeking a rich and indulgent balm cleanser to add to their skincare ritual in the morning or evening and are not fussed about ingredients, then do consider the Aromatic Cleansing Balm with Rosewood. It's scent alone will whisk you off to another place.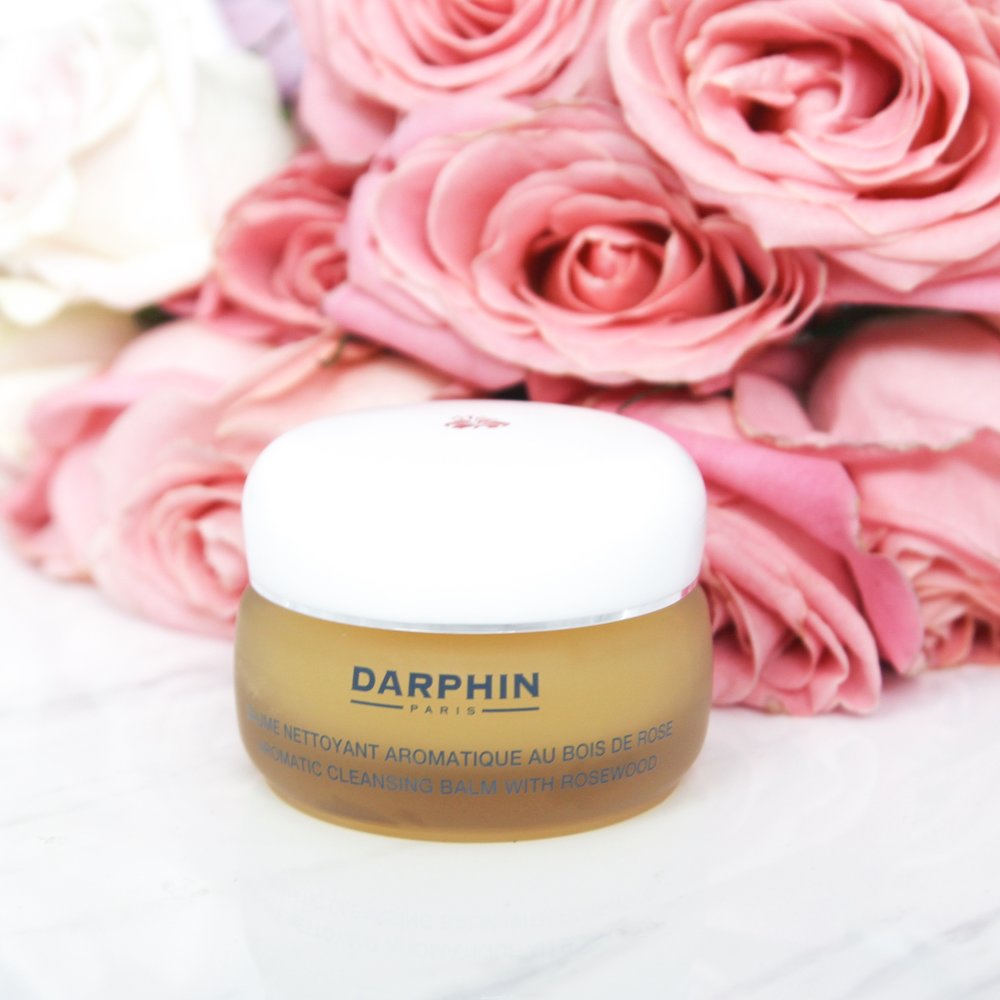 Overall, the Darphin Aromatic Cleansing Balm with Rosewood is a solid performing cleansing balm that helps to clean and rid the skin of the day's makeup and impurities whilst also acting to nourish and hydrate the complexion. It's thicker formulation means that little is required and that little bit that is used can go a long way. Its heavier consistency makes it quite enjoyable and easy to work into the skin for an indulgent skincare treat and its beautiful scent has the ability to calm the senses and relax the mind. Whilst the price point (at USD$45 for 40ml) may seem a little much, do remember that the formulation is quite thick and only a small amount is required to cover the entire face. However, I do see this as a slight downfall of the product as some may not see the value in the either the size of the product or the ingredients used. The formulation of this balm cleanser by Darphin is a mix between synthetic and natural ingredients to give the consumer the best of both worlds. The company has created a luxurious and decadent balm that smells like a garden but can emulsify effortlessly into a milk and wash off with complete ease. It is a truly enjoyable experience when using this.
Repurchase YAY or NAY?
I would definitely reconsider repurchasing the Darphin Aromatic Cleansing Balm with Rosewood, however not straight away. I have really enjoyed using the cleansing balm so far and the smell is absolutely divine but with a long list of other cleansers I wish to try, I know I won't be aching to buy this again straight away. I will instead wait a little longer before I consider repurchasing this. As mentioned before, the Darphin Aromatic Cleansing Balm with Rosewood is a really fantastic all round cleanser that not only works well to remove makeup but is nourishing enough to use on its own. I love how this leaves the skin feeling so soft and hydrated and it is for these reasons I would reconsider repurchasing again at a later stage.
The Darphin Aromatic Cleansing Balm with Rosewood comes in a 40ml jar and can be purchased from Amazon.
Have you tried the Darphin Aromatic Cleansing Balm with Rosewood before? What were your thoughts? What is your favourite cleansing balm? Let me know in the comments section below.