This October empties post is a little delayed – I am so sorry but there have been all sorts of developments happening at the moment in my personal life in the past 10 days, its been hard to keep up! I promise that everything is fine, as is the Mr, my family and loved ones. Life just 'happens' sometimes and there isn't much that you can do except take it as it comes and tackle it the best way that you can. I promise that it does pay off!
As I write this, it is getting towards what I call the 'business' end of the year. We are all slowly getting to the homestretch of the end of 2017, Christmas is looming and before we know it 2018 will have come round. I personally can't believe that I am writing an October Empties post, as for me it stills feels like I am in July! Like the previous month, I am quite proud to have made a little dent in my skincare and beauty empties. There are some old/holy grail favourites in here mixed with some pleasant surprises as well. Read on to find out what I have used up over the past month!
DrGL Skin Repair
This stuff is seriously made of unicorn tears and I will be getting around to writing a proper review of this soon. In short, DrGL's Skin Repair is nothing but amazing. This concentrated serum is made from stem cells and helps the skin to heal at such a rapid rate. I find that my PIH and scarring disappear so much faster when using this (I told you, I have the worst habit of picking) and I don't think I could ever be without this. Ever. It is just that good for my skin.
What is so amazing about DrGL's Skin Repair? Well quite simply, PIH and signs of scarring seem to disappear at an incredibly rapid rate. I use this to spot treat on any blemishes or on areas that I have been naughty and 'picked' at. When applied on a fresh blemish, I find that it overnight, it has already started to heal and diminish, redness is absolutely reduced. However, the magic with this happens on PIH and scarring. Any blemishes that I may have attacked, I find that within a week, the area has healed and instead of leaving me with a dark PIH, I find that the scarring and pigment in the skin are significantly lighter. Depending on the scarring, I found that within 2-3 weeks most lighter PIH spots had disappeared on my complexion, for me usually most PIH start to noticeably disappear within 4 weeks. For more stubborn spots, I noticed that they would have disappeared within the one month mark. I was amazed at just how fast this little serum helped to speed skin healing and how it works to help scarring to disappear.
For me, DrGL's Skin Repair is best used as a spot treatment, as the 10ml bottle is quite expensive (SGP$118). It lasted me for a good 4 months when used liberally on spots and PIH scarring almost every day and is probably one of the best products I have ever used when dealing with scarring or PIH. I will (and already have) repurchased and continue to repurchase this, its a holy grail PIH treatment serum and I have never seen anything work like this before, making the steep price point very well worth it for me. I promise I will have a more detailed review of this soon.
DrGL's Skin Repair can be purchased directly from the DrGL website for SGP$118 for 10ml. 
Farmacy Beauty Green Clean*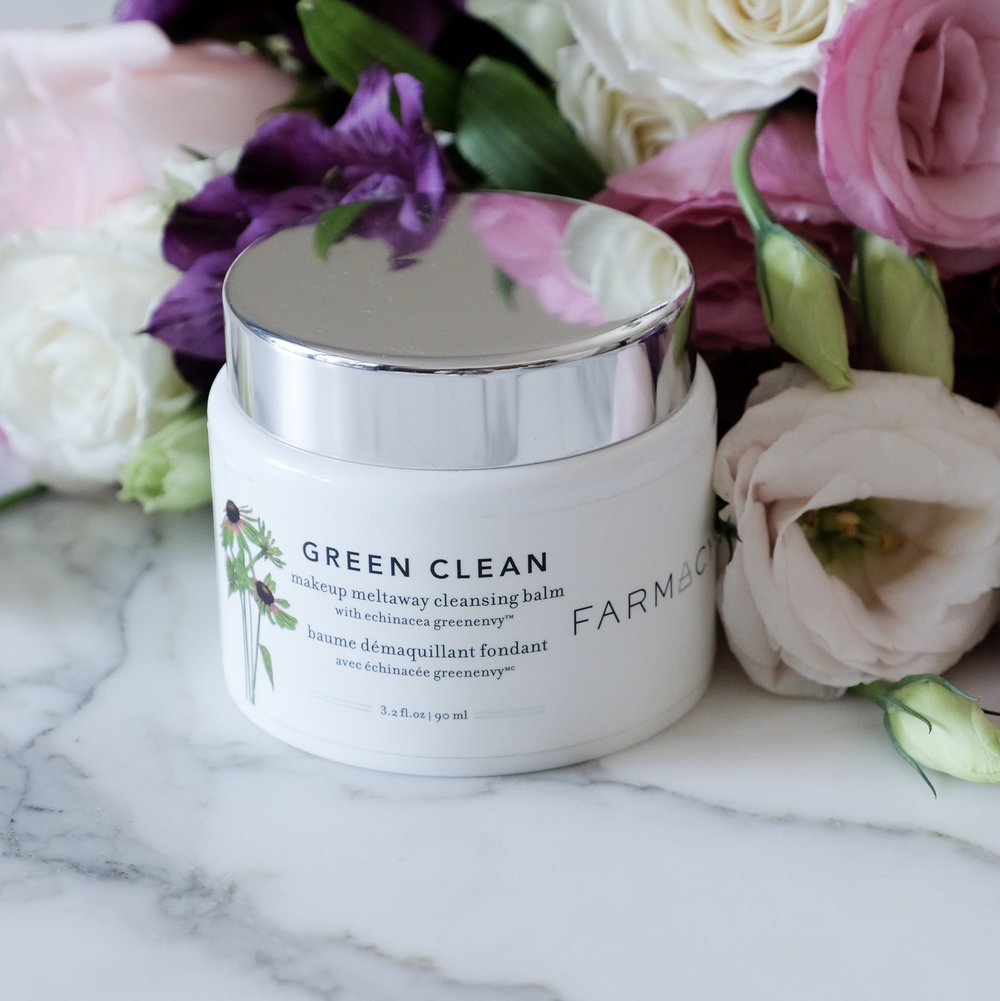 Farmacy's Green Clean is probably right up there as a holy grail cleansing balm for me – I find that it annihilates makeup, has the most enjoyable and pleasant scent and is probably one of the best cleansing balms when it comes to emulsifying with water. Green Clean is quite nourishing and whilst it works really well to remove all my day's makeup, it also keeps my skin feeling quite hydrated and smooth. The scent of this is also quite refreshing as it takes a lemon/lime smell which is so pleasant to use in the morning or at night. 
What makes Green Clean such a favourite in my cleanser stash is that when this balm comes into contact with water, it emulsifies into a milk that completely washes off. There is no film or residue left and it is possibly one of the easiest cleansing balms that I have come across. Its perfect for travel as no cloth is required. The texture of Farmacy's Green Clean is quite light when it turns from a solid balm to oil and it has plenty of slip that allows this cleansing balm to be worked and massaged into the complexion.
Due to its silky smooth oil texture, Green Clean destroys my makeup and the day's grime on my face, with water everything washes easily into the sink. Farmacy Beauty's Green Clean, although containing some essential oils does not irritate my eyes in any way and I feel quite comfortable to work this around the eye area if I am wearing slightly heavier eye makeup. It really is quite a gentle cleanser that can easily be used as first cleanse or even as a second cleanse due to the botanical extracts that are featured in its formulation.
I will always look to repurchasing this cleansing balm due to its easy of use and beautiful texture and formulation. It is definitely an underrated cleansing balm and it really is such a joy to use in every way.
MAC Prep + Prime Lip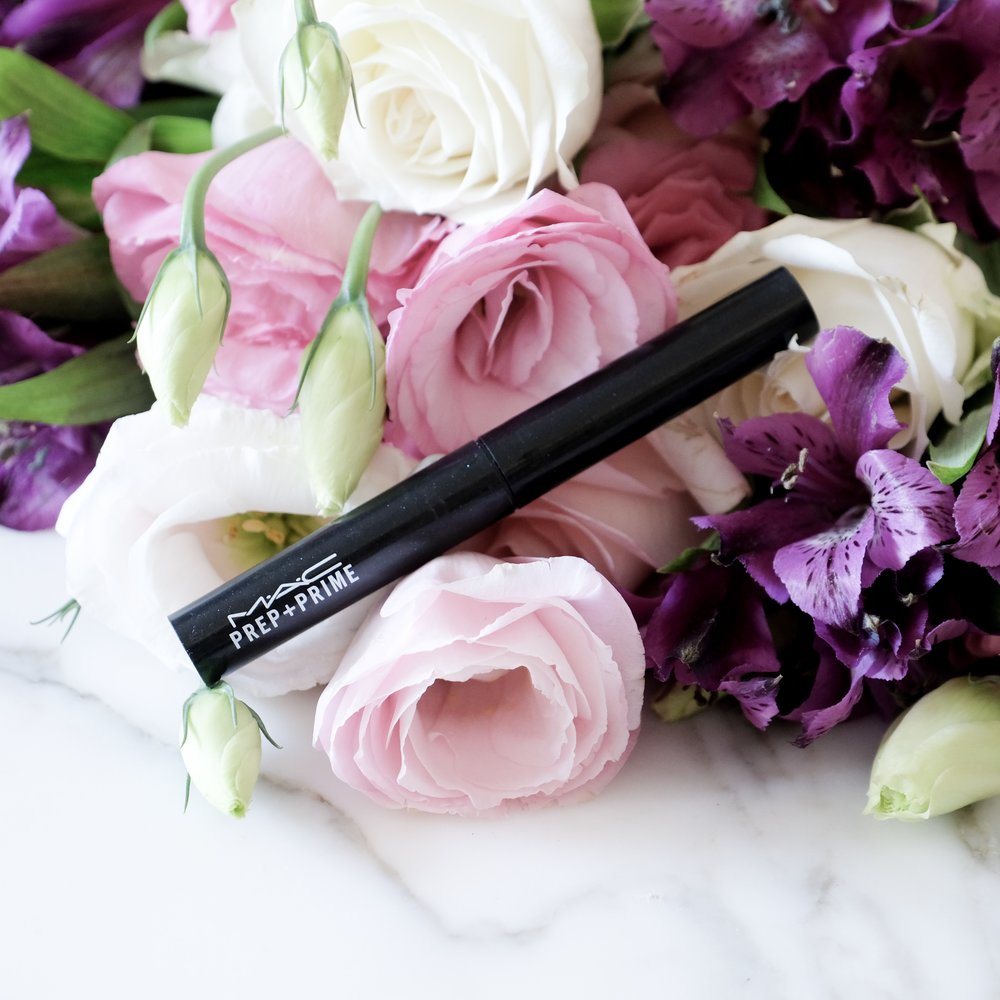 I love a good coloured lip and whilst they can be a little harder to maintain than a nude or a stain, I love the look of a deep and creamy red or berry colored lip. It is a well-known fact that I am lazy when it comes to applying makeup and having a coloured lip generally does take some effort and some time. My secret to cutting this time right down? MAC's Prep + Prime Lip. I will NEVER be without this product as I have found no other lip product that helps my lipstick stay in place the way that this does. I don't normally wear lip liner (unless going to a wedding or something special) and I find that I can always get away with a long-lasting lip with minimal feathering with MAC's Prep + Prime Lip. 
Not only does Prep + Prime work well to effortlessly keep my lipstick in place, it also creates a fantastic smooth base for my lip colour choices. If my lips are a little dry or cracked, this will help provide a smoother surface for any lip colour that I apply over the top. It helps all the lip products that I use to effortlessly glide over the surface of my lips and doesn't pull the product. The result? A near perfect pout.
I will never be without MAC's Prep + Prime Lip. I have repurchased this a few times in the past and will continue to do so. It is my best friend when it comes to getting that long lasting lip. 
Onomie Powerful Priming Serum*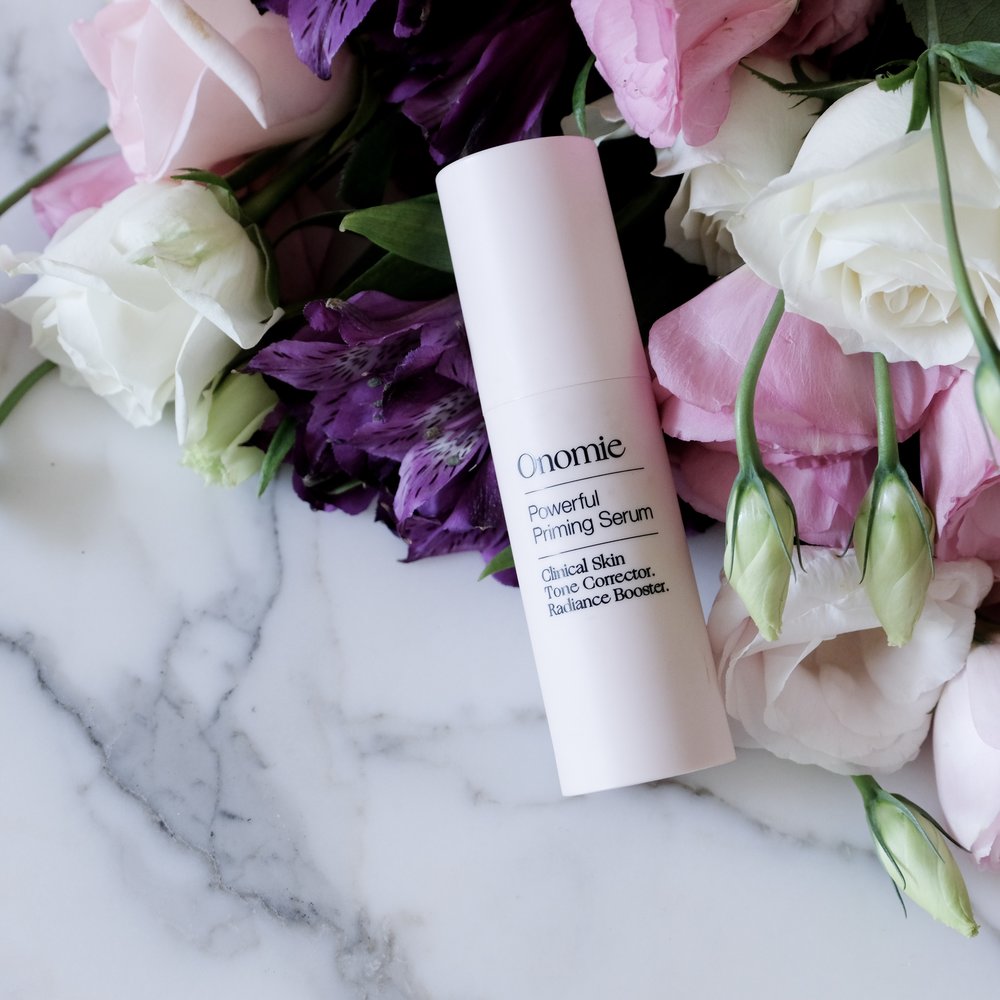 I've been trialling a few different primers lately in the hope of finding and discovering some new, and Onomie's Powerful Priming Serum is one of those products which I have really enjoyed using. So much so, that I am completely out of this product after just a few months of opening this up (a testament to me because I usually take forever to use up a primer). I find that Onomie's Powerful Priming Serum to be a fantastic everyday primer as it not only works to give a beautiful, smooth base for my foundation, it also gives my skin a beautiful glow (it looks pearlescent when pumped from the bottle) and keeps my skin hydrated and plump throughout the day.
Onomie's Powerful Priming Serum is one of those makeup products that just don't seem like a makeup product. This primer feels very much like a thick serum or an emulsion. It feels like nothing on the skin when applied, yet it gives such amazing hydrating and plumping benefits. I find that this primer gives the skin a beautiful luminous glow due to the light reflecting pigments in the formula. It doesn't give the complexion a disco ball finish, but instead a flattering and dewy glow that looks amazing underneath a light foundation or a tinted moisturiser/BB Cream. It helps my lightweight foundations to last that little bit longer and provides a smooth and even canvas to apply my everyday makeup. I also find that using this on its own (if you want a makeup-free day), keeps the skin looking fresh, smooth and works well to naturally even out the skin tone.
The packaging is both pretty (you can't go wrong with that millennial pale pink) but also very practical as it is housed in an airless pump bottle, making it perfect for travel. The Onomie Perfect Priming Serum has become a primer that I enjoyed reaching for on a regular basis and I will absolutely be looking to repurchase this again once I have used up my current set of primers. 
Bioderma Cicabio Pommade Repairing Ointment*
If you suffer from eczema, have skin that is quite dry or irritated then this is a product that I recommend looking into when you are next at a pharmacy or drugstore. Bioderma's Cicabio Pommade Repairing Ointment is a thick cream that when applied to any dry or irritated patches on the face or body, will work wonders to smooth and heal angry skin. With the change of seasons, I found that I would often reach for this repairing ointment/cream as it worked so well to soothe and calm my eczema.
When my skin was feeling quite red and irritated, I found that applying the Cicabio Pommade Repairing Ointment not only helped to calm the skin but also helped it to heal a little overnight. The result was not a patch dry flaky mess (I am sorry if that is too much information) but instead, skin that was well on its way to repairing itself. It was much smoother, less red and irritated and I had no inclination of wanting to scratch the areas of irritation after application.
Bioderma's Cicabio Pommade Repairing Ointment worked quite well to relieve my eczema prone skin and also worked to kick start and aid the skin's repairing process. I found that with constant use, my skin wasn't as susceptible to eczema breakouts as this also helped to strengthen my skin's natural barrier function. Its a fantastic product for those with sensitive or irritation-prone skin, working not only to prevent sensitivities but also aiding to alleviate and calm the skin.
Bioderma's Cicabio Pommade Repairing Ointment can be purchased from Amazon. 
5YINA Lucent Facial Oil*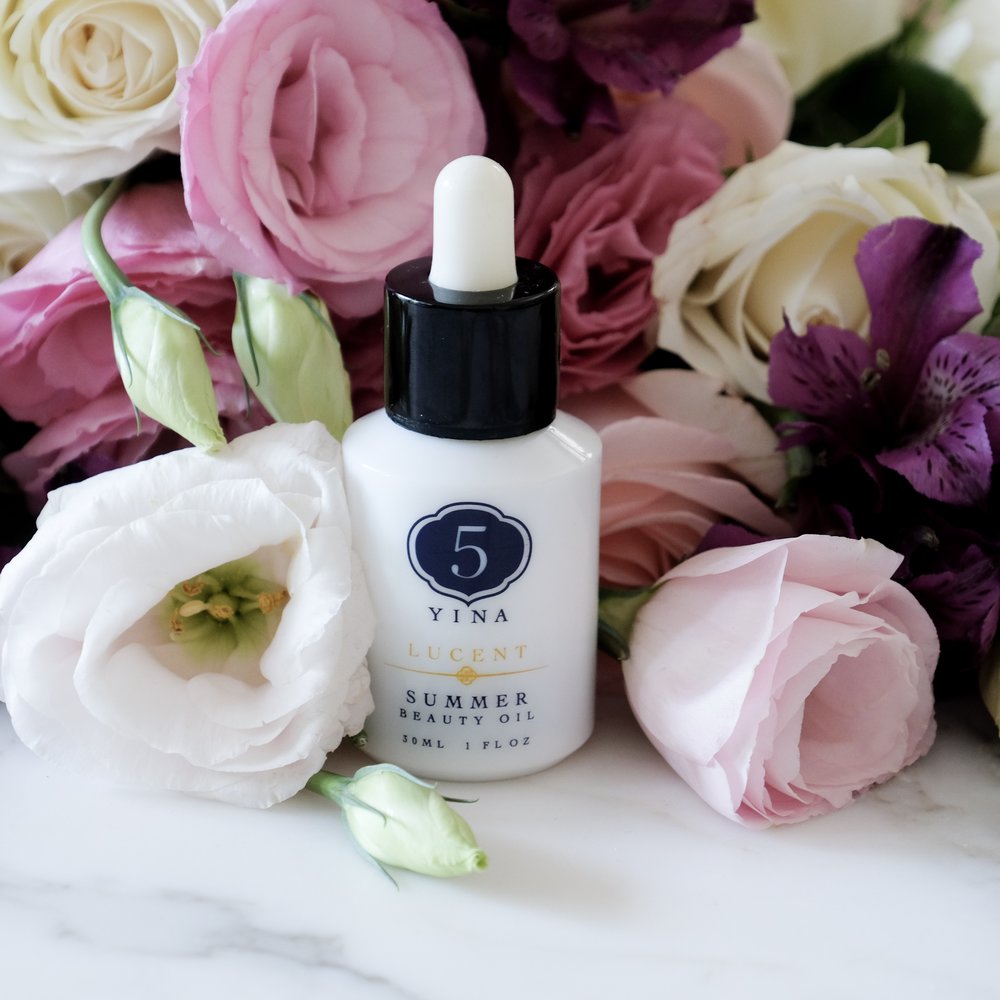 I don't think I rave about 5YINA enough. I really should change that (note to self), but I really do think that 5YINA is a truly underrated skincare brand. Every product I have purchased or been gifted from the range is truly beautiful and their facial oils are no exception. The founders Ervina and Rachel, formulate using their background in Chinese Traditional Medicine, taking advantage of truly unique ingredients to create some of the most luxurious oils I have ever come across. 5YINA's Lucent Summer Beauty Oil is possibly one of my favourites in the 4 beauty oils that are available (4 to go with the 4 seasons) due to its lightweight texture and how it leaves my skin feeling so hydrated and radiant.
Described as a 'herbaceous lightweight facial oil', 5YINA's Lucent is made from 25 bio-active ingredients that help to balance, purify and soothe the skin. The oil is marketed for 'summertime' use but really it can be used all year round, especially for those with combination or oily skin. If you like the idea of seasonal products, then I honestly find Lucent to be one of the best facial oils I have ever used for harsh or humid climates. It just doesn't leave my skin looking like a hot greasy mess and I find that this doesn't congest or clog my skin. It is one of my go-to oils because it's so versatile and it really helps to balance, nourish and keep my skin looking radiant.
Lucent is one of those oils that plays well with pretty much any skincare or beauty product. It works fantastically on its own to help nourish, hydrate and give the skin a luminous glow and plays well with other skincare products such as serums and moisturisers. I find that Lucent works similar to May Lindstrom Skin's The Youth Dew, in the way that this looks beautiful underneath or mixed in with a foundation to give the skin a beautiful glow. It's lightweight enough to layer and doesn't cause the complexion to feel heavy.
I love the 5YINA oils that I own so far (I have Enlighten and Grace for Spring and Autumn) and will be definitely looking to replace Lucent soon. I don't know if I could survive the sweltering summer heat without this beautiful oil blend.
How did you go with empties this month? Did you have any favourites? Any definite repurchases? I would love to find out more in the comments section below!