Farmacy Beauty's The Honey Potion Renewing Antioxidant Hydration Mask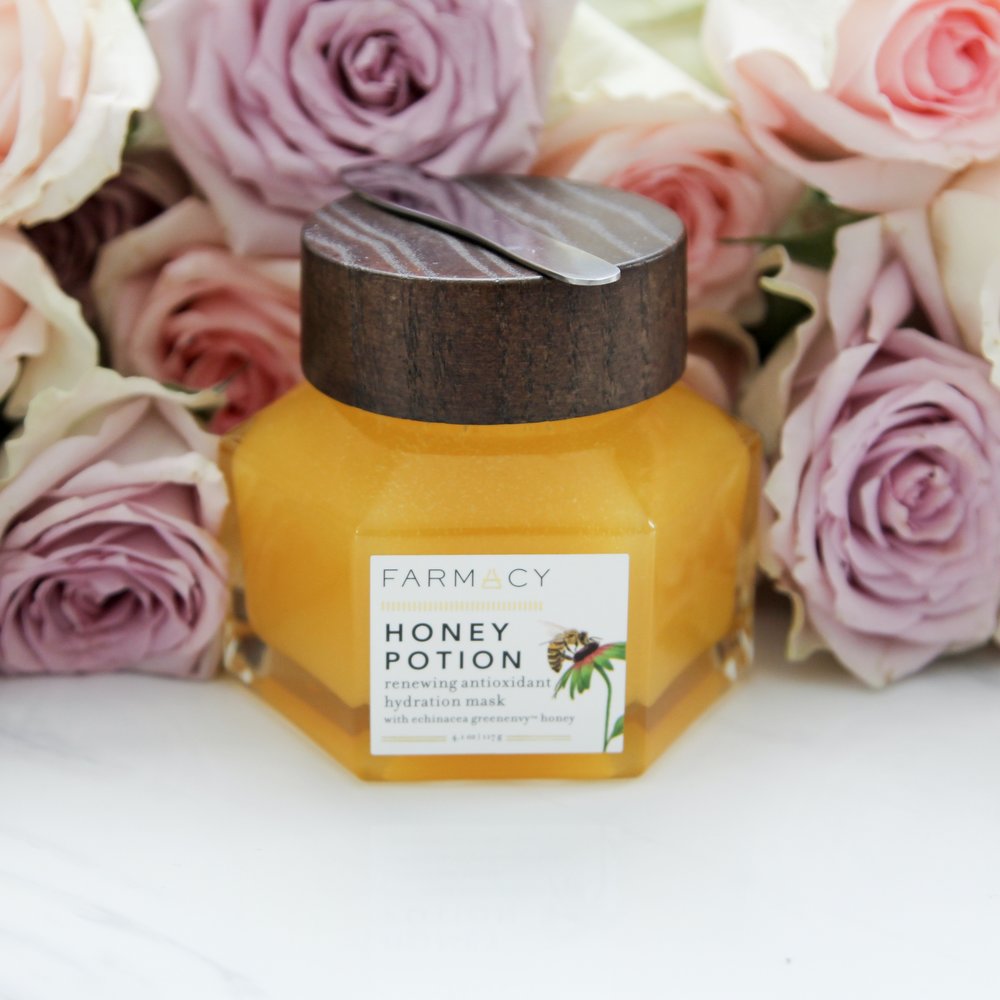 The whole notion of farm to skin has been making waves in the world of skincare, with more and more upcoming brands choosing to source and include ingredients from their own farms. Brands such a Tata Harper, Bottega Organica and of course Farmacy Beauty are examples of skincare brands who farm and cultivate many of their ingredients used in their formulations. Farm to skin is a movement that is similar to the Farm to Table concept – where consumers want more knowledge about what they are buying, where it comes from and how it is grown and brands want to have more control over the quality and integrity of ingredients. Generally speaking, products that have the farm to skin concept usually have high concentrations of super-fresh extracts to achieve maximum potency.
Farmacy Beauty is a brand that has been on my radar for some time now and I feel it is a brand that has grown in popularity in 2016. So what sets Farmacy Beauty apart from other skincare brands? Well quite simply, Farmacy is a brand that builds that bridge between local farmers in upstate New York, skincare and science. The core of the Farmacy Beauty brand is its use of a unique form of Echinacea Purpurea – a herbaceous flowering plant (that looks a little bit like a daisy). The type of Echinacea Purpurea used in a Farmacy formulation is unlike any other in the family as it blooms a bright green flower. The green Echinacea Purpurea (known as GreenEnvy to Farmacy Beauty) has been found to have the highest concentrations of Cichoric Acid (a phytochemical), a potent natural antioxidant that helps to protect and firm the skin by inhibiting the enzymes that break down collagen. Farmacy Beauty only cold press the roots of the GreenEnvy plants as it is here where the Cichoric Acid is at its most potent. Whilst also utilising this unique plant, Farmacy Beauty has also helped to support the dwindling farming industry in upstate New York with its farming and cultivation of this unique form of Echinacea Purpurea. In turn this has helped to create jobs and keep the farming community going in an area where farming is an industry that is slowly dying. Each and every Farmacy product contains their trademarked GreenEnvy and the Honey Potion is not exception to this – combining GreenEnvy with honey that is sourced from the bees from the Farmacy farm.
If there has been one product that I have been asked frequently to review or for an opinion on – it would have to be Farmacy Beauty's The Honey Potion. After a month or two of weekly use I feel like I am ready to give this pot of gold a comprehensive review of my thoughts and experiences of this remarkable mask. If I had to summarise how I feel about this mask – quite simply put I really enjoy using this. In fact – I look forward to using this. What keeps me coming back for more exactly? Read on to find out!
***Please note that this product has been kindly and generously gifted to me by the brand. However, I genuinely do ADORE this product and its results which is why I had to share. All opinions – good or bad are my own honest and personal opinions. I just so happened to have really like this!
What Is It?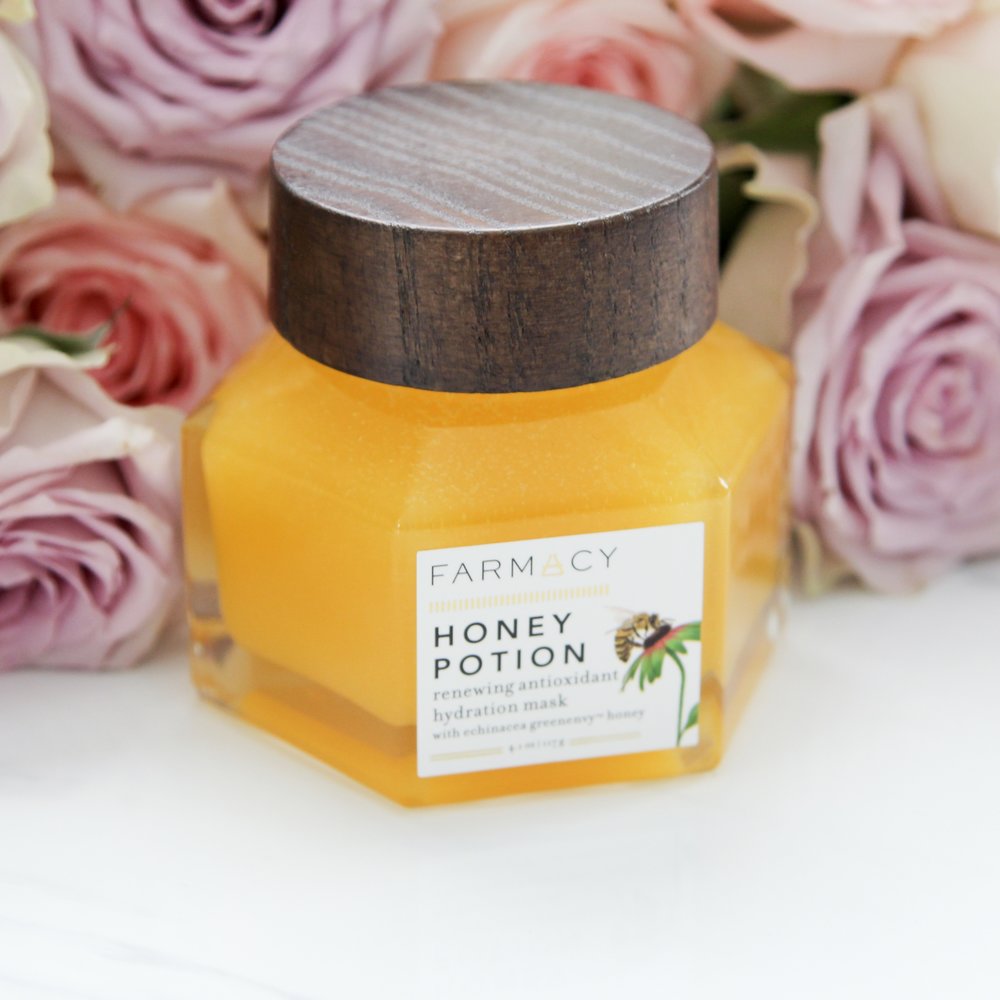 The Farmacy Beauty Honey Potion Renewing Antioxidant Hydration Mask (whoa what a name!) is a warming treatment mask for the complexion. 
What Does It Do?
This warming treatment mask aims to nourish and rejuvenate the skin and help the skin achieve a beautiful radiant glow. The mask is extremely hydrating and is rich in amino acids and Vitamin B. It is a unique formula which is sticky and honey like to begin with and once applied and warmed into the skin, develops into a rich cream.
Ingredients:
Glycerin, Diglycerin, Polyglyceryl-10 Stearate, Honey Extract, Propolis Extract, Royal Jelly Extract, Panthenol, Caprylic/Capric Triglyceride, Hippophae Rhamnoides Oil, Zingiber Officinale (Ginger) Root Extract, Allantoin, Phenoxyethanol, Echinacea Purpurea Root Extract, Honey, Water, Flavor, Vanillyl Butyl Ether.
My Thoughts: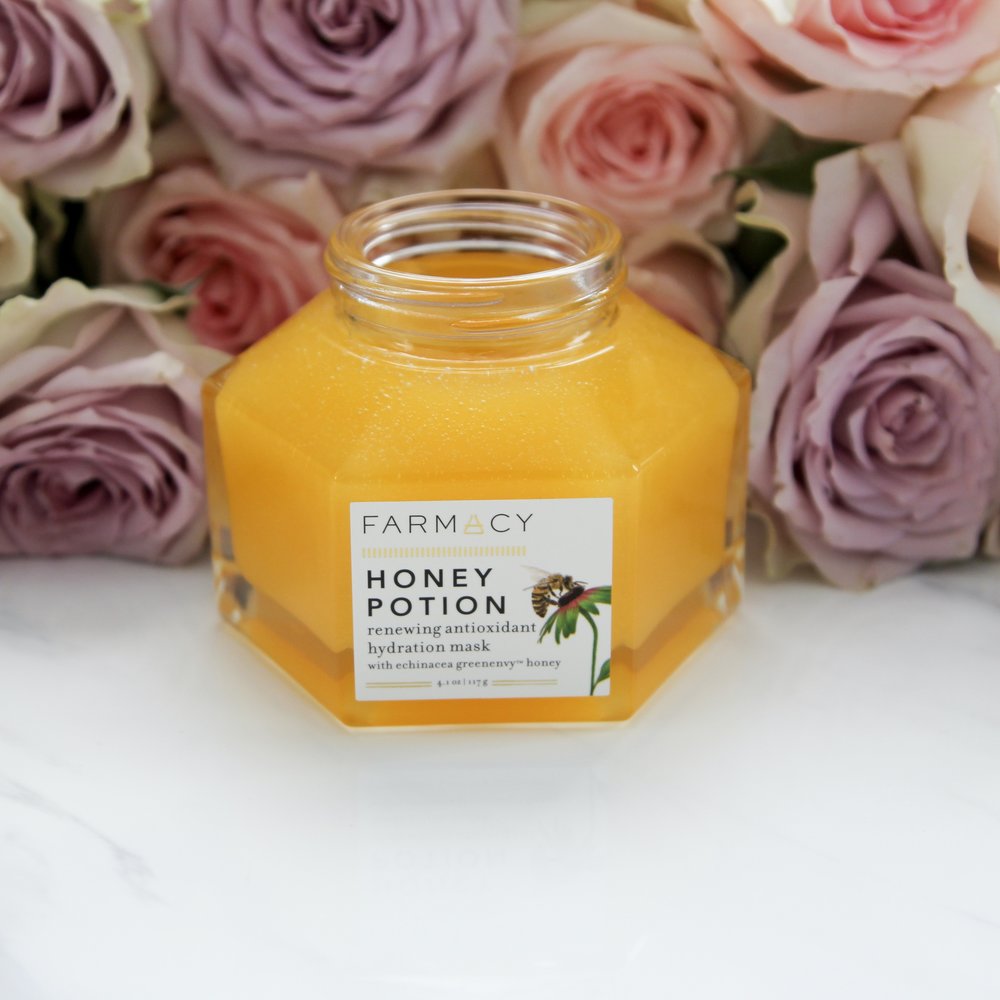 There is no doubt that Farmacy Beauty's The Honey Potion Renewing Antioxidant Hydration Mask is a incredibly sweet treat for the skin. This sickly sweet and sticky looking mask has a thick honey like texture and colour that feels as sticky as it looks when first applied on to the skin. However as the mask spreads onto the skin, the sticky texture magically turns into a rich thick white cream that reminds me very much of a rich moisturiser or a hydrating overnight mask. The more the mask gets worked into the skin, the more 'creamy' and less sticky it becomes. From there, the mask begins to have a tingling, warming effect on the skin. I found that this warming sensation remained for the majority of the 15 minutes that I had this on but it was in not uncomfortable or painful. Once I had washed the mask off, I found that there was not a huge noticeable difference to the skin. My skin felt a little smoother, a little more hydrated and calmer but there were no ground breaking changes in terms of what was promised. Don't be alarmed however – for me, the real magic happened overnight and trust me they were well worth the wait.
After following my normal skincare routine and having a good night's rest, the first thing I notice when I wake up in the morning is my skin's overall texture and tone. My skin feels much smoother and so hydrated. This boost of hydration makes my skin look plump, supple and bouncy. Looking in the mirror, my skin tone looks even – there is no redness or patchiness and my skin looks radiant and brighter – none of that morning splotchiness! The Honey Potion has definitely worked its magic on my complexion, giving it a beautiful juicy and even looking glow. In terms of any angry spots, whilst this doesn't help to 'get rid' of these areas, it definitely does help with the redness, reducing how red these areas look. It had definitely had a calming effect in these areas and this most likely due to the honey extracts in this mask.
When using The Honey Potion, I can't help but feel that this mask has worked to help replenish my skin with a much needed nutrient boost. For me, I feel that this boost has helped to nourish the skin overnight therefore aiding in revitalizing dull, stressed or dehydrated skin. I don't know what miracle the Farmacy Beauty team have put in this little potion, but I don't think I have ever used a wash off mask that has made my skin feel this nourished. Due to this nutrient boost, I particularly enjoy using this after a stressful day or week as a means to treat my skin as each and every single time, my skin gets some much needed TLC (and I get a chance to just zone out) with very little effort.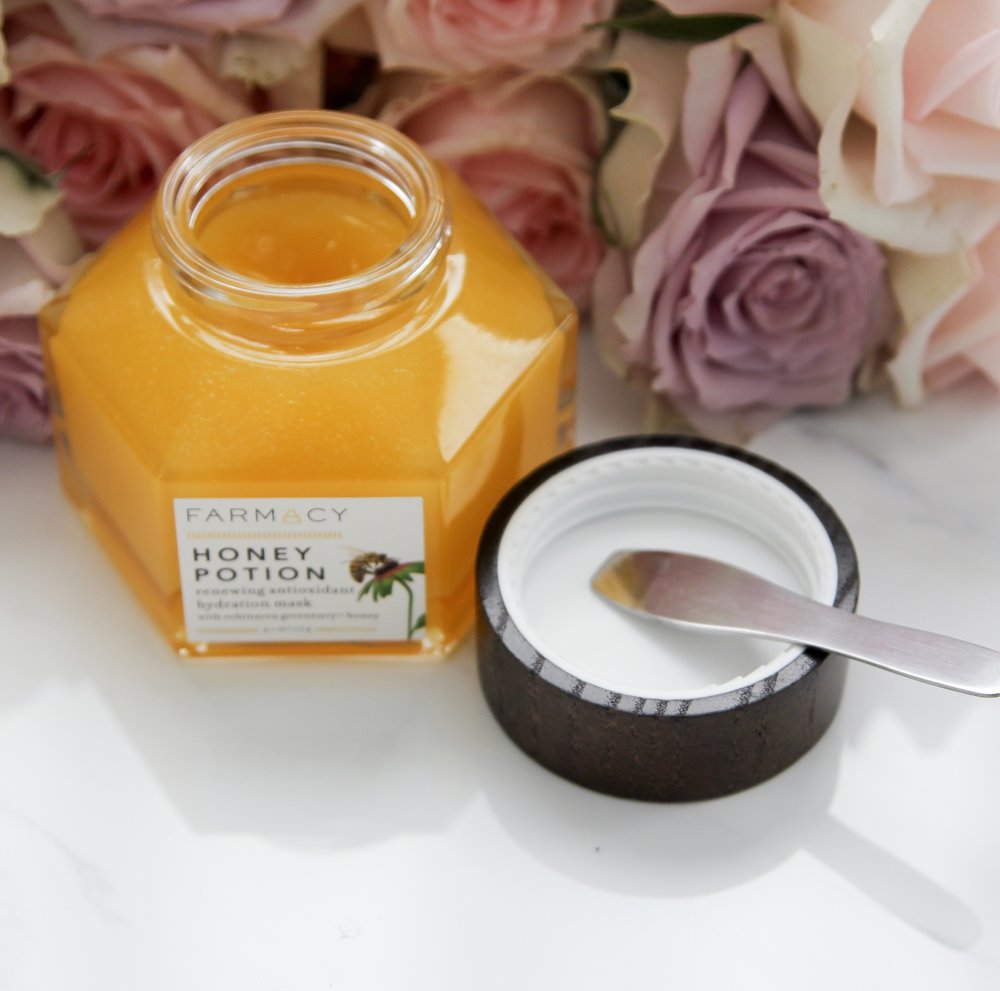 In terms of ingredients, Farmacy Beauty's The Honey Potion has a relatively simple ingredients listing in comparison to other masks that I own. In saying that, each and every ingredient packs a punch and is not put in the mask for the sake of putting it in. The real hero ingredient of this mask is of course honey and anything to do with honey. Honey Extract, Propolis Extract and Royal Jelly Extract make up the fourth, fifth and sixth ingredient and Farmacy claim that the honey used in The Honey Potion is their own GreenEnvy honey which is full of potent natural antioxidants and is made only by the bees that live on the Farmacy Beauty farm and therefore pollinate the Echinacea GreenEnvy flowers. Honey is known humectant and antibacterial and has been used by the earliest human civilizations. Honey's antimicrobial activities stem from its natural release of hydrogen peroxide (an antiseptic) or through its presence of active components, like methylglyoxal in the infamous Manuka honey. Propolis is a brown, resinous material that is collected by bees and used to construct their hives. In skincare, studies have shown that propolis helps in preventing inflammatory infections due to its antibacterial, antiseptic, antifungal properties. Finally, Royal Jelly a substance made by worker bees to feed the queen in her first days of life to ensure her growth and fertility is an ingredient that is rich nutrients such as essential amino acids, minerals and Vitamins B1, B2, B5, B6, C, E along with Biotin, Niacin and Folic Acid. In skincare, the amino acids in Royal Jelly are the building blocks for collagen. As many know, collagen is vital in maintaining the skin's firmness by supporting the skin's connective tissue and thus can help delay the onset of fine lines and wrinkles. The Honey Extract, Propolis Extract and Royal Jelly Extract in combination with Farmacy Beauty's GreenEnvy extract which is high in Cichoric Acid is what I think helps boost my dull complexion with some much needed nutrients, giving it that healthy, glowing look and feel.  The addition of glycerin and honey (both humectants) help Farmacy's The Honey Potion lock in moisture as well as nourishing skin loving vitamins, minerals and nutrients.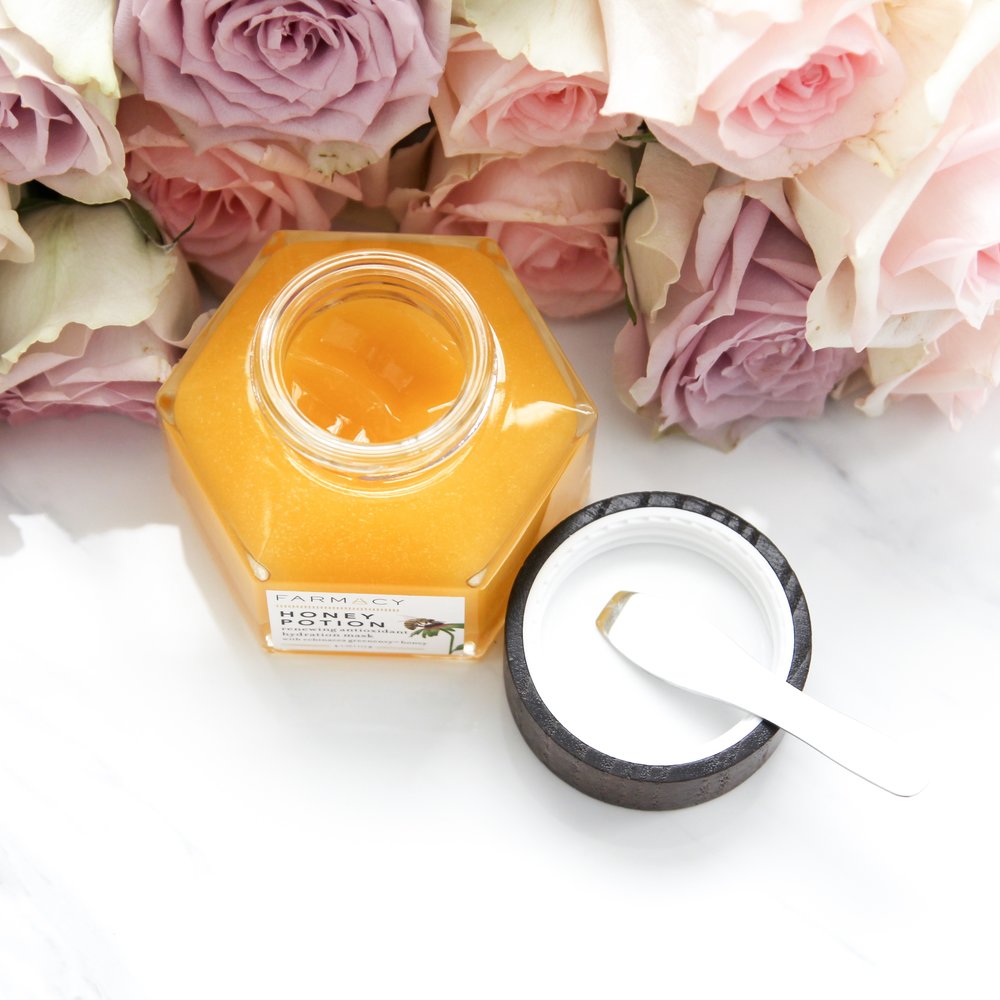 In terms of smell, Farmacy's The Honey Potion has a subtle honey and ginger scent (it does contain honey and ginger afterall!). There are no artificial fragrance or 'fragrance' as such in this, with all scents coming naturally from the mask's ingredients. However, those who are sensitive to smells or do not like products with a general fragrance – I would suggest to test this first before purchasing. I personally love the smell The Honey Potion – as ginger and honey evoke a really comforting experience for me (like drinking a delicious cup of ginger tea) and I found this quite an enjoyable scent as it not overpowering. As mentioned earlier, the texture of Farmacy Beauty's The Honey Potion Renewing Antioxidant Hydration Mask is sticky to begin with but as the product is worked into the skin, it becomes a rich, thick cream like texture. In terms of the packaging, huge props to Farmacy Beauty. This is housed in a beautiful thick glass jar which not only looks beautiful on any bathroom or bedroom vanity but it also feels solid. The real winner here through is the magnetic screw lid in which the spatula for The Honey Potion is 'attracted' to. This little addition is genius and having it there minimises the risk of lost spoons/spatulas for this heavenly mask. My only complaint is that the opening to this jar is a little small and as the product starts to run out, I can imagine it harder to obtain! In terms of pricing, considering how much product each jar of The Honey Potion contains, it isn't too bad. A 117g (4.1oz) jar costs USD$56 and the results that this mask reveals and the overall experience that this creates makes it worth every penny.
Overall, I am a huge fan of Farmacy Beauty's The Honey Potion Renewing Antioxidant Hydration Mask. Its texture and how it applies is unlike anything I have tried before in terms of skintertainment (a term coined by the wonderful fanserviced-b). The entertainment factor aside, The Honey Potion does perform, proving it to be an incredibly sweet treat for the skin. This mask plumps, hydrates and replenishes the skin with much nourishment to reveal a healthy, revitalised and brighter complexion overnight. My skin drinks up all the goodness from this mask and it has proven to work an absolute treat to my complexion when my skin looks and feels a little sullen and dull. The glow that I get from this is amazing and this has become a firm masking favourite in my skincare stash.
Repurchase YAY or NAY: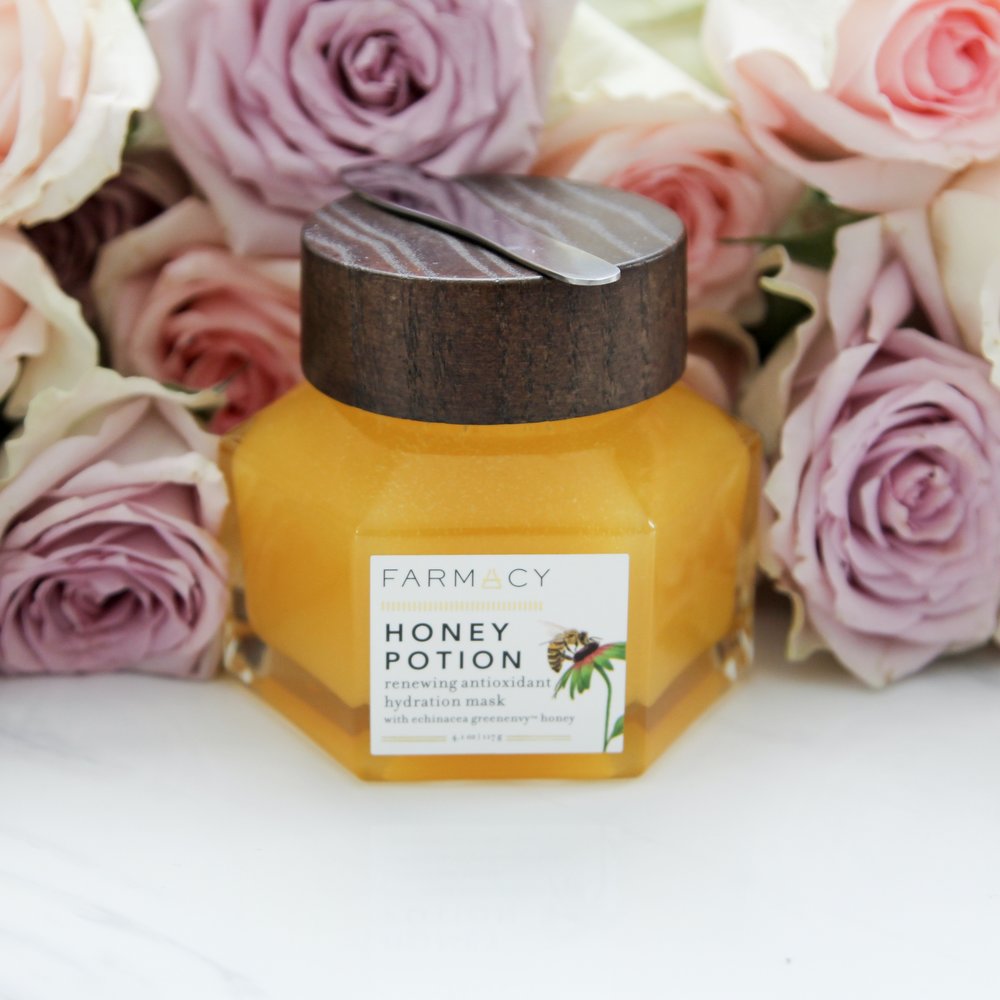 Although this product was kindly gifted to me, I would absolutely purchase this again as I love the results that this mask gives to my skin in my sleep. I love so many elements about this mask, from its texture, its packaging and its scent – repurchasing this is an absolute no brainer for me. This sticky delight leaves my complexion looking plump and radiant and even the Mr gives me compliments when I do use this – an absolute rarity for him.
Have you used any products from Farmacy Beauty? What have been your thoughts on the line so far? Any hits? Any misses? I would love to hear your thoughts in the comments section below!