Allies of Skin Bright Future Overnight Facial Review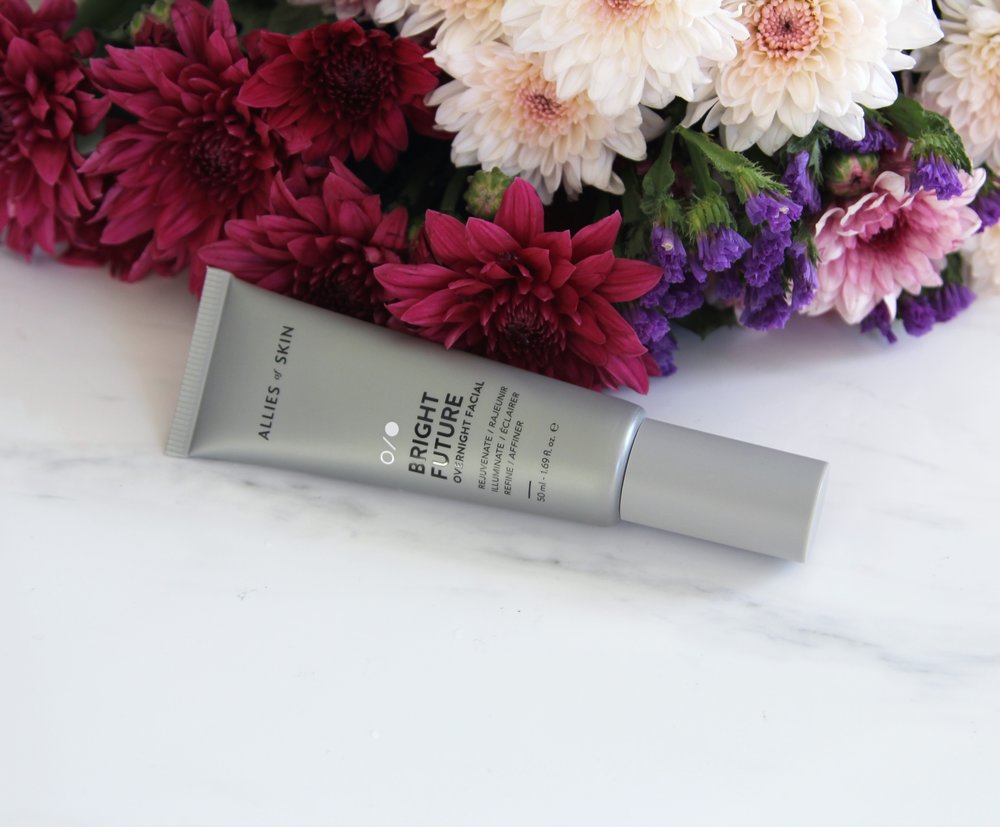 I am sure many of you have had this same feeling…you know the one where you find a skincare or makeup brand that you feel resonates with you and just seems to work? That brand where you pretty much have loved every single product in their range and hardly ever fails to disappoint. There are possibly a small handful of brands where I feel very passionately about and one of these is none other than Allies of Skin. I pretty much love everything in their range and I do think that Nicolas Travis' creations and formulations are definitely ones to watch. Recently, I had the amazing opportunity to try their latest creation – Bright Future Overnight Facial and whilst I was a little skeptical in how it worked (I had to learn how to REALLY strip back my skincare routine), I found myself really enjoying the results and just surprised at how effective this product really is. Bright Future is quite simply put an sleeping peel that aims to illuminate, regenerate and renew the skin. In true Allies of Skin style, the brand have yet again simplified the skincare rules and steps and created a product that aims to do everything in 30 seconds.
***Please note that this product was kindly gifted to me by the team at Allies of Skin as a lab sample. However, my glowing review of this product has nothing to do with the fact it was gifted to me. I truly do love using this product and all my opinion are my own honest opinions.
What Is It?
The Allies of Skin Bright Future Overnight Facial is basically an all in one product. Its overnight peel that contains a blend of AHAs, Retinol and Probiotics to encourage cellular renewal overnight to reduce imperfections and reveal brighter skin the next morning. 
What Does It Do: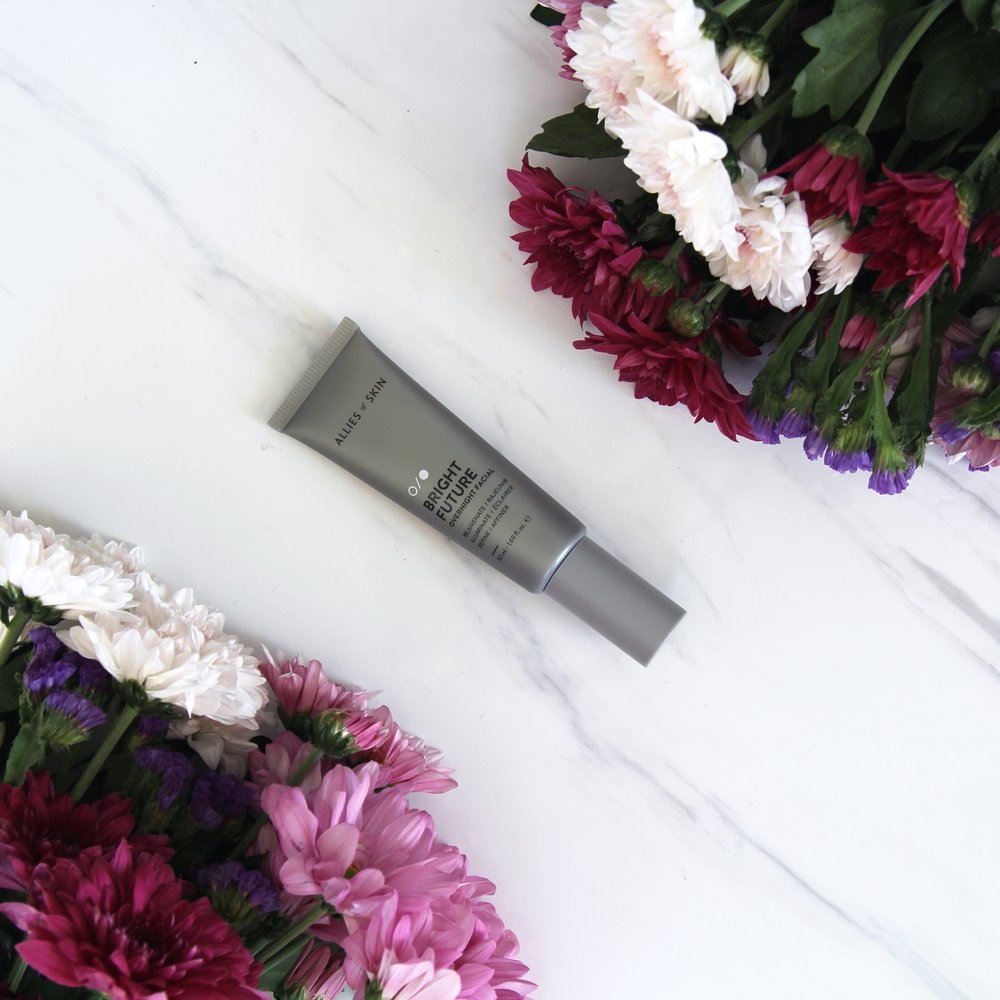 In a nutshell this all in one product helps tired and dull skin attain the optimal amount of exfoliation in 2-3 evenings of consecutive use and review radiant, glowing skin. According to the Allies of Skin website, this overnight peel is supposed to give the same effect of a professional facial over a cumulative space of 2-3 nights, minus the hefty facial price.
Ingredients:
Aqua (Water), Glycerin, Polysorbate 20, Niacinamide, Lactobacillus Ferment, Lactic Acid (L), Glycolic Acid, Sodium Hyaluronate (L), Hydrolyzed Silk, Centella Asiatica (Gotu Kola) Leaf Extract, Glycyrrhiza Glabra (Licorice) Root Extract, Sodium Lactate, Ascophyllum Nodosum Extract, Sodium PCA, Arctostaphylos Uva-Ursi (Bearberry) Leaf Extract, Retinal (Retinaldehyde), Madecassoside, Mel (Honey), Epigallocatechin Gallate, Plantago Lanceolata Leaf Extract, Opuntia Ficus-Indica (Cactus) Stem Extract, Palmitoyl Tripeptide-1, Palmitoyl Tetrapeptide-7, Ergothioneine (L), Citrus Aurantium Dulcis (Orange) Callus Culture Extract, Rubus Chamaemorus (Cloud Berry) Seed Oil, Epilobium Angustifolium Flower/Leaf/Stem Extract, Lysophosphatidic Acid, Aloe Barbadensis Leaf Juice Powder, Proline (L), Phenyl t-Butylnitrone (Spin Trap), N-Hydroxysuccinimide, Lonicera Caprifolium (Honeysuckle) Flower Extract, Lonicera Japonica (Honeysuckle) Flower Extract, Lysolecithin, Lecithin, Lavandula Angustifolia (Lavender) Oil, Pelargonium Graveolens (Geranium) Flower Oil, Gluconolactone, Chrysin, Sorbitol, Dimethyl Isosorbide, Glutamylamidoethyl Imidazole, Saccharide Isomerate, Diglucosyl Gallic Acid, Dimethyl Sulfone, Cyclodextrin, Xanthan Gum, Acetyl Tributyl Citrate, Pentylene Glycol, Ethylhexylglycerin, Sodium Benzoate, Sodium Glycolate, Calcium Gluconate, Sodium Polygamma-Glutamate, Steareth-20, Tetrasodium EDTA, O-cymen-5-OL, Phenoxyethanol, Sclerotium Gum, Sodium Gluconate,Citric Acid, Trisodium NTA, Sodium Metabisulfite, Sodium Hydroxide, Citronellol, Geraniol, Linalool.
My Thoughts:
Bright Future Overnight Facial is one of those all in one products that are aimed to simplify and minimise what is usually an expensive or lengthy skincare routine. At it's most simplest form, Bright Future is an overnight peel, aimed to renew refresh and brighten the skin by exfoliation. However, Bright Future does a little bit more than your typical overnight peel as it is also a formulation that is to be used on its own for optimal results. In order for it to stand on its own, Bright Future has too be able to give the skin much needed nourishment and hydration after the 'peel' itself. Without this step in a normal skincare routine, skin can after be left feeling irritated or sensitive. Bright Future overcomes this step by using an innovative formulation and ingredients that aim to hydrate and nourish the skin at the same time. No extras needed. In a way, Bright Future is a little bit of a loner hahaha.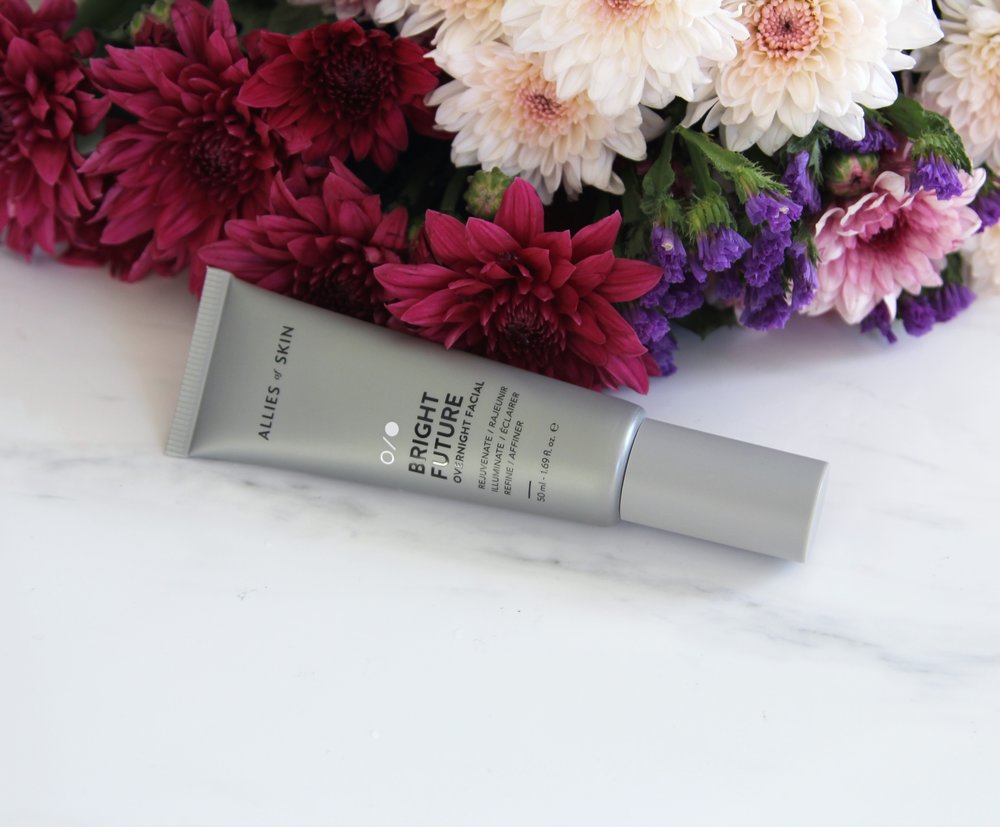 One of the main features of Bright Future is that it aims to exfoliate the skin using tried and tested AHAs like Glycolic Acid and Lactic Acid. For those that don't know how they work, AHAs (Alpha Hydroxy Acids) are used in skincare to loosen the 'glue' that holds our skin cells together. Due to the fact that this glue has been loosened, the top layer of dull and damaged skin is shed, revealing 'newer' and softer complexion that should be glowing. However, products that contain AHAs these are often seen in the skincare market and what makes Bright Future so unique and different from the rest is the addition of High Molecular Weight Hyaluronic Acid Gel and how this acid is used in the formulation. Bright Future's active ingredients are actually encapsulated inside the pure High Molecular Weight Hyaluronic Acid gel. Whilst sleeping with this overnight sleeping peel, the hyaluronic acid gel will slowly act to release ingredients such as Glycolic and Lactic Acid, Niacinamide and botanical extracts such as Bearberry Extract and Liquorice Root Extract (skin brighteners). Due to the fact that hydration and exfoliating are occurring at the same time, Bright Future challenges the idea of a traditional peel as it is not only working to exfoliate the skin, but also to give it twice as much nourishment and hydration. This therefore reduces the likelihood of irritation during and after use. Other ingredients featured in Bright Future that help to nourish the skin include silk amino acids which are a powerful skin moisturiser as it helps to retain moisture in the skin as well as MSM, an organic sulphur that is essential in the production of collagen and elastin, which is essential in keeping the skin looking and feeling softer, firmer and smoother. Probiotics such as Lactobacillius Ferment is used to help keep the skin balanced as it works to create healthy skin flora and finally, a form of Retinol is also included in the formulation of Bright Future to protect and prevent the skin from premature ageing.  As you can see, the ingredient highlights of the Allies of Skin Bright Future Overnight Facial revolve mainly around exfoliation, hydration and nourishment. 
My own personal experiences in using Bright Future Overnight Facial have been interesting, when I first received this product as a mysterious sample, I actually used this product incorrectly by layering all sorts of oils and moistursier over the top (oops!). I was then later told that Bright Future is best used on its own with a toner or mist after cleansing. As Nicolas Travis (founder extraordinaire of Allies of Skin) explained to me "It works with our Molecular Saviour Mist as the heavy molecular structure of our mist gives the pure Hyaluronic Acid Gel a boost. As you know, Hyaluronic Acid requires moisture to properly work so you simply use our mist on clean skin, apply a thick generous layer of Bright Future, mist again and then massage it all in. It should take you 30 seconds. We call it The 30 Seconds Facial". Too easy right?!
As someone who loves to layer and enjoys a long skincare ritual, the thought of simplifying my routine and relying on just the one product made me a little anxious and skeptical. I was skeptical mainly due to the fact the instructions on how to use this product was just too short and too simple, something I am not quite used to. The other reason why I was a little skeptical was the fact it is preferred to use this consecutively over 2-3 nights for optimal results, shouldn't this just work straight away if its supposed to be so amazing? My anxiousness stems mainly from the fact that Bright Future was acid heavy and sometimes, acids just don't like my skin, especially when there are no oils or moisturisers on top to calm my skin down. After using this once, I am scratching my head to even think why I even doubted an Allies of Skin formulation in the first place! Not only did my skin respond well to Bright Future (in terms of no sensitivity) but I could see the visible difference in my skin. The Bright Future Overnight Facial managed to really work in decongesting and exfoliating my skin, leaving a really refreshed and renewed complexion. However, I think what differs Bright Future to perhaps other products that I have tried (ie. Drunk Elephant) is that I personally find the formulation a lot more hydrating for the skin but also it seems to be rather gentle, without compromising results.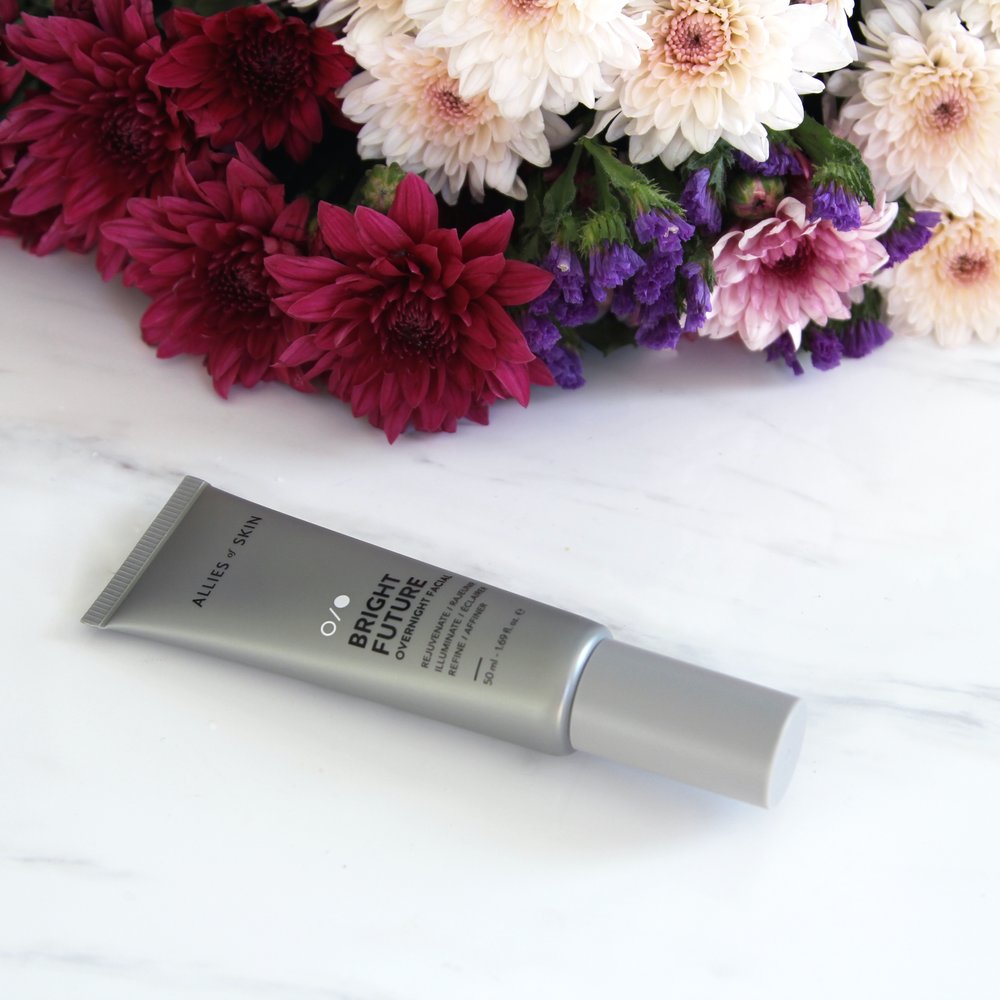 What I loved about Bright Future is that even though it should be used 2-3 nights in a row for the best results, I still did see immediate results overnight. After the first evening my skin felt a lot smoother, plump, more refined and fresh looking and by the second evening I noticed that my skin was quite decongested and my skin texture looking much more refined and even. I have been having some issues with congestion as of late and I often find that I have little small 'lumps' on my skin that are not quite a spot but definitely are congested. After day 2 of Bright Future, these little annoying lumps on my skin are either completely gone or are very much close to disappearing. My skin feels soft on the first day but by the second day of using this overnight facial, I have to admit that skin is baby smooth and soft to touch as it has done so well to remove any traces of debris and dead skin. In terms of brightening the skin, Bright Future really does give a radiant and glowing complexion due to the fact it does lift dullness by exfoliation. However, to further enhance this brightened complexion, Bright Future's addition of hyaluronic acid really helps to lift the complexion due to skin looking to 'juicy' and plump. I have a very good facialist and the claim of results resembling a professional facial might be tough to beat but I do think the results Bright Future give are on par to those express facials that we sometimes get in lunch breaks or mini pamper sessions. I personally haven't used Bright Future long enough to make a definitive comment on how this product has helped with any skin issues such as pigmentation, but I have noticed that my skin is well on track too looking the way it used to with the combination of niacinamide in my daily routines. I do personally believe that Bright Future has played a small part in this as well as I have used this almost exclusively as my 'exfoliator' for the past 3-4 weeks.
The texture of the Allies of Skin Bright Future Overnight Facial is a yellow gel like consistency which is easy to work into the skin and absorbs into after a few seconds. It is lightweight, cooling and refreshing and in terms of 'tingle' I don't feel any nor do I feel any irritation before, during or afterwards. The lack of tingle may worry some, but I do find that this does exfoliate the skin rather well. For those who are sensitive to smells, there is a light citrus scent to Bright Future but nothing too offensive, chemical like or strong. In terms of ease of use, Bright Future is so easy, almost too easy to use and as mentioned earlier, this product shows a skincare routine at its most simple, yet potent form. This product is perfect for the person who is super busy and doesn't have time for a complicated skincare routine or for those who are just 'lazy' and can't be bothered with so many steps. Those who enjoy the skincare 'ritual' may not enjoy Bright Future Overnight Facial as much due to the fact there is no layering involved afterwards, which does take the 'fun' out of some people's evenings. However, as simple and effortless as Bright Future is in terms of application, it really does pack a punch in terms of immediate results and why I continue to use this.
Overall, I have really enjoyed using the Allies of Skin Bright Future Overnight Facial, it not only helps to gently exfoliate and slough off any debris on the skin extremely well but also adds extra benefits to my complexion such as hydration, moisture, calming and nourishment from MSM and amino acids and peptides. What amazes me is how little effort is required to get these results with Bright Future and also the innovation behind how the Hyaluronic Acid Gel works in this wonderful product. I love how well this decongests my skin and improves my skin's appearance and texture and I am just so amazed at how this product is able to do this and more via one simple step.
Repurchase YAY or NAY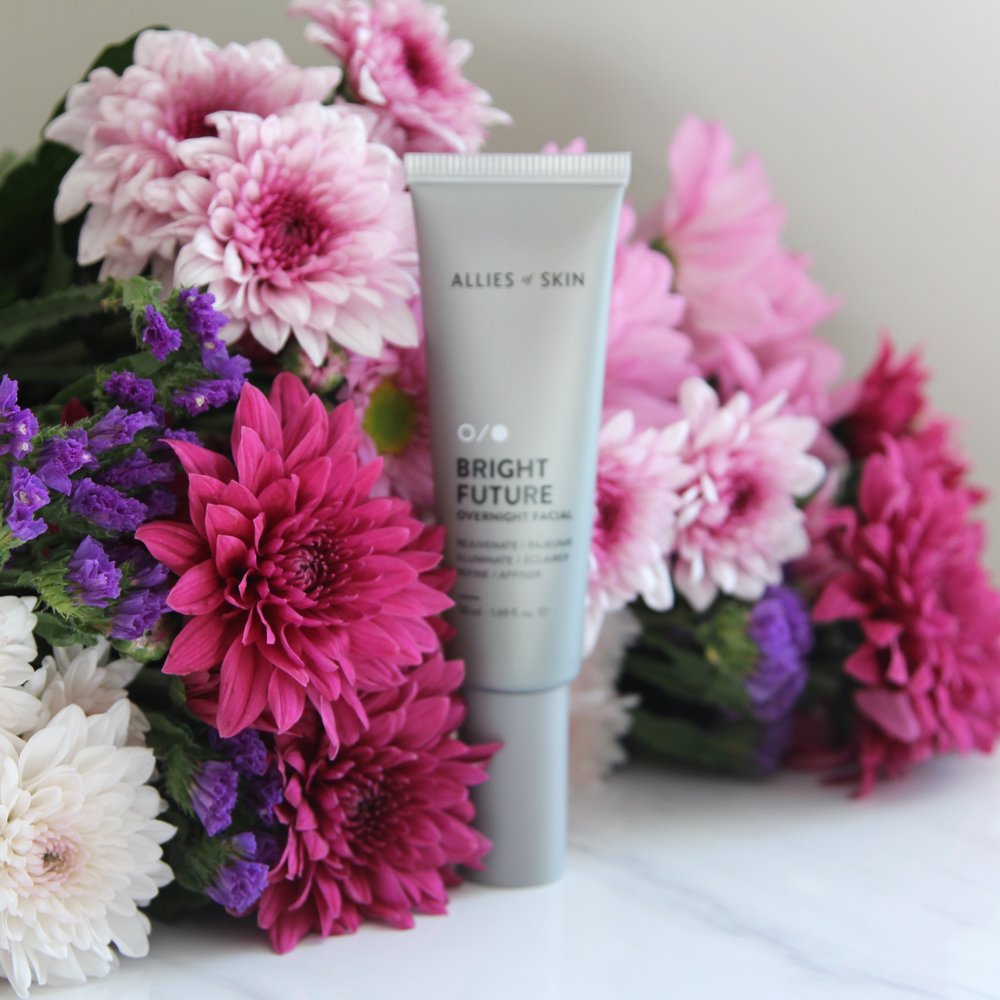 Whilst the Allies of Skin Bright Future Overnight Facial was generously gifted to me, I will most definitely be repurchasing this again once its been used up. I have really enjoyed the simplicity this product has brought to some of my evenings and just in awe in terms of how potent yet gentle it is for my skin. Allies of Skin have done it again and my love affair with this brand continues. I can't wait to see what Nicolas and his awesome team bring out next and I know that this is a brand to watch.
Have you used a product from Allies of Skin before? What did you try and what were your thoughts? I'd love to hear from you in the comments section below.